Jeff Bezos, Founder, and CEO of Amazon in the U.S. Yang Sui, Chief Financial Officer of Boc Hong Kong Holdings, Hong Kong. Benedikt Schell, Chairman of the Management Board at Mercedes-Benz Bank AG, Germany.
They all have one thing in common – they are all senior executives but you will not find profiles for any of them on LinkedIn.

And these senior global executives are not alone. While LinkedIn is clearly the go-to resource for finding potential candidates for professional and executive roles, it rarely covers the entire market.
Sites such as GatedTalent offer highly detailed profiles for recruiters – but, again, only cover a subset of the global candidate pool.
The best candidates may not be on LinkedIn
For an executive recruiter seeking insights into the most senior executives for C-Suite and board of directors searches, they need to be confident that they are identifying and engaging with all of the best candidates – and not just those that maintain profiles on social media.

The good news is that information on business leaders is readily available online.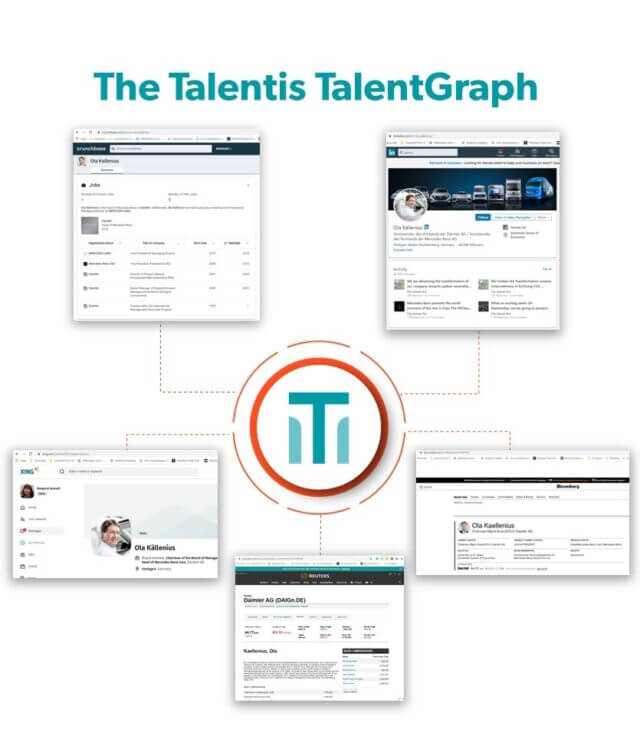 Numerous sites carry profiles, while other services provide an aggregation service.

Boardex: An expensive alternative?
For many years, services like Boardex and similar alternatives have been the go-to solution for executive recruiters working on the most senior-level positions. But they are expensive – even the smallest executive search firm looking to invest in Boardex is likely to be quoted a price of $25,000 or more (as an annual cost).
The service certainly offers a lot of value – detailed profiles on everything from executive compensation to board memberships and network relationships.
However – while Boardex retains a number of professional researchers to provide information in a single location – the fact is that there is a huge amount of publicly available information on global board members on the web.
The challenge is knowing where to look to get the detailed insights.
Executive intelligence on public sites

Take Satya Nadella, for example. Satya is currently Chief Executive Officer at Microsoft. His CEO role is, of course, listed on his LinkedIn profile (Microsoft owns LinkedIn, and so it would be surprising if he were not listed!). He's also named as a Member of the Board of Trustees at the University of Chicago and a Board Member for both Starbucks and Fred Hutch.

But that doesn't tell the full story.

Nadella has had 7 leadership roles at Microsoft – beginning as Vice President: Business Solutions. He actually joined Microsoft in 2000 from Sun Microsystems. He currently has five Board / Trustee roles, with two more in his past.

It may not be on LinkedIn, but this is all publicly available information. Any executive officer or board member associated with a public company – and many associated with private companies – will have this type of information listed online.
Researchers can also find information on executive compensation, stock options, and so on. This is true of executives worldwide – not just the United States. The information may be buried in proxy statements or other stakeholder documentation, it might be found on annual reports, but it's out there.

The key is to find it.
Talentis: Combining aspects of LinkedIn and Boardex via the TalentGraph

This is where Talentis comes in. As part of our executive search candidate sourcing software platform, we've built a TalentGraph covering millions of executive directors and board members of public, private equity-backed, and private companies.
Our TalentGraph links publicly available URLs for these individuals – allowing a user reviewing (for example) Satya Nadella's LinkedIn profile to jump instantly to his Bloomberg profile (where they will find the detail referenced above).

Talentis executive search software does more than this, however. It dramatically streamlines the entire research and sourcing process by allowing the recruiter to engage with potential candidates from across the web. This also results in a lot of time saved.
If a recruiter wishes to add Nadella to a search for a Chairperson directly from his Bloomberg Profile – she can do that. Looking to find a Chief Financial Officer? Amy Hood is Microsoft's CFO. Unlike her CEO, she's not on LinkedIn, but, again, Talentis will find her.

No data entry. No parsing. Simply click on the Talentis Chrome Extension and interact.

Talentis offers a transformational – and cost effective – approach for recruiters looking to research senior executives working with public companies, private equity firms (and operating executives with private equity backed businesses) as well as board members, and executives with remuneration and audit committee experience – as well as more junior executives on the way up

Unlike tools such as Boardex and LinkedIn Recruiter – we are also happy to offer executive recruiters a free trial of the Talentis platform. To learn more, request a demonstration using the form on the right.