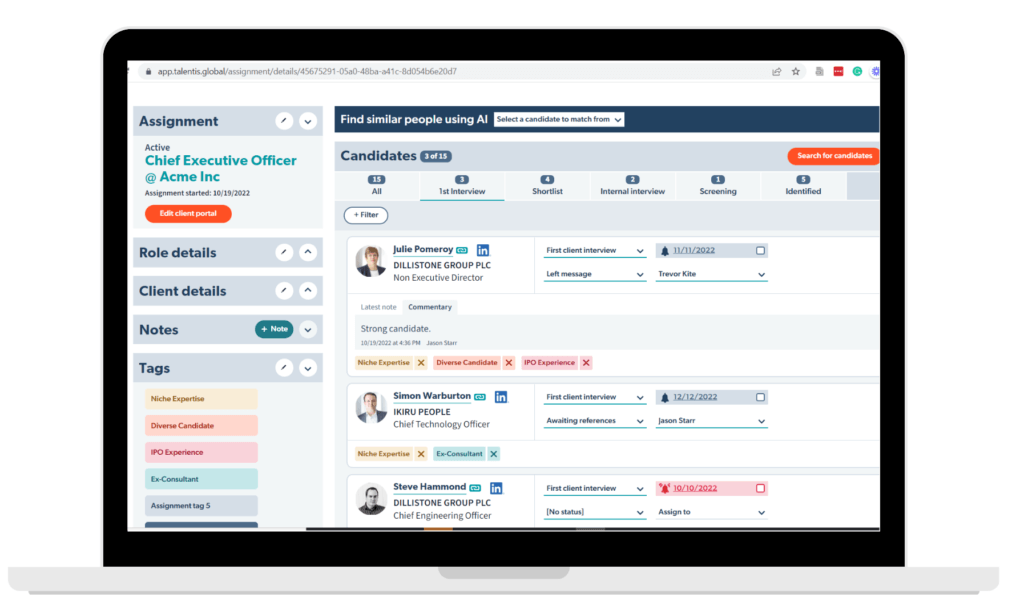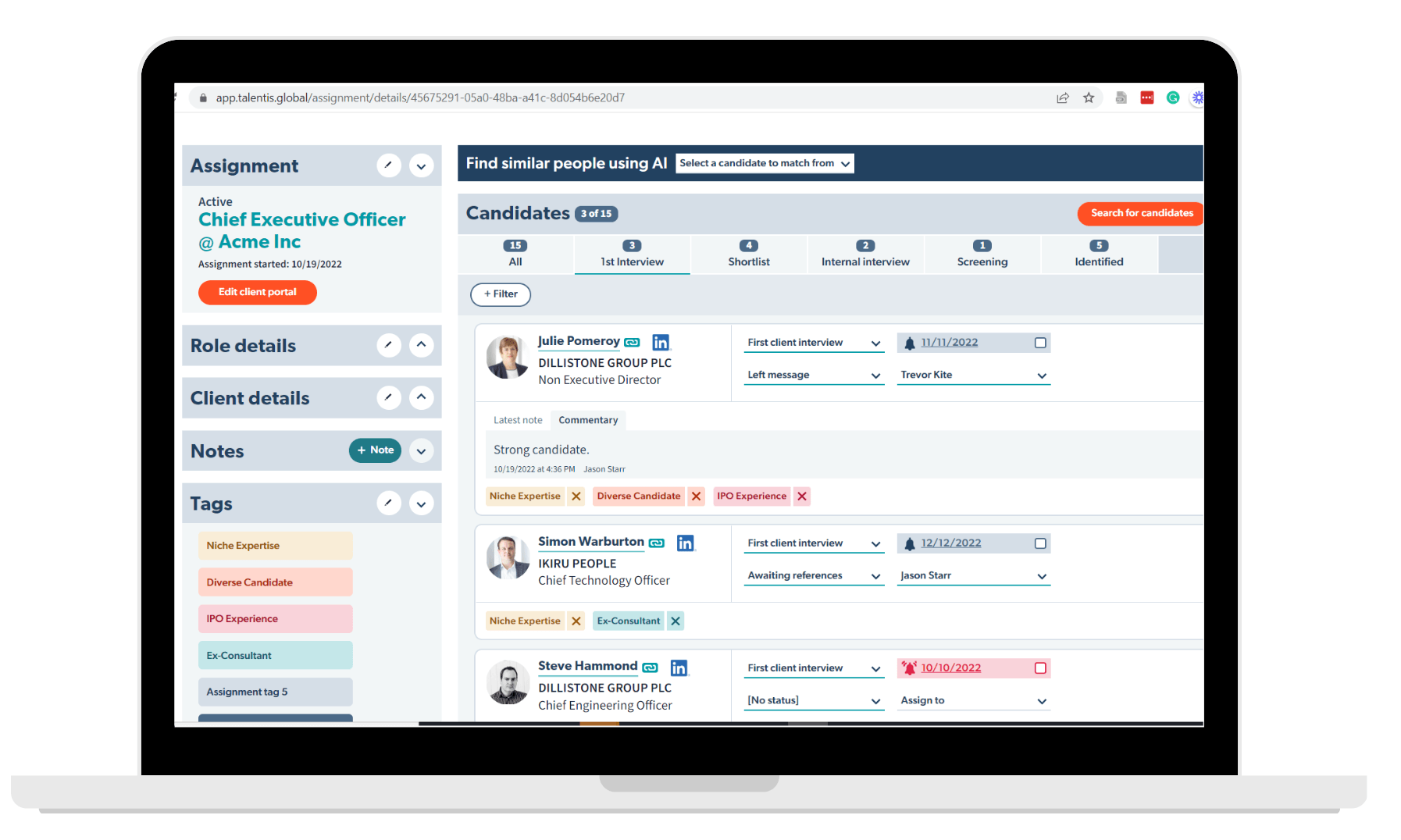 A changing CRM landscape
The team behind Talentis have worked in and around executive search CRM software for 30 years.
In that time, we've seen hundreds of changes and evolutions.
We've seen CV submissions go from fax to email, company brochures morph into websites and micro-sites, and social media networking platforms shake-up the way candidates and recruiters connect.
But – as a supplier of technology to the sector, the biggest change has been how search firms find and manage data. Indeed, like most firms in our sector, we've gone from marketing executive search databases to executive search CRMs.
The decline of the database, and the rise of the executive recruiting CRM
It's a claim that will surprise many veteran recruiters.
Aren't databases the secret gold of agencies?
Their USP, the tightly-guarded secret, and what separates them from their competition?
Once, perhaps… but things work differently now.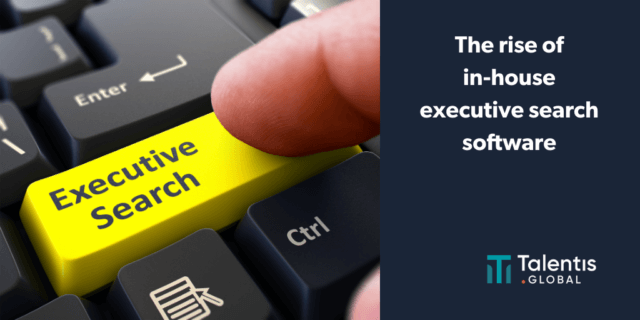 Database vs CRM
Databases are designed for storing information – internally stored information on people and companies, that can be searched and filtered later.
This could be by name, employer, job title, geography or a whole host of more subjective assessments.
Previously, huge databases of proprietary data used to be a major competitive advantage for search firms.
The ability to pull up a list of candidates with a specific job title, or who work at a certain firm – it was, for a long time, the edge which let data-rich agencies pull ahead of their competition.
But in a post-LinkedIn world, data isn't the same priceless currency.
Now even the youngest executive search start-up can access over 500 million professional profiles on LinkedIn from day one. They can slice and dice data and review information that is more updated than is found in all but the most meticulously segmented agency databases.
The problem? While not exhaustive, the LinkedIn talent graph covered a large part of the candidate universe. But search firms are tasked with finding the best, and that needs exhaustive data.
The second issue – frankly, the bigger one – is that the value in the data isn't the bare, factual information that an executive might include in her online biography, but the "intelligence" that the recruiter adds. This intelligence is achieved through conversations and research – and that needs to be tracked.
As a result, Search firms have traditionally acquired empty software platforms and manually filled them with information. The sources included – but were not limited to – LinkedIn, and they added information around the edges.
The modern executive search CRM needs to help recruiters find passive candidates and build and then track relationships with them – where ever those candidates may be found.
It's what you know (about who you know) that counts
Access to candidate work histories and company maps are no longer the competitive advantage it once was. The emphasis in the executive search space has shifted away from simply collecting and storing raw data.
Now data is a less prized commodity on its own while an ever-larger number of agencies compete for client and candidate attention. The 'secret sauce' of top executive search firms is the intelligence and relationships they hold in relation to their data.
Knowing a candidate's job title or years of tenure in a particular role is no longer proprietary insight like it once was.
It's information a recruitment trainee could find within a few minutes even without the help of an executive search CRM.
But knowing the inside story about that candidate's career history, which companies they've applied to through your agency, and how they got on in the interview processes – that's detail no commercial system can offer.
Similarly, tracking the contacts you have in common – knowing who they know, who they endorse, who they've worked with (and on which projects) – these are nuances that provide a sharp commercial edge when delivering against client briefs.
Meeting these needs, emerging technologies for leading executive search firms are designed to structure and manage relationships of high complexity, leveraging third-party data and social media sources to augment profiles.

Today's candidate, tomorrow's client
Executive search firms typically operate at the upper end of any organization chart.
They specialize in the sourcing of senior talent, helping their customers build their management, operational, and strategic leadership teams.
As a result, perhaps more than any other type of recruitment business, executive search agencies may – over time – build a dual relationship with contacts as potential candidates and clients (although off-limits policies may prevent a candidate being in both roles at the same time).
Generic database tools and huge social networks are both terrific. But they lack the complexity to manage a 360-degree view of contact relationships. This leaves recruiters handicapped, only able to construct a partial picture of their true network.
Without this key data, recruiters risk overlooking opportunity within their network by only viewing relationships from a single standpoint.
Static data = Static performance
Another big driver in the 'downgrading' of databases as a recruitment asset is the need to keep them updated.
Platforms containing thousands or millions of records of static profiles gradually gather dust. And they provide less and less value to recruiters every year – as clients and candidates switch jobs, change companies and move their focus.
Keeping data manually refreshed is a time-consuming and hugely expensive task. At the same time, the risk of acting on old data means that recruiters and their agencies could miss out on clear market opportunities or candidate matches. This despite having the right people and companies in their software systems.
Modern CRM executive search software plugs recruitment data and CRM information into a live internet connection. This ensures that recruiters always have an updated profile of candidates, hiring managers and companies in front of them as they work.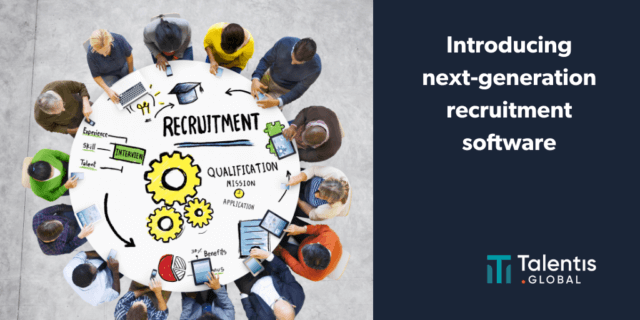 Talentis– the next generation of CRM executive search software
Talentis is a ground-breaking new executive search CRM platform designed to revolutionize the way executive recruiters work.
It is based on a talent graph of in excess of one billion URLs, tracking millions of executives and organizations. The platform gives recruiters instant access to millions of data points and sources from the internet in a centralized console.
This unique integration of recruitment technology with data allows recruiters to build and document meaningful relationships with clients and candidates. These are continually fed valuable data and context by the platform as they work.
Recruiters use this data in a range of ways, including:
Accelerating their understanding of candidate and organization profiles
Mapping and connecting second and third-degree contact networks
Driving referrals and recommendations
Creating deeper and better-informed sales and recruiting outreach
Building more meaningful client and candidate relationships
Traditional CRM executive search software is still built around the out-dated premise that 'data' is the commodity that recruiters are trying to collect.
With this goal in mind, they work to help recruiters store and categorize data – despite the fact that this data is both available to their competitors, and may be stale within a matter of months.
Talentis changes the game by presenting data as a fluid asset, not a static commodity.
The online world will always have far more data than any executive search firm can build within their database. But the relationships they nurture within their CRM will lay the foundations for future deals, introductions and revenue streams.
Built in the industry, designed for the industry
The product team that built Talentis didn't just leverage decades of expertise within Ikiru People.
To build a solution customers truly love, you have to go beyond guesswork and put the user in the test pilot seat.
The Talentis team spent hundreds of hours shadowing, interviewing and studying executive search recruiter behavior. Learning not only the skills and shortcuts that help them succeed, but the hurdles and blockages that stand in their way. We spoke to users of our sister product – FileFinder – along with clients using alternative CRM executive search software platforms – including Cluen's Encore, Bullhorn's Invenias, and others.
Above all, Talentis was built to take the best about how executive recruiters work and make it even better. It marries the expertise and relationship-building skills of top recruiters with powerful technology.
As the first platform to truly harness big data and AI in recruiting software, Talentis lets recruiters reach new levels of productivity and success.

Try our executive search CRM for free
We know Talentis breaks new ground.
So we're happy to let new customers take their time to see it in action and witness the value it adds to their executive search firms.
That's why we're happy to offer every search firm on the planet a free trial of the platform. No commitments, no hard sell. No cards on file, no strings attached.
Try it, explore it, put it to the test.
Request a demo today before signing up for a free trial.