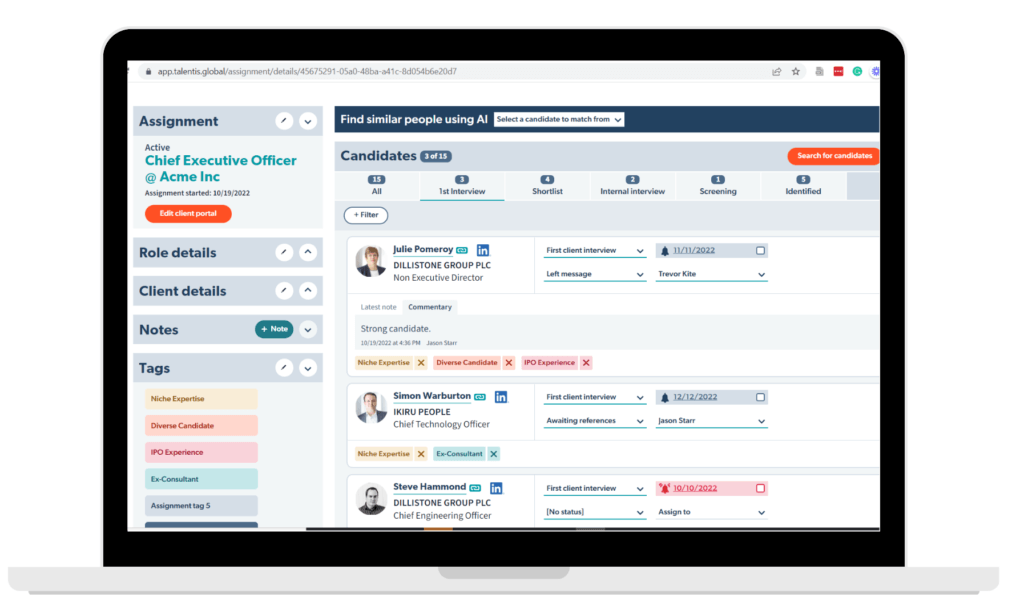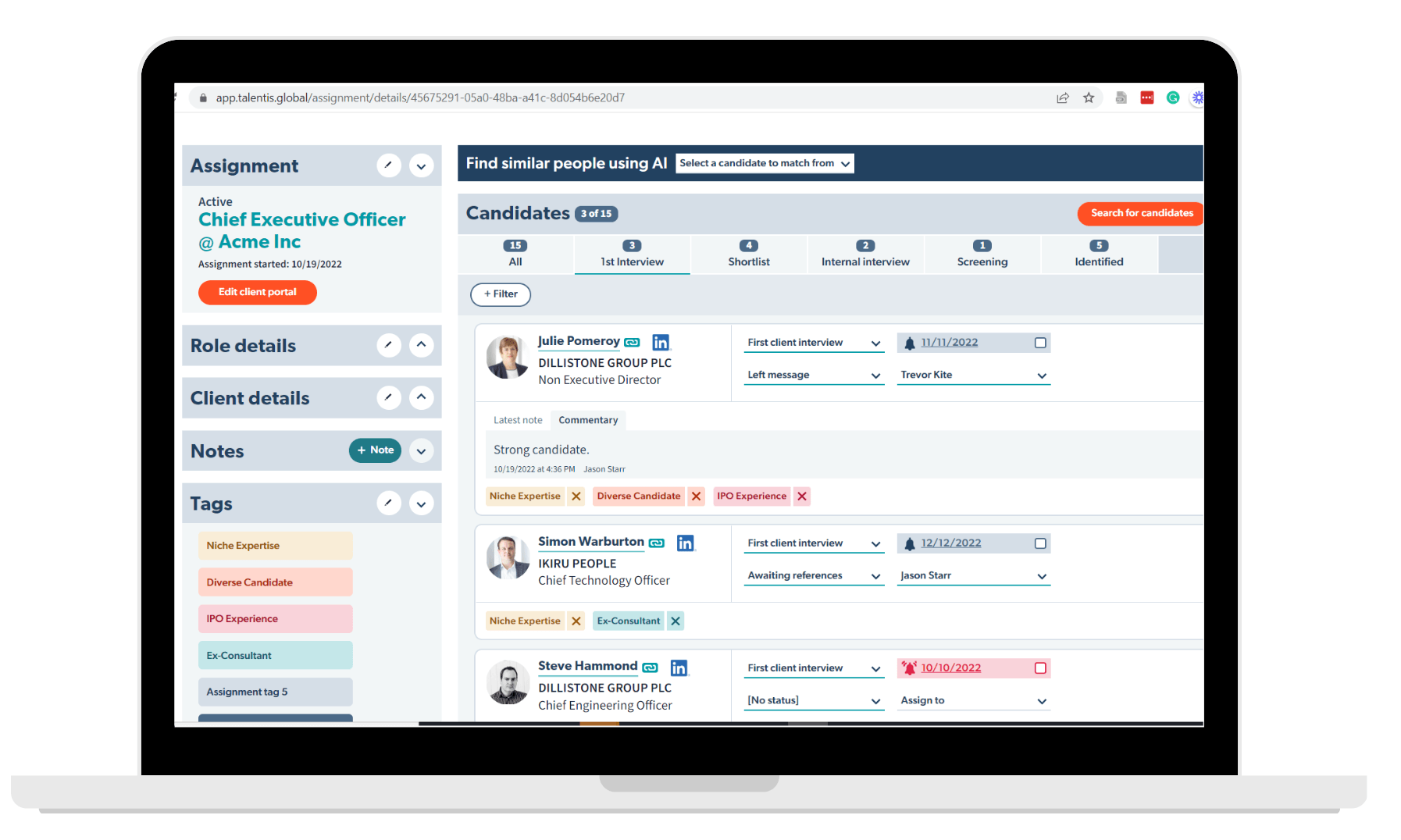 Automation: Allowing recruiters to recruit
Executive Search is a people industry with executive search software working hard behind the scenes.
It's a "high touch" profession, suited to outgoing recruiters with an exceptional blend of consulting and interpersonal skills.
Top executive search firms are built on the expertise of recruiters who have made an art form of researching, engaging and managing elite, hard-to-reach talent.
And, while other industries have been shaken up and disrupted by daring new business models, executive search still follows largely the same process it always has:
Take the client brief
Identify and approach potential candidates
Shortlist
Interview
Take references
Negotiate and – hopefully -place the successful candidate
Platforms like LinkedIn and other social networking sites have shifted some of the channels of engagement. However, the core steps in executive search haven't changed much.
The fact remains that the typical executive recruiter is a "people person". They're best deployed spending their time working with candidates and clients – not focused on back-office or admin tasks.
But in search companies around the world, executive recruiters invest significant chunks of their time to outdated research processes and manual CRM tasks.
While intelligent technology has revolutionized life in so many ways, recruitment software has remained stuck in the past. This forces recruiters to manage tech platforms that add little or no value to the search process, or to their skill set.
But there's light at the end of this long tunnel – modern executive search management software that uses cutting edge-technology – including AI and Big Data – to solve the problem.
Finally, it's time for the "people person" to focus fully on what they love.
Executive search in the big data age
Traditionally, executive recruiting software systems have focused on two things:
Storing data
Managing processes
Neither of these are a constructive use of an executive recruiter's time. They depend on the recruiter to import data from other sources, and act as little more than a tracking tool or database to organize and manage information.
Despite often charging users hefty monthly fees, legacy recruiting software of this type places the critical phase of the process (finding and engaging candidates) not just with the recruiter, but with third-party platforms that recruiters need to search and manage separately outside their CRM.
Data – like gold to a recruiter – isn't part of the deal.
Whether searching for insight into candidate expertise via social media or building market maps using Bloomberg or LinkedIn, recruiters have to bend their skill sets (and lose time) to fit the gaps in their tech.
Worse still, they need to port this information back into their CRM. So, they lose yet more time and risk data loss and human error.
Now, for the first time, a modern executive search management system exists which places cutting-edge technology at the heart of the process.
The Talentis search platform manages and augments the entire search cycle, including intelligent tools to help recruiters with:
Identification of passive candidates
Proactively suggesting context-relevant data to users as they research those potential candidates
Sourcing contact information for those candidates
Managing the engagement, communication and placement of those candidates!
The arrival of Talentis executive recruiting software marks a break from traditional recruitment CRM systems. The latter has focused purely on inward-looking product features to slice and dice data recruiters have added to their systems from elsewhere.
In contrast, Talentis arms recruiters with huge quantities of structure executive information from the get-go. Up to date. Insightful. Up to date. Subsequently, this creates an instant advantage and puts an end to snail-paced research.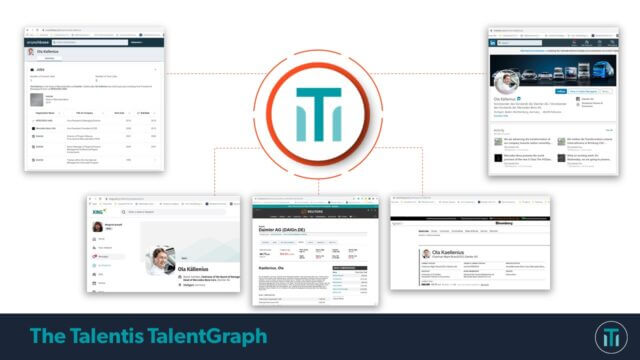 The executive search management software built on data
At its core, Talentis is a huge, global database.
An index of over a billion URLs, creating a talent graph or millions of people and companies, it brings together online data from a vast range of sources into a single user interface. Thus, it places the power of the internet at the fingertips of executive recruiters and their research teams.
By building our CRM around this index, we've streamlined the candidate identification and research process.
The technology which drives Talentis makes it faster for a researcher to identify a candidate and massively reduces data entry time. Additionally, it provides intelligent signals throughout the search process to accelerate key steps.
With the standard ability for users to add and annotate their own data as they go, it provides a single tool to conduct the full search process without breaking stride.
It is a Chrome extension that supercharges Talentis and follows the user around the internet, mapping CRM and third-party data onto the user's search process.
If a user runs a Google search for potential candidates, for example, the user will find results are "enhanced" with data from the CRM itself.
And when a recruiter finds a top profile in their search, Talentis can suggest similar candidates – identified by job title, company or skill set.
If a user needs to pull or cross-reference data from another source, Talentis provides a seamless interface where they can access all their information. So, users don't need to switch systems, log in to new platforms or break the momentum of their search.
Search > Engage > Place
The powerful Talentis executive recruiting software platform helps identify best-qualified candidates. And then the CRM system continues to support the full executive search process.
Management of candidates and applications through the executive search funnel is done via an intuitive workflow, with instant access to the data that matters.
Users are able to view the status of any search. Hence, they immediately know who the candidates are, how far they have progressed and what steps still need to be completed.
Freeing executive search talent to recruit
The philosophy behind the Talentis executive recruiting software is simple. Top executive search recruiters have a unique skill set that should be applied as precisely as possible.
With the right information, recruiters have a high-impact effect on the talent sourcing process. They can engage and manage elusive, passive candidates that represent missing links in their clients' business plans.
But too often, tech frustrates the recruitment process where it should augment it.
Outdated CRMs create work where they should save it.
And, ultimately, they misapply recruiter talent by forcing expert networkers and negotiators to perform offline admin tasks and low-value steps.
At the same time, we live in the age of exploding data volumes. There are more data sources and more online information points about people and companies than ever before.
It should be a skilled recruiter's dream – but without the right tech, it's a mirage that drifts continually out of reach.
On the other hand, the Talentis executive search management software brings together the best of human and machine. It partners elite technology and cutting-edge IT intelligence with emotional and interpersonal skill.
It's the perfect match – the structure, pace and processing power of modern tech, layered over the market expertise and people management abilities of top recruiters.
The result is a turbo-charged executive search process that is at once both faster and more thorough than ever before. At the same time, it also focuses the recruiter's time firmly on high-value tasks and projects.
About our executive search management software
Talentis was developed by Ikiru People, one of the most trusted names in executive search technology solutions.
For years we've supported some of the top executive search firms in the world, studying how they work and the challenges they face.
In researching Talentis, we've spent hundreds of hours watching executive recruiters do what they do. In addition to speaking to clients using our own FileFinder product, we've spoken to users of other executive search software products – software such as Cluen's Encore, Bullhorn's Invenias and so on. We've watched their teams in action, and we've quizzed their users and managers over the frustrations and limitations they encounter with their tech.
Talentis was built from the ground up to meet those needs. It's a platform created to solve problems, reduce project delivery times and eliminate out-dated redundancies in the executive search space.
So, we're proud to be partnering with some great brands in executive recruitment. But we're even prouder to be helping them reach new performance heights through intelligent, forward-facing technology.
Our customers recruit on behalf of some of the world's most exciting and innovative companies. And we're excited to equip them with the tools to meet the task of sourcing their star employees of tomorrow.

Try Talentis executive search management software for free
Talentis is a brand new product from a familiar name in recruitment.
This executive recruiting software is new, but we're not.
The company behind the Talentis platform, Ikiru People, has been around for more than twenty years. We provide world-class recruiting software to a wide range of clients.
Our track record is second to none – we have some of the highest Trustpilot ratings out there, and many of our customer relationships stretch back decades.
But a legacy of success doesn't guarantee future value. That's why we're welcoming new customers to try the Talentis platform, completely free for a week.
No 7-day trials.
No credit card.
And no commitments.
We're excited by our product and we can't wait to get it into the hands of new clients and partners.
Interested?
Book a demo before signing up for a free trial – we'll let our tech do the talking.