Talentis is a unique recruitment software. A user experience that you'll love. Virtually no data entry. Data that cleans itself. You'll save time, you'll be more productive, and you'll complete your executive searches more efficiently, with broader and more diverse shortlists. Don't waste your time on this blog – book a demo before starting your free trial!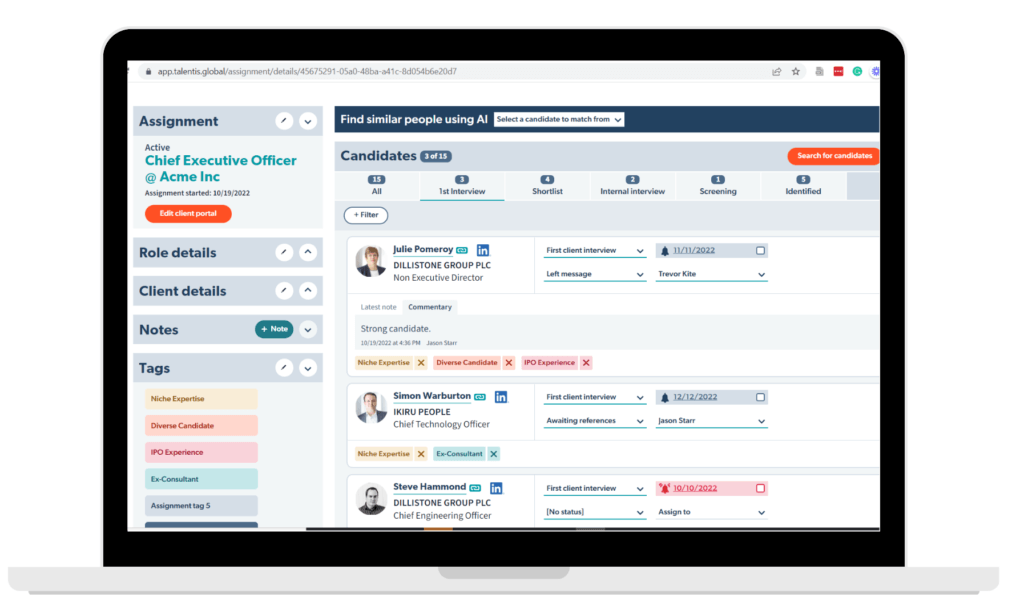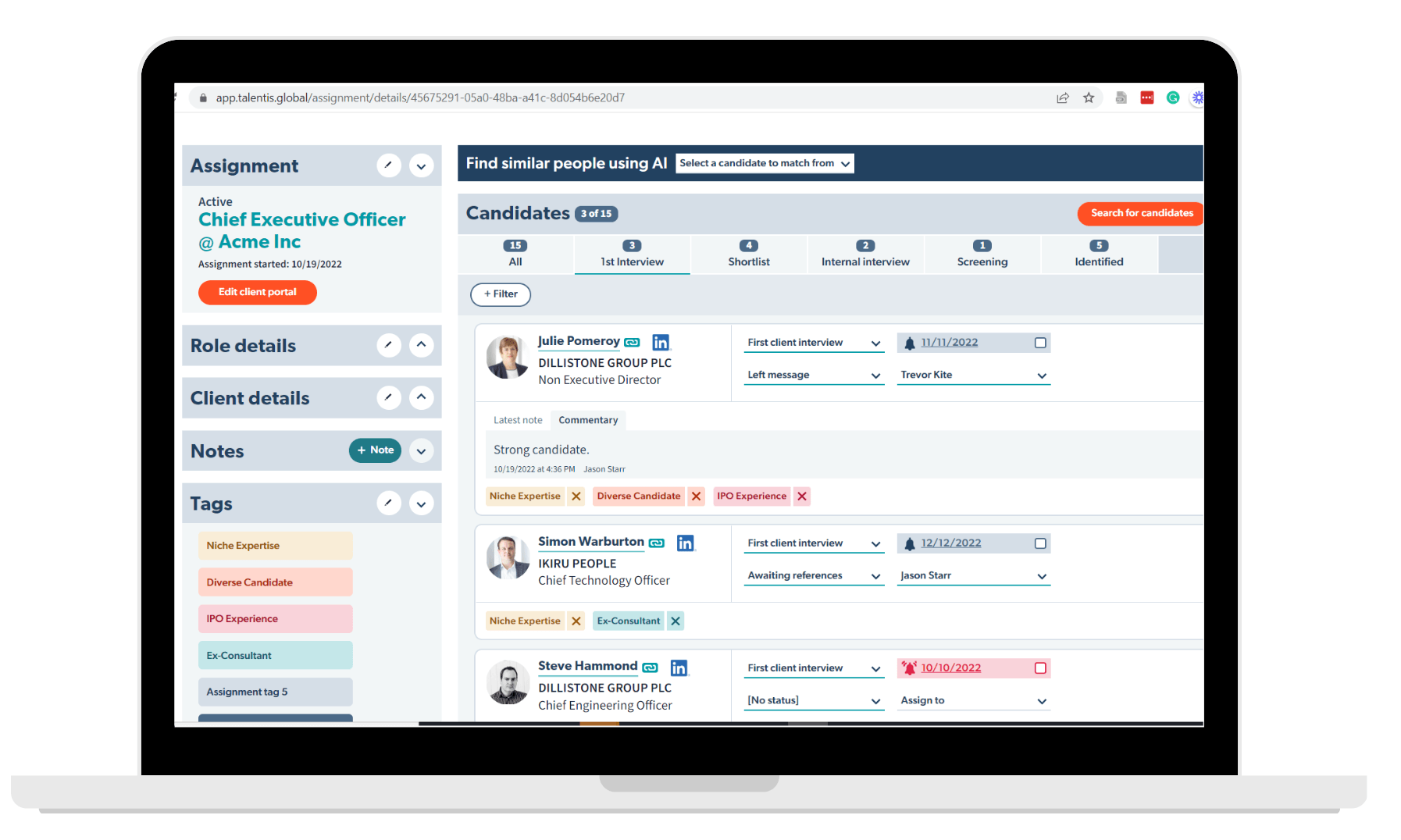 Most recruitment software works on the basis that users wish to place candidates they already know about. Talentis, however, is based on the research methodology that underpins strategic hiring. Everything about our executive search software is designed to help search consultants identify, engage, and recruit the best passive candidates. Book a demo then take a trial!
Executive Search Software with AI Candidate Sourcing – Free Trial
Executive search follows a different model from other types of recruitment. It is a client-driven, project-based process that involves proactively finding the best candidate to fill a specific role. It's not about managing applicants or posting jobs.
This is true for both the traditional, retained executive search firm and for an in-house executive search (or strategic talent acquisition) team.
The key is research. Going out and finding the best talent, not merely relying on a search of "who we already know" or those actively seeking roles.
Candidates You Won't Find On LinkedIn Recruiter
Talentis looks beyond the candidate profile, supplementing information about the candidate with information about her employer. The result? Talentis finds candidates that you won't find on Recruiter.
Contingency recruitment agencies, in contrast, are more likely to depend on the marketing of online job posts and advertisements to drive applications. So, these agencies filter through active candidate resumes and engage with those who best match the job. These agencies look for a great candidate from an array of applicants. Executive search firms look for the best candidate – be she an active job seeker or not – a so-called passive candidate.
Candidate-driven recruiting requires an applicant tracking system. Finding the right candidate requires executive search software.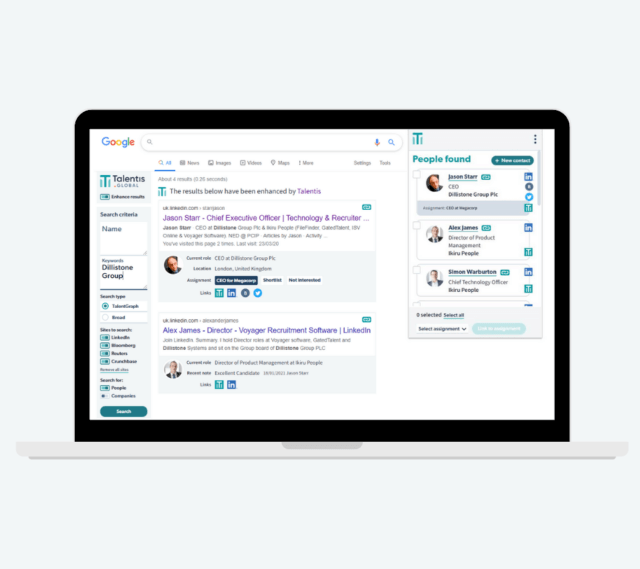 The key difference with executive recruiting software: Research functionality
Recruitment software used in the contingent agency environment is focused on searching through resume and profile data. It uses keywords and similar techniques to match hard skills in job seeker resumes with job descriptions in the search for placements.
It's based on finding a great candidate from the people that the agency already knows.
Thus, in terms of providing tools to facilitate research, it's often limited.
Conversely, executive search consultants are tasked by the hiring manager with identifying and connecting with people outside the recruiter's own network using multiple sources to learn about executive backgrounds, professional experiences, and achievements. The aim? To find the best candidate there is.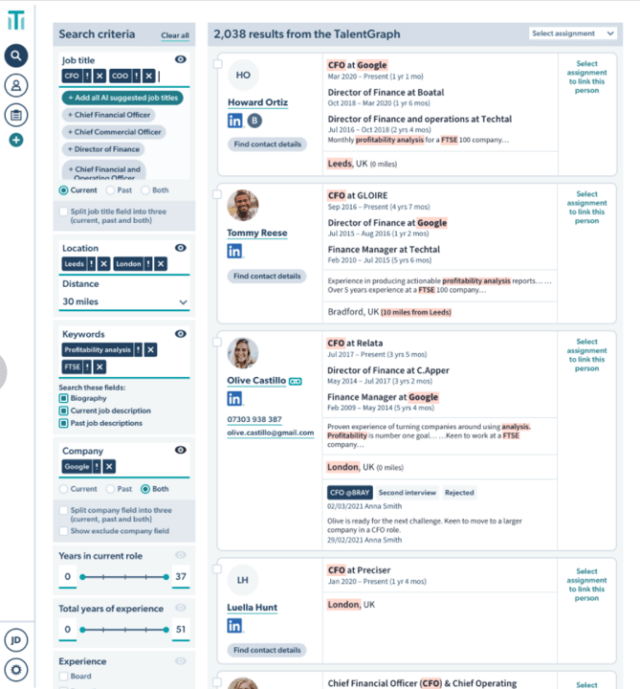 Executive search software needs to help you find the ideal candidate – who may not be actively looking.
The research process is detailed and complex. It requires researchers to think creatively to find information that helps them build a three-dimensional picture of potential candidates.
Research projects in retained executive search aren't purely about qualifying candidates, either. They're also about positioning recruiters to engage top talent successfully.
So, where traditional recruitment is more likely to focus on active candidates looking for a new job, executive search targets top-performing professionals who are unlikely to have a career change on their minds.
This means executive search firms need to be highly strategic in their approach to potential candidates. They have to deliver a compelling proposition to ensure a conversation and an opportunity to discuss the job with the senior executives.
Research does not just mean "LinkedIn"
Research is vital to this stage of the process, helping the researcher build a narrative that will engage the candidate and open the dialogue.
To support this, executive recruiting tools used by the true "headhunter" will need specific functionality to enhance and accelerate research projects from across the web. Recruiters search multiple sites – LinkedIn, Xing, Google, Bloomberg, Crunchbase, Reuters, and more. Modern candidate sourcing software facilitates searching across many sites to deliver the best potential candidates.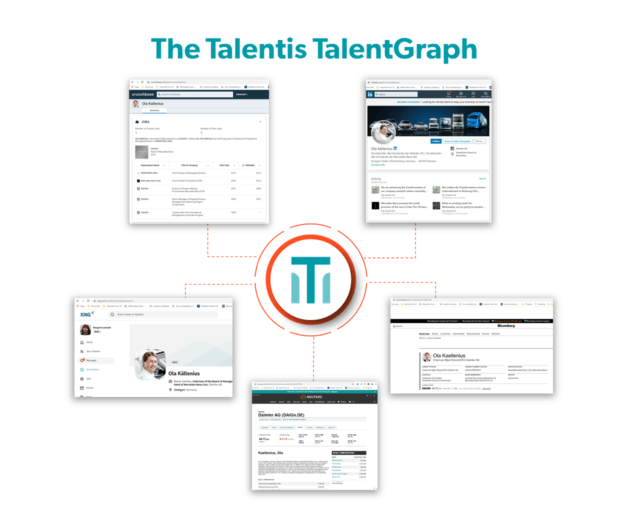 It's not just about identifying potential candidates, however. That's often the easy bit. Making contact is the second part of the challenge.
Again, modern recruiting platforms facilitate the process by helping users quickly source executive contact information. Finding emails and phone numbers allows them to bypass the gatekeeper and make contact efficiently.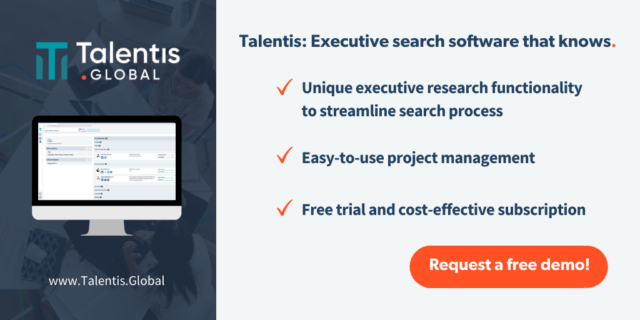 Key differences: Project management functionality
Retained search consultants can spend weeks or even months hunting for the best talent for their clients. They conduct detailed candidate profiling that goes far beyond simply scraping template profiles from job boards or just looking in their own ATS system.
Top management recruiters build highly detailed profiles of prospective candidates. They pool information from multiple sources to understand candidate career paths, achievements, specialist knowledge areas, and more.
This can mean mining information from company profile pages, conference appearances, white papers, social media posts and profiles, and hundreds of other potential sources including internal the ats and other tools and systems.
As a result, recruiting databases need to offer tools to manage the process, tracking project phases and allowing a more detailed workflow than a simple candidate placement.
Recruitment tools designed for contingent recruiting typically lack the ability to structure or document these steps. This often forces recruiters to use multiple tools or keep notes and records outside of their software – many recruiters actually do this in Excel!
In contrast, hiring software built specifically for executive recruiting keeps project management and candidate search in the same place. Recruiters can instantly see the state of a project and the status of a candidate on the project.
What is Talentis executive recruitment software?
Talentis is the next-generation, cloud-based (SaaS) platform for hiring passive candidates into strategic and senior positions – it's an ideal software for executive search firms but is equally adept as an in-house recruitment software for strategic talent acquisition.
It is designed purely for recruiters focused on finding the "best candidate", typically through the proactive sourcing of passive candidates through a candidate research process. Unlike many solutions, Talentis is web-based and so is an ideal executive search software for macs; most solutions on the market require a Windows download – Talentis does not, and so is ideal for Apple Mac users.
It is like no other executive recruiting software on the market.
Talentis is built on big data and AI techniques that help search consultants manage their processes and identify candidates. It uses advanced technology to enrich searches and track projects from within a single platform. It can be considered both an executive recruiting software and a LinkedIn recruiter alternative – all rolled into one.
Data entry is slashed, with the ability to add qualified candidates to a search from across the web – all with a click or two.
Other recruitment platforms and applicant tracking systems (known as ATS platforms) provide little more than a tracking tool for recruiters to log and record their search notes. On the other hand, Talentis uses powerful new technology to improve the speed, accuracy, and depth of the candidate research process.
It's about Talent Intelligence.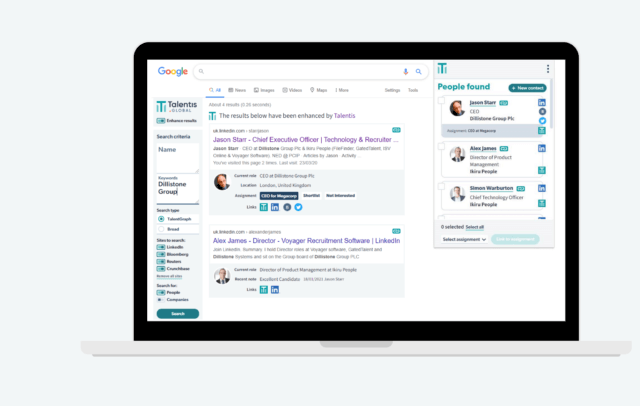 This involves putting fragmented data across the internet within easy reach of researchers, short-circuiting traditional search and research workflows that drain hours of productivity.
The team behind Talentis is Ikiru People, recruitment software specialists, part of a public company, and a global leader with decades of experience within the retained executive search software market through the established "FileFinder" and "Dillistone" brands, and a client base of thousands of satisfied users.
Talentis is the fruit of hundreds of hours interviewing search consultants and watching how they work. It led to an understanding that not all recruitment markets are the same and that candidate research-driven search processes are very different from more contingent recruitment processes.
As a result, Talentis took a different and innovative approach. Rather than creating a recruitment software platform to hire active candidates, Talentis is all about hiring the best talent to fill a specific job for a specific client – a process based around passive candidate research and sourcing.
Every feature, from the user interface to search and project management functionality, was crafted to support and accelerate the natural work patterns of an executive search consultant.
Competitive advantage beyond the executive recruiting software itself
Smaller headhunting firms competing against global multinationals traditionally start from a major disadvantage – larger competitors have huge private executive search software databases with millions of profiles to search from.
Korn Ferry boasts a profile database exceeding 60 million, while Odgers Berndtson claims to add 600,000 profiles to their system every month.
With every project, they begin with a huge repository of data that – they believe – allows them to search faster and deeper than their rivals, pulling ahead in the race to deliver talent.
Over time, this feeds into a track record that makes winning new assignments easier, further distancing them from their competition.
Historically this has given bigger firms a head start in search projects – but modern recruitment software technology is leveling the playing field.
Talentis levels the playing field. Built around a huge index of millions of people and company profiles, pulled together by a single, easy-to-use project management tool, Talentis offers candidate access that many of the largest firms would be jealous of.
This means that an executive recruiter can identify information on a company from one source and use that to find information on potential candidates from another source.
Naturally, recruiters can also maintain private records or add private notes to shared records.
Data science allows users to search in ways that have never been possible before. Yet, it also works to proactively recommend similar executives. If a researcher finds a Chief Procurement Officer at a company, for example, the platform will recommend similar candidates at comparable firms.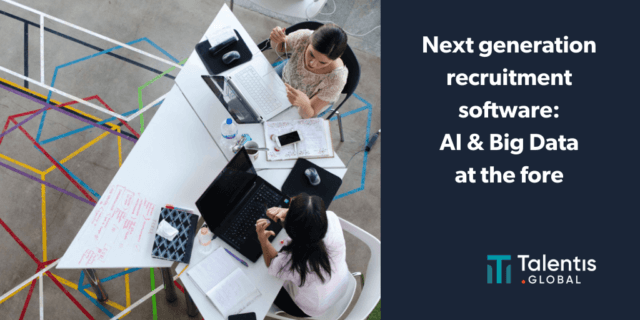 It's not just about finding candidates
Talentis also introduces a complete re-think of the project management process.
For a Talentis user, "the internet is your CRM".
The platform's Chrome extension follows users around the Internet, proactively offering information about the person or company the user is looking at.
For example, if an executive researcher is browsing a set of results on Google, Talentis will supplement this with information from the CRM.
Data-rich profiles help researchers save time. It cross-references from different data sources, including CRM notes, social media data, and other systems.
By embedding intelligence in the executive recruiting software this way, Talentis allows users to access data insights effortlessly throughout their search process.
Executive recruiters and search firms who previously spent hours cross-referencing research data from multiple sources can now deliver a complete search without leaving the platform.
This is a different approach to managing a search process. It is completely user-centric, allowing users to research anywhere, and have instant access to the data and information they need.
How to take advantage of Talentis recruitment software
The team behind Talentis has been serving the needs of the executive recruiting industry for years – we regularly receive 5* reviews for customer service – but this product is new and different.
We know that the modern recruiter has a wide variety of options when selecting cloud-based recruitment software and recruit CRM software. And we are confident that for most – not all – executive recruiting firms, Talentis will be a strong option. That's why we are happy to provide a shopping list of potential vendors for your consideration.
Your shopping list should include:
FileFinder (our stablemate product from Ikiru People – Dillistone Group)
Encore Software from The Cluen Corporation
Invenias from Bullhorn (as well as the Bullhorn platform itself)
Ezekia from Not Actively Looking
Clockwork Recruiting Software
Talentis!
We are confident that Talentis offers search consultants a combination of executive recruiting tools that are not found elsewhere. Browser-based, cloud-delivered, mobile-friendly, and with a chrome extension included, Talentis is an ideal solution for Apple Mac or Windows users. If you are looking to place software engineers, temporary or contract staff on an hourly or contingent basis, ours is not the product for you, but for finding and hiring the best executive talent – passive or active – we believe Talentis is a strong option.
That's why we want every executive recruiter on the planet to give it a go. And why we've decided to offer free trials after a demo, with no commitment. Furthermore, we've offered exceptional promo pricing offers to clients wishing to move forward with the platform.
We're confident Talentis executive recruiting software will change the way executive search agencies and in-house recruiting teams leverage technology and data to identify, engage and hire top talent. We're excited to share it with you!
Get started with Talentis. Book a demo or watch a webinar before starting your trial today.