Talentis is a unique executive recruitment software. A user experience that you'll love. Virtually no data entry. ChatGPT driven AI search to help you find candidates that LinkedIn Recruiter will miss. Data that cleans itself. Next generation Outlook integration. Beautiful, client ready, reporting directly from Word. You'll save time, you'll be more productive, and you'll complete your executive searches more efficiently. Book your demo now and receive a free trial!
Executive recruiting software with a difference: Talentis
Traditionally, any recruitment software you might invest in has one thing in common. On day one, it is empty. Your first task is to populate it. No matter this good the product, this involves data entry – typically, copying or parsing data from LinkedIn, from Xing, from Bloomberg or from Google. Data entry does not create value.
Talentis is not traditional.
Unlike other products, Talentis is built for a world in which the vast majority of candidates have a public footprint. Our platform is built around an index of more than 600 million public profiles – our "TalentGraph". For any of these individuals (and many others), no data entry is required. No downloads, no parsing, no validation, nothing. Public data appears in your CRM platform automatically, allowing you to then add your own proprietary information (contact data, assignment notes, project information or documents) that only you and your team will have access to.
Talentis doesn't just make it easy to get data in. It also helps keep it up to date.
In a traditional product, once you've created a record, your users are responsible for maintaining it. Not with Talentis. We constantly refresh our TalentGraph and, as soon as we spot that a candidate has changed jobs, we update the records of all our clients.
Automatically.
A CRM with Candidate Sourcing built in
Traditional recruitment CRM software helps users track information about candidates and clients, but doesn't help with research and sourcing. Candidate sourcing is normally delivered via expensive third-party subscriptions services such as LinkedIn Recruiter or SeekOut.
Talentis is not traditional.
Our TalentGraph contains profiles on more than 600 million people. Each profile is made up of data from multiple public sources – an individual profile may feature biographical data from LinkedIn or Bloomberg, company intelligence from FT.com or PDL, additional URLs from Twitter or Facebook and access to contact information from Rocket Reach.
Much of this data is searchable via our integrated search tool. Our integration with ChatGPT is unique. Simple type what you are looking for (or copy and paste a job spec) and ChatGPT will build a search using our unique search filters. You'll find candidates that LinkedIn Recruiter will miss, and you'll find them quickly. All users are able to search across and access all 559M profiles, regardless of third-party subscriptions or network limitations.
Talentis features search filters that you simply won't find elsewhere. Options built specifically to support the type of searching that executive recruiters undertake – including unique filters such as "Search by company description", "Search for candidates with Board experience" or "Boost female candidates".
Once you have built your Search, Talentis search results provide a level of detail not available elsewhere. Without leaving the search screen, users can see up to five current or previous jobs per candidate, details such as years of experience and the industries in which the individual has served, along with key information about the relationship between the search firm and the candidate – has she ever been placed or shortlisted before, for example? Users are able to interact with the candidate profile directly from within the search results – or jump to relevant public profiles as preferred.
Prefer to search elsewhere? That's fine too. Talentis even allows you to engage and update candidate profiles directly from within Google search results!
CRM and project Management functionality
In the world of executive search, today's candidate is tomorrow's client. That's why relationship management is so important. Traditional executive search software may offer powerful CRM functionality – but the user experience is often so unwieldy that user adoption is limited. Information is not tracked, and the value of the CRM is reduced.
Talentis is not traditional.
Our TalentGraph doesn't just maintain information on people. Add a candidate to an assignment and we'll create a company record. Instantly and with no data entry, for tens of millions of organizations. Click on the company, and you'll see who else you know there and your relationship with them.
Again, no data entry.
Everything about Talentis is designed for ease of use. It's not just the lack of typing. Fast, efficient and responsive UX. Available anywhere, including on Windows PC, Mac or Mobile via a responsive webapp. Clean, simple screen layouts. All designed to ensure that users want to use it so that key information is tracked.
But we go further. Talentis allows users to access information wherever and whenever they need it. That doesn't just mean on any device – it means being able to see your relationship with a person in Outlook, when reading an email from that person. It means being able to make notes about a candidate while reading her social media profile. Or automatically completing report templates in Word.
Talentis delivers your CRM data to your users when they need it, through both a Google Chrome Extension (the first extension in our sector to be awarded "Featured" status by the team at Google) and through our next generation Outlook & Word Add-Ins.
Our product is 100% future proofed – while many "older" Outlook add-ins will not be supported by future Outlook releases – read here, Talentis Add-in for Outlook uses the next generation web technologies and works seamlessly in Outlook for Windows, Outlook for Mac and Outlook on the Web. We're taking advantage of artificial intelligence with our unique ChatGPT integration – something you will not find elsewhere.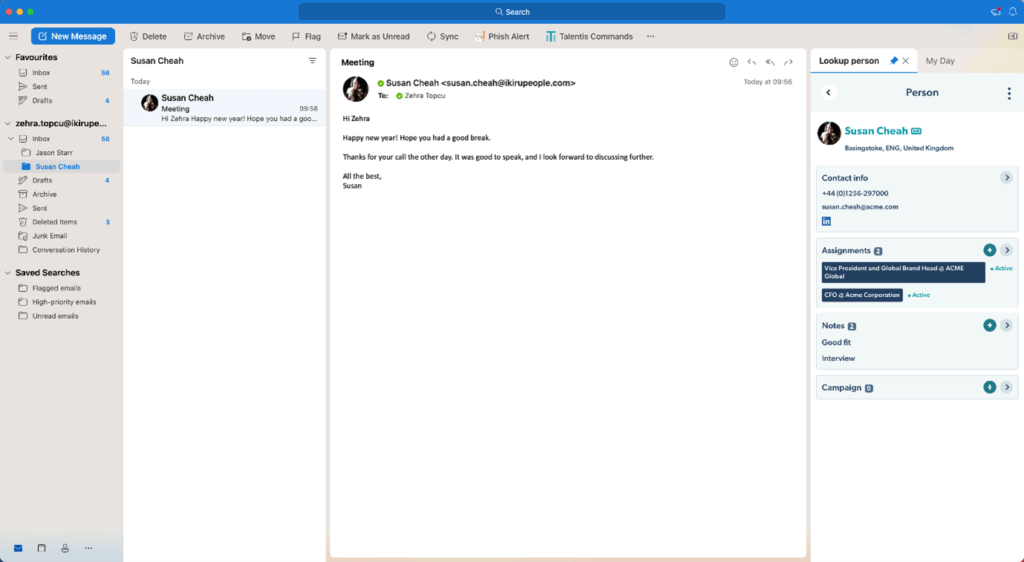 Client Reporting done right
The modern executive search firm needs to communicate progress with clients in an efficient manner. A search – particularly research-focused, retainer model search – can last days, weeks or months and reporting progress is a key element of keeping the end client engaged.
Like most modern executive recruitment software, Talentis offers a client portal which allows a Talentis user to share access with the end client on a project-by-project basis.
Many search firms – and, more to the point, end clients – still prefer progress reports via email. Traditionally, this was a painstaking process for the search firm, exporting data into Excel or Word and then trying to reformat it.
Talentis is not traditional.
Client reports in Talentis are produced directly within Word, via the Talentis Add-in for Microsoft Word. This allows users to produce native Word reports with just a couple of clients – beautiful, detail rich reports (including photographs where appropriate) in seconds. Standard reports include everything from Longlist and Shortlist reports, market maps and a variety of "candidate profiles" for the automated production of resume type documents. Use our standard templates or have us produce a branded report to your exact specification.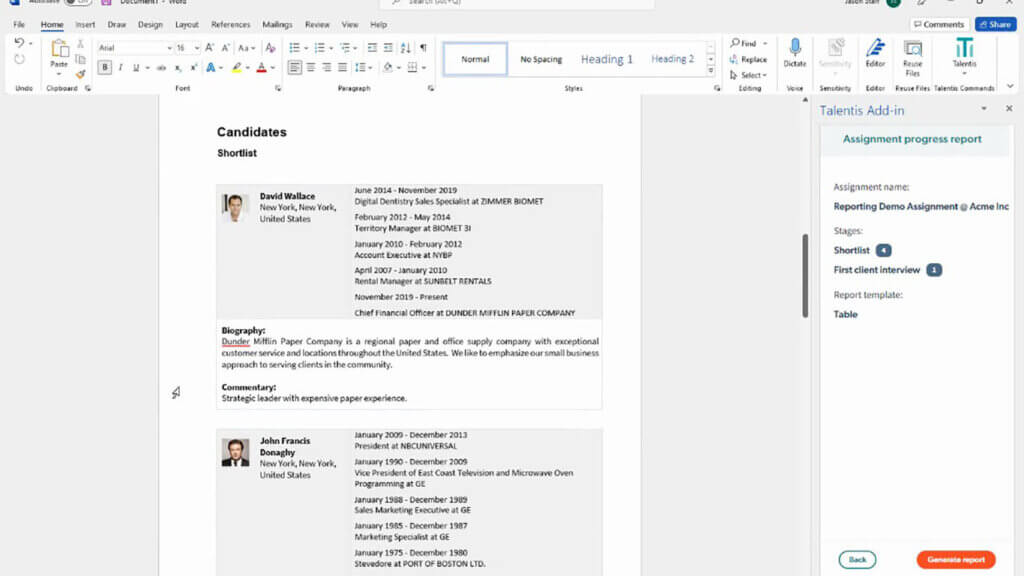 Customer support when you need it
Talentis is the next generation executive recruitment software from Ikiru People – the team behind FileFinder, Dillistone, GatedTalent, Infinity and ISV. Global support with 5* Trustpilot ratings (the best in the industry) ensures that you if you get stuck (and Talentis is so reliable and easy to use, this will be rare) – you'll have access to expert help when you need it (including real people on real phone numbers)!

Who uses Talentis?
Talentis is used by executive search firms and other recruitment agencies that need to source and recruit passive candidates. It is also used by in-house talent acquisition teams at major organizations in sectors as diverse as law and construction. The tool is equally adept as a solution for private equity firms looking to recruit talent on behalf of portfolio companies. Existing clients can be found globally, with users on every continent other than Antarctica!
Alternative recruitment software suppliers to consider
Selecting the right CRM / database platform for your executive recruitment business is a key decision that shouldn't be made without doing your research first. That's why we are happy to provide a helpful list of alternative vendors for your consideration. Depending on the nature of your business, you might want to consider products such as Dillistone – FileFinder or Infinity (both of which are developed by the same Group as Talentis and GatedTalent), or products from competitors. While few if any products offer the scope of functionality of Talentis, aspects of our platform's functionality can be provided by a combination of competitive products including LinkedIn Recruiter, Seekout, Bullhorn, Invenias, Cluen's Encore, Clockwork Recruiting, NotActivelyLooking / Ezekia, Access Software, Vincere, Workable, Itris or Tracker RMS or Recruitee. Here's a Google search for competitors.
Book a demo, take a trial
Don't just take our word for it. Book a slot with one of our consultants and we'll show you exactly how to use Talentis in the context of a real assignment that your team is working on (or has worked on or might work on – entirely up to you!). From a standing start, in less than half an hour, we'll identify directly relevant candidates, take you through key functionality and produce "real" client reports. If you are impressed, we'll set you up with a free trial so you can test the product for itself.
Get started with Talentis. Book a demo or watch a webinar before starting your trial today.