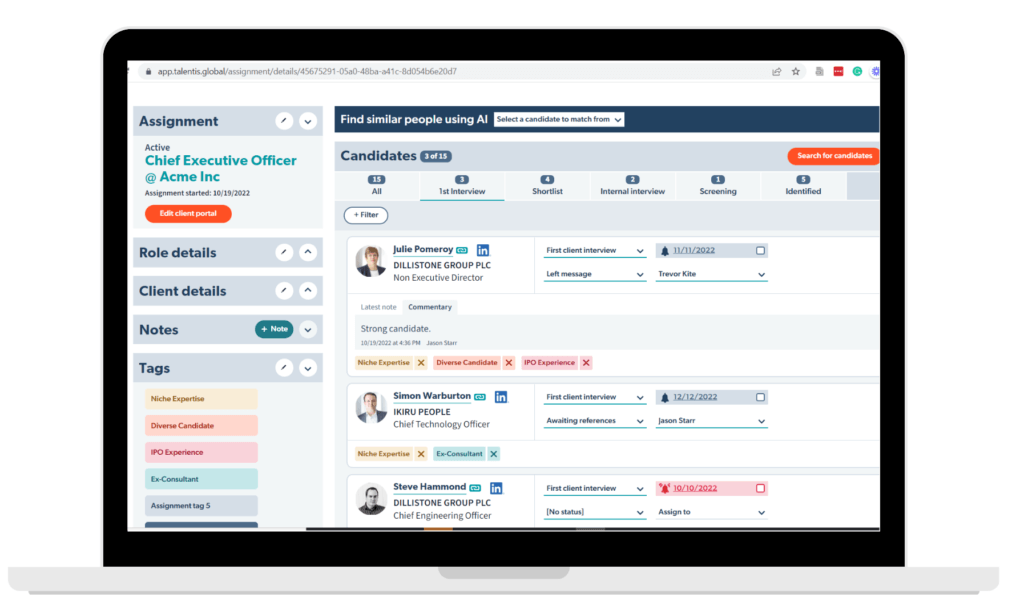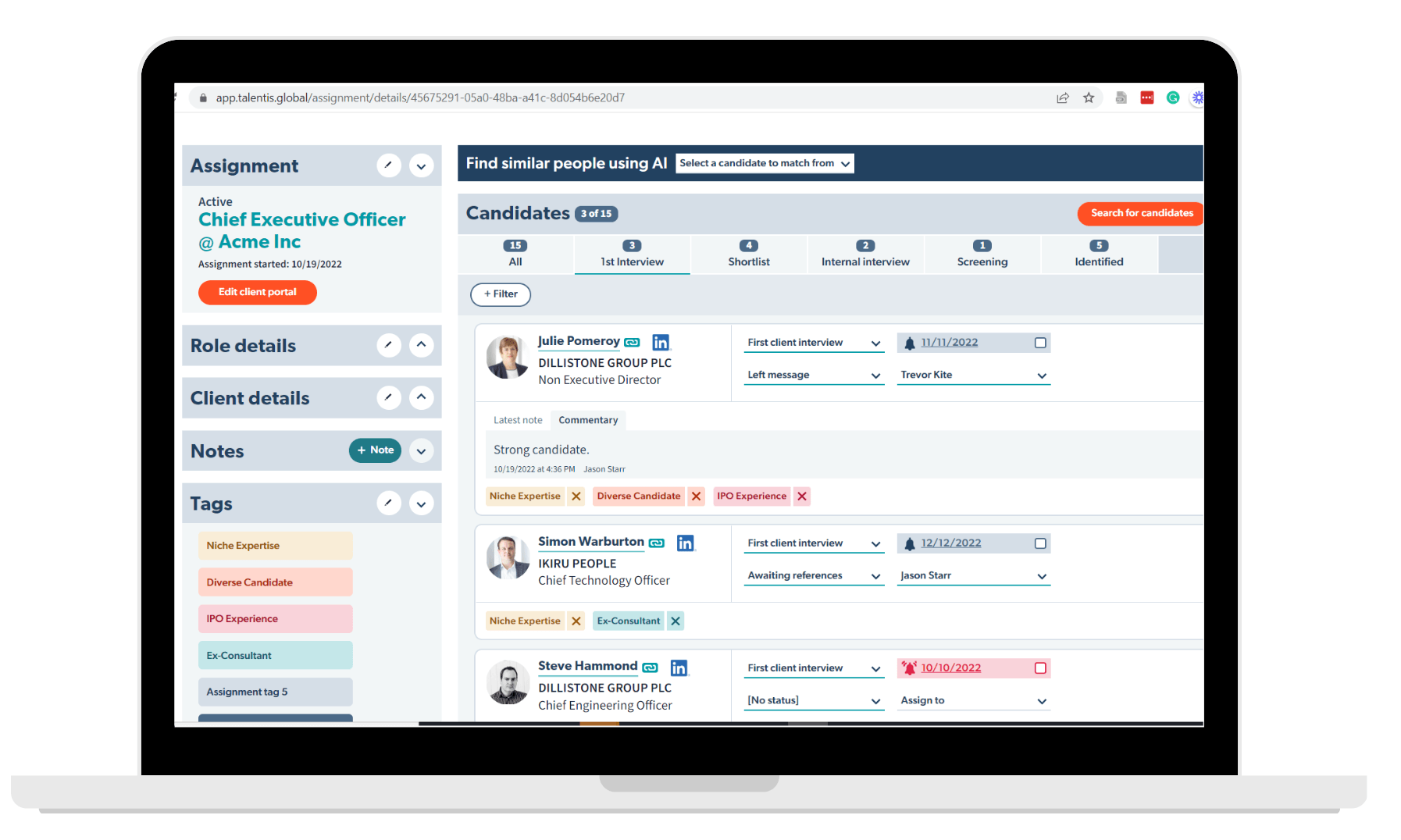 The traditional executive search software supplier provides an empty database that recruiters fill. Call it what you like – a recruitment CRM, ATS, whatever – the thought process is identical.
They provide the technology, you provide the data.
Users buy an empty database and fill it.
As a result, vendors boast of "ease of data entry", "parsing of LinkedIn profiles" and so on. Essentially, the claim is "when you are copying information into your database, we'll make it as easy as possible."
The question executive search software suppliers never ask
The problem is – no one ever asks "why do this in the first place?"
Executives are – by and large – relatively high profile. Therefore, information about them is available online – perhaps on LinkedIn, maybe Xing, perhaps on Bloomberg, perhaps somewhere else. Generally speaking, even the best maintained search firm database is going to be less well maintained than these public profiles.
Let's take a specific example. The CEO of Microsoft, Satya Nadella. He is profiled on LinkedIn. Bloomberg. Reuters. Wikipedia. And countless press articles. Many of these profiles go into significant detail. Here's his compensation data, from one of these public profiles. You won't find this on LinkedIn:
But, let's be honest, he's high profile. A celebrity executive.
Let's take a less well-known executive – the CEO of Dillistone Group, owner of Ikiru People and developers of Talentis. Not a business superstar, but you'll still be able to quickly and easily find numerous profiles, articles, interviews of and with him online.

Big data – big duplication
How many search firms will be maintaining records for one or other of these individuals? Probably hundreds (albeit not in the same ratio!). How many of those profiles will be as up-to-date and detailed as the online profiles? Maybe a handful.
So, here's the question. Why do search firms invest time and money recording information in proprietary databases? Sure – there will be some valuable data – comments, interview notes, search details – that is unique to the recruiter and confidential – but why record the basic biographical stuff?
The internet is your executive search database
So this is where Talentis is different. We work on the basis that "The internet is your executive search database". We've built the Talentis TalentGraph which is a huge global index of publically available profiles of people and organizations. We've then developed a Chrome extension which – on demand – can interpret which profile you are looking at (from more than a billion URLs" and then present appropriate proprietary information alongside it.
The result? Users don't add information on potential candidates to the CRM. Instead, users retrieve information about potential candidates directly from web profiles.
Reinventing executive search software
This is a dramatically more productive way of working. We've estimated that data entry on Talentis is roughly 90% less than on any comparable product (and we speak as a business that has been supplying technology to recruiters for more than 30 years!).
It's not just about data entry though. Consider data maintenance. The global employment market is in turmoil. How many people in a "traditional" database will be doing the same job at the end of 2021 that they were doing at the beginning of 2020? How much value is there in that extensively built proprietary database if it can't be relied on?
We know that in circumstances like this, recruiters tend not to trust the database. As a result, they look online first. Databases don't get updated. So it's a vicious circle.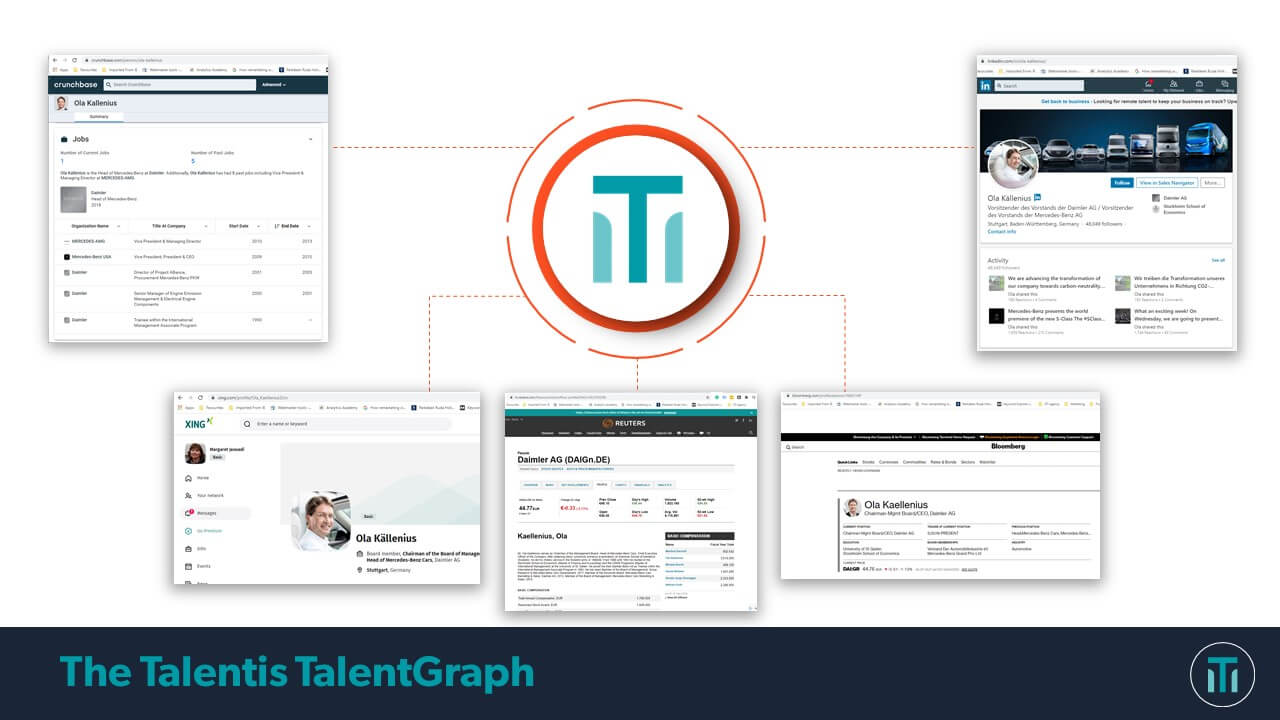 A new mindset for recruiters
Huge efficiency gains. But reinvesting technology in this way isn't simply about marginal efficiency gains – however significant they may be.
Our addressable TalentGraph covers more than a billion URLs. That's the very definition of Big Data. Profiles on millions of people, millions of companies. And with that type of volume of data, technology can make a real difference. Artificial Intelligence – AI – will never replace the process of executive search but it can certainly streamline, and the Talentis TalentGraph does exactly that. The Talentis Talentgraph is core to our executive recruiting software – and is entirely proprietory.
Artificial intelligence and big data – meet executive search
AI Candidate Recommendations? How about using our knowledge of which job titles are comparable and which companies compete with each other to recommend possible matches? Talentis can do that. But not many proprietary databases can do that.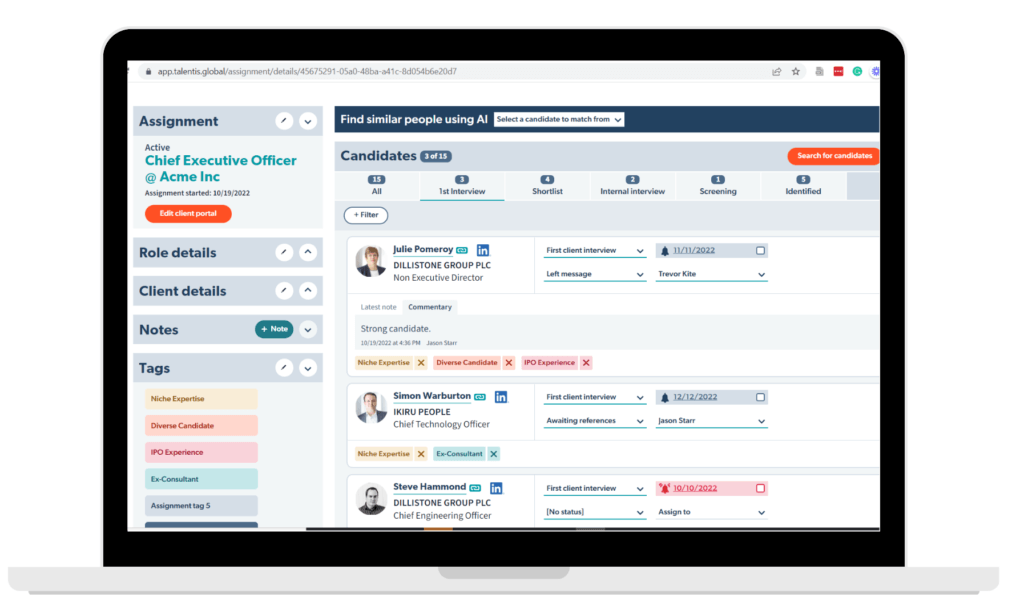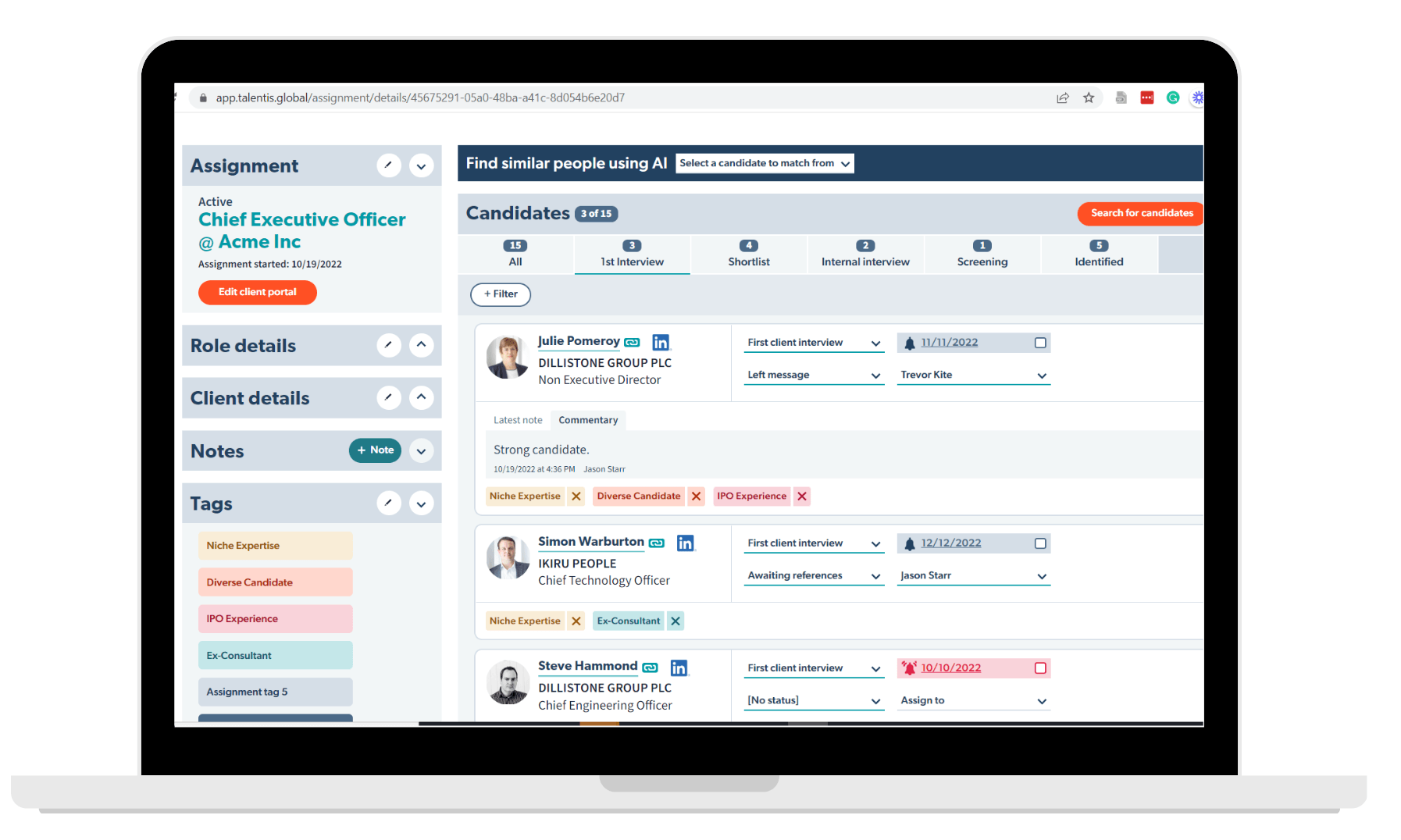 What about candidate research and referencing? With our profile matching, we can often suggest additional sources of intelligence for researchers – going beyond the claims of a LinkedIn profile. This is a key difference with Talentis – It goes beyond recruitment software and acts as both a candidate sourcing software and even a Linkedin Recruiter alternative.

A path to the future
Talentis is, we believe, transformational for executive search. However, it is at the beginning of a path which will see the product develop more and more value – as Talentis learns, the value it creates will grow. Our roadmap for the next 18 months – some of which is at the "proof of concept" stage already – is astonishing.
That's why we are offering early adopters the opportunity to trial the product for free – no obligation, no credit card required – and then take advantage of an exceptional launch offer allowing them to subscribe for less than half of the normal rate.
To book your demonstration and request your trial, complete the form on the right – we look forward to showing you what Talentis can do that generic recruitment software can't!