When asked about executive search, research and sourcing tools for identifying passive candidates for a new role, the average recruiter will think of LinkedIn Recruiter – or, at least, LinkedIn Recruiter Lite.
With its huge talent pool of passive candidates – covering all industries, functions and levels – there is good reason for this – and there's no doubt that LinkedIn Talent Solutions dominates the space for recruiters seeking to source candidates – particularly at a professional or executive level.
However, as huge as LinkedIn is, it doesn't tell the full story. Just because a candidate has a LinkedIn profile, that doesn't mean that they will have the appropriate keywords that a recruiter may use to source potential talent. For many searches, a recruiter using Talentis will find twice as many candidates as they might on LinkedIn – and then be in a much better position to shortlist the very best of those candidates.
Many senior candidates do not maintain social media profiles – even fewer reply to InMails. The best candidates may not have resumes, may not look at job postings on social networks or anywhere else. They are not job seekers – they are, at most, passive candidates.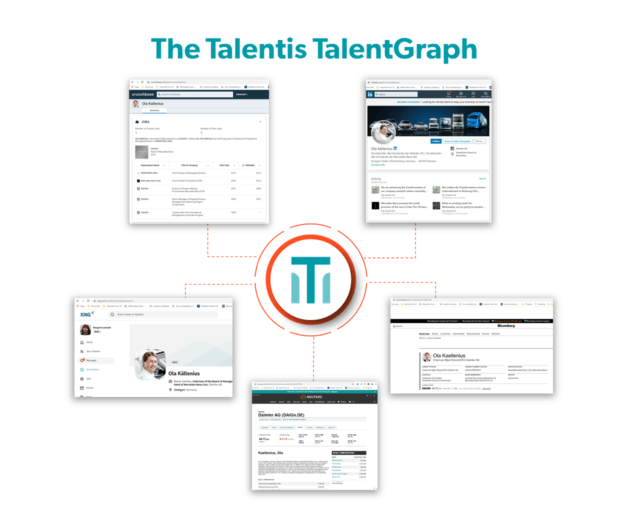 In reality, of course, information on senior executives is available across the web. And, in many cases, alternatives to LinkedIn Talent Solutions – business intelligence resources such as Bloomberg or Reuters – will go into far more depth than is typically found on a social media profile. Meanwhile, sites like Glassdoor can help provide information on company culture, while Xing may be a better source in Germany and German speaking markets.
Looking beyond LinkedIn Recruiter for passive candidates
Take these profiles of Microsoft CEO Satya Nadella.
His LinkedIn profile below covers his current employer and board roles – plus educational data, along with his social shares. It offers a good first impression of his qualifications for an open job.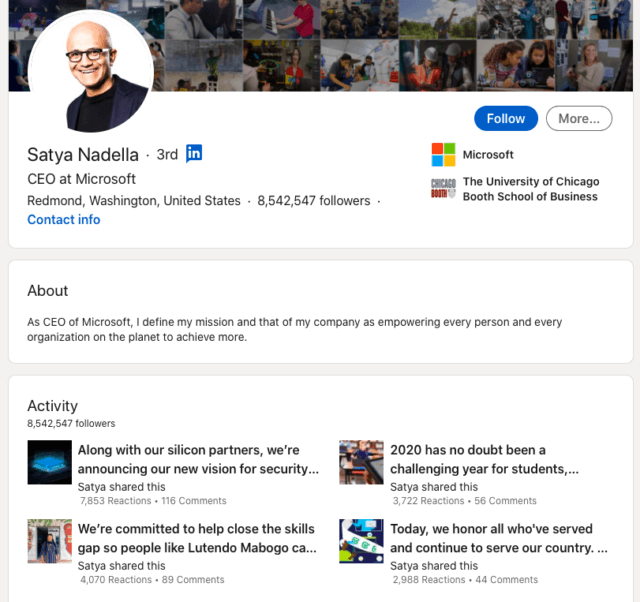 The LinkedIn profile doesn't tell the whole story, however.
Now take a look at his Bloomberg profile.
This offers more extensive candidate information including not just on his current role but also intelligence on his previous experience.
And if you check his Reuters profile, there's yet more information including data on his compensation.
The recruiter wishing to assess the candidate will generate better insights based on a review of all three sites than she might from LinkedIn alone.
Clearly, Satya Nadella is one of the highest-profile executives in the business world. As a result, the wealth of information available on him is not necessarily available on every qualified candidate that a recruiter considers.
However, these sites are not simply offering information on CEOs at Fortune 500 companies.
There are over 1 million executive profiles on Bloomberg. These are supplemented by corporate biography, other social media and articles across the web. The experienced recruiter knows not to rely exclusively on LinkedIn.

Sites like Bloomberg and Reuters are great for identifying and researching executive-level passive candidates. Angellist and Crunchbase are great for finding potential employees for startup or tech businesses.
For executive recruiters looking to identify top talent in other niches, other social media sites might be more helpful. GitHub, for example, is a "go to" site for candidate research and sourcing teams hunting for the best technical staff.
There are a variety of tools and sources to track potential candidates across the web. All these provide can be considered LinkedIn Recruiter alternatives – or, in some cases, companions.
Talentis is one of these. Covering millions of passive candidates, more than 10 million organizations and built around a talent graph of billions of distinct URLs, the tool helps with the identification and engagement of candidates.
At the heart of the application is the Talentis Chrome Extension. Available from the Chrome marketplace and supporting numerous modern browsers, the extension follows the user around the web. It then provides information on passive candidates as they appear on the screen.
The most obvious example of this is on Google.

Enhancing candidate longlists
Sourcers are well versed in using Google to identify candidates, using keywords or Boolean searching to "xray" sites such as LinkedIn.
When a recruiter using Talentis undertakes such a search, they will notice something different.
Further information enhances the Google search results. Additional information on the potential candidate, further links and – when appropriate – details about any hiring process that he or she has been involved with.
Directly from Google, the recruiter can review and select passive candidates – individually or in bulk. And they can instantly add them to the longlist for the open position, all via the Chrome extension.
Sourcing and engaging with passive candidates from across the web
Of course, recruiters – particularly those involved with executive searches – are not particularly interested in identifying long lists of targeted candidates. They seek the best candidate and will undertake extensive research prior to inviting potentials to join an interview process. Otherwise, they would simply post ads on job boards.
As noted above, extensive background information may be found online and this is very helpful to the researcher. Again, the Talentis user has a headstart when undertaking candidate research and sourcing. The Chrome extension allows users to access supplementary information about a possible candidate from more than 1 billion webpages.
What this means in practice is that the user looking at an executive's social media profile on LinkedIn, her Bloomberg bio, her Reuters bio and, so on, can – with a click of the Chrome extension – add her to a candidate list, and make some notes.
By their very nature, passive candidates are not active. Recruiters need to approach them. For many executive recruiters, this involves going back to LinkedIn Recruiter Lite and firing off an InMail.
LinkedIn InMails are a great way to begin an outreach process – in some circumstances. However, for more senior executives, the reality is that they may receive a dozen such messages in their inbox every day. The executives seldom read them. Response rates decrease significantly for higher profile and more senior talent.
That's why we've partnered with a third-party contact information-sourcing firm. Our users get the ability to reach out to possible candidates in other – often more effective ways – by purchasing email addresses or phone numbers directly from inside the App.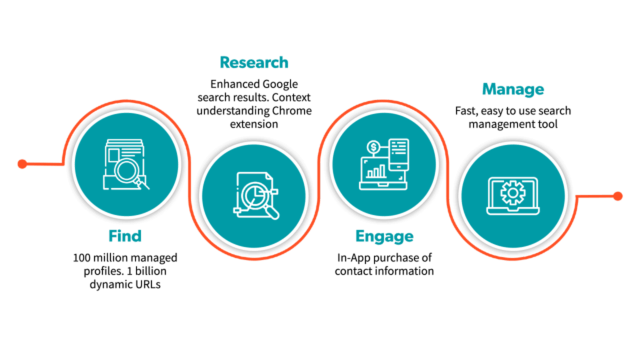 Managing the search process
The team behind Talentis has extensive experience providing technology solutions to some of the best-known executive search firms in the world, along with inhouse strategic recruiting teams at major corporations.
As a result, we understand that the recruiting process can stretch out. A long list of potential passive candidates becomes a shortlist of active candidates, prior to the placement of the successful candidate into her new position.
We also know that some recruiting teams have invested heavily in ATS or CRM type solutions. While they may be seeking new technology to facilitate passive candidate sourcing, they will require integration with an existing ATS platform.
Other firms don't have such technology in place. Or they believe that the process of recruiting top candidates requires a different process and recruiting platform.
Talentis recognizes both approaches.
For talent professionals seeking the ability to identify and engage quality candidates via a new platform, but requiring the ability to manage the broader talent pipeline in an existing system, our tool offers a CSV (XLS) export facility to facilitate a recruiter system connection.
Simply identify candidates in Talentis (or on Google, or a professional network or a corporate website or…!), add them to a longlist, have initial conversations and then – when ready – export them to the ATS.
For the executive search firm looking for an all-in-one solution that covers everything from the initial research and sourcing, through engagement and into project management, Talentis offers a fully integrated experience.
A web app sits alongside the Chrome extension and allows users to manage open positions entirely from within the app.
Keeping your talent pipeline up to date
We live in turbulent times, with many candidates in the process of an active search for a new job. For traditional ATS type systems, this is a problem.
Candidate records built up over the years immediately become outdated when the candidate leaves her current job. In a world of big data and artificial intelligence, recruiters should not still be facing these frustrations.
That's why the Talentis talent graph is so unique. Our platform is based around the idea of allowing you to access your recruitment CRM from alongside publicly available candidate biographies – on social networks or anywhere else.
This means that your users always have access to the best, most up to date information on a candidate.
Our artificial intelligence and big data tools are constantly refreshing our profiles. This ensures biographical data on your candidates are kept up to date.
It's a game-changing methodology that is transforming best practices in executive search and strategic talent acquisition.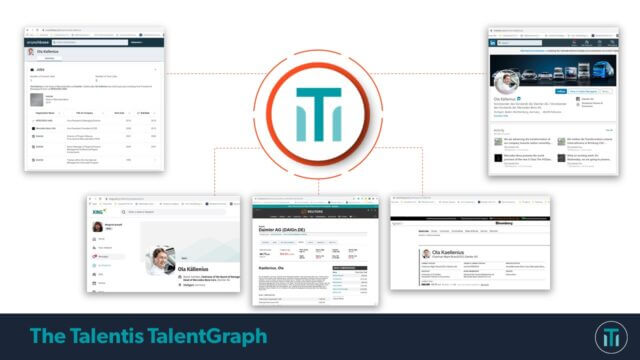 Understanding the executive search and recruiting industry
The team behind Talentis has served the executive search and strategic talent acquisition world for years.
Our sister product – FileFinder – is used by thousands of search consultants at executive search firms and inhouse talent acquisition teams alike.
Talentis is our next generation platform, bringing AI to the world of passive candidate recruiting.
We are part of one of the world's few publicly traded businesses to focus on the recruitment sector. And we are known for our commitment to innovation and service. Our business is built on referrals.
Arrange your free trial of Talentis
For the executive recruiter seeking to identify not just a good candidate, not just a list of qualified individuals, but the very best candidate, it's not enough to simply place job ads and await applications. It's not enough to simply search Linkedin Recruiter or Linkedin Recruiter Lite.
A proactive search process involving candidate sourcing, research and identification, prior to an assessment of the candidate based on detailed information, is likely to be core to finding the right talent.
A great candidate – the right candidate – is not an algorithm.
Talentis facilitates this recruiting strategy by helping the recruiter – or recruiting team – do just that. Identify passive talent from across the web. Research them using profiles from multiple sources. Longlist, engage, shortlist and – hopefully hire the ideal candidate.
Our confidence in our platform is supreme. It's a new way of sourcing – a recruiting tool that will allow recruiters to find relevant information and then source candidates who are a good fit for the role, manage the approach and deliver better candidates – all with a focus on ease of use.
So, we are happy to invite any search firm, independent recruiter, or in-house strategic hiring team member to request a free, one week trial, after a personal demo.
To learn more, your next step is to request a free demonstration.
Or watch a webinar and see how Talentis can help you fill your critical roles!