Talentis is a new breed of executive recruiting software. It harnesses the power of Artificial Intelligence and Big Data to take transform the process of passive candidate sourcing, engagement and hiring!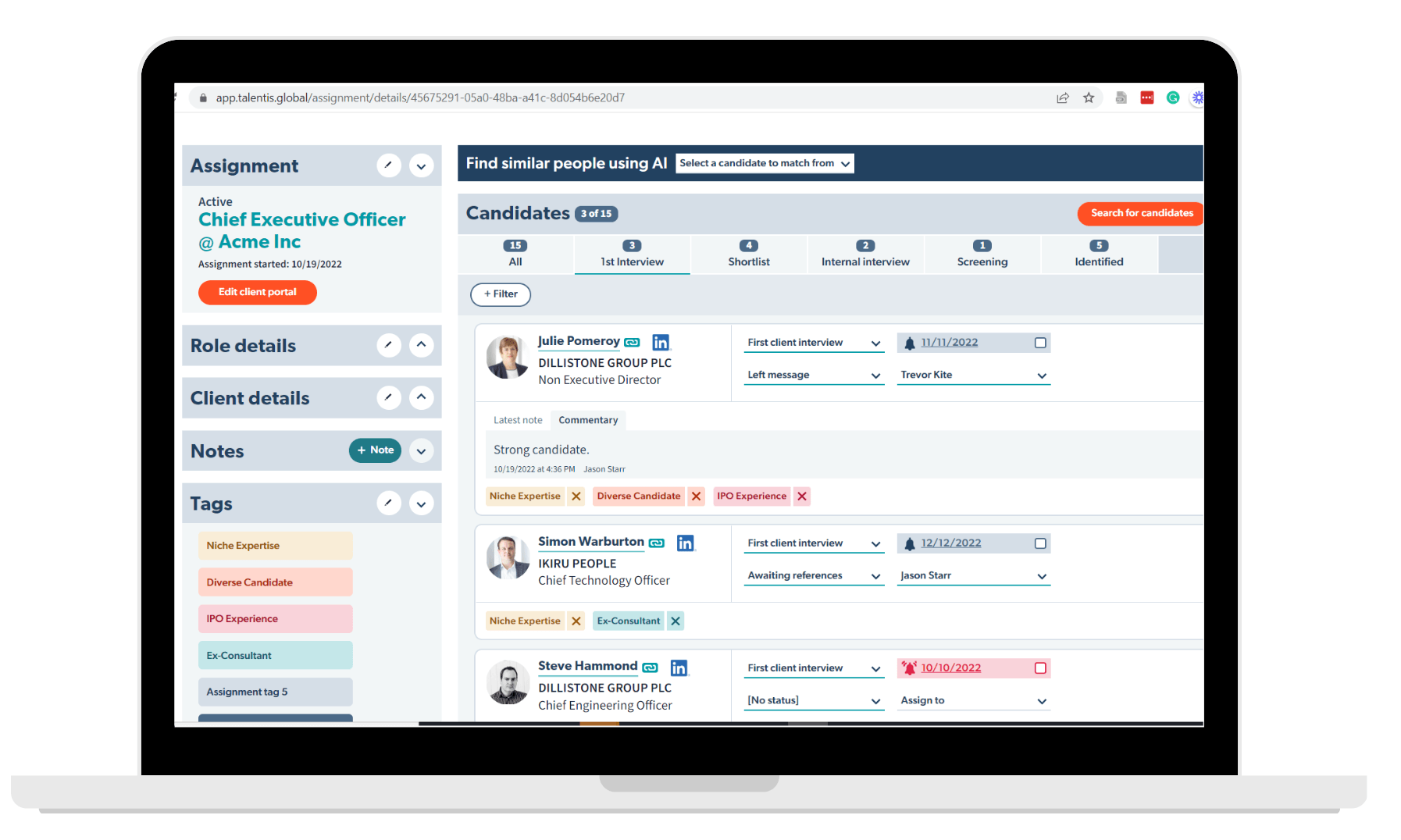 Old fashioned recruitment software was designed to store candidate data. Today, recruiters know that for any great candidate there is far more information beyond the confines of even the best maintained database. Talentis is unique in executive search software – it's designed from the outside in, and reduced data entry by 90% because of it! Book a demo and learn why Talentis is so different!
Until recently, every executive recruitment software on the planet has had one thing in common – they all begin as empty databases, with the user expected to fill them with information.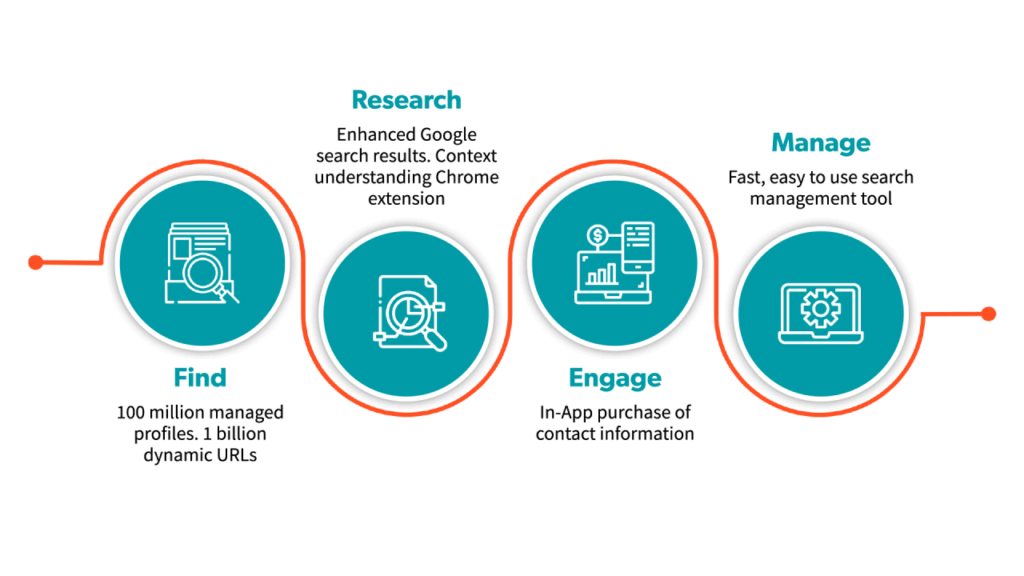 It's been the starting point for these tools for decades, based on the belief that a CRM platform should help recruiters 'manage and organize' the information they gather from external sources.
In contingency and lower level recruiting, the process of of filing this empty database is made easier by the willingness of active candidates to apply for positions – filling out forms and giving meaning to the phrase "Applicant Tracking System".
However, the best talent is rarely actively seeking new roles. The best talent doesn't visit job boards, looking for open positions. As a result, the executive recruiter is far less interested in job posting and far more focused on sourcing potential candidates – be they active job seekers or not.
Which brings us back to where we began. The old fashioned idea of an executive recruitment software that is designed to be filled by the recruiter, asking the researcher to go out and use other technology systems to find information, then type it, drag it or parse it into the database.
It's time-consuming and it's slow. Moreover, it also fails to capture the vast potential of available online data that gives ambitious recruiters the edge in their search projects. And once it's logged in the database, it's frozen in time.
Executive recruitment software for the Internet age
Talentis is a new breed of recruiting tool that breaks with tradition, based around a dynamic index of millions of people and company profiles and a TalentGraph of – literally – billions of distinct URLs. These URLs cover every type of executive profile – ranging from social media and Linkedin pages, through to a senior executive biography on Bloomberg or the profile of the management team of a small business on its company website.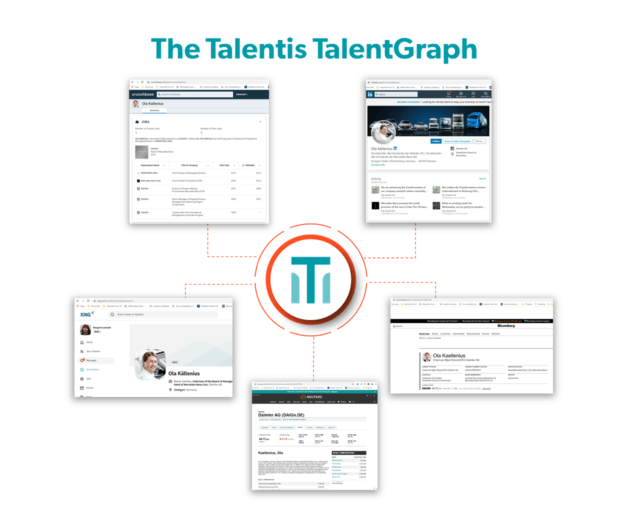 The Talentis platform uses big data and artificial intelligence to help recruiters build and manage relationships around this data. So, it's quite effortless to add their proprietary information as they go.
It's certainly a new way to think about the hiring process. It shows an alternative to painstakingly loading fragmented information from across the web into your static CRM. Why not take your executive recruitment CRM software with you as you explore online?
Above all, Talentis is designed to help pro-active recruiters eliminate painful productivity blocks. This recruiting software transforms from a 'helping hand' to a strategic partner in successfully completing recruitment searches and assignments. Cutting the time to shortlist, increasing completion rates and leading to faster placements.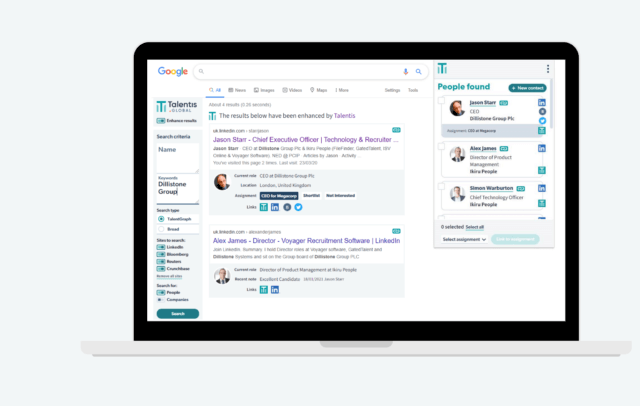 Software for client-driven recruitment
There are two fundamental types of recruitment process.
Firstly, "candidate-driven" searches where a recruiter is tasked with finding a job for a candidate. The second is "client-driven" where a recruiter works to find the best candidate for a client role.
The differences between the two are significant and shape the technology each kind of business needs to run.
In candidate-driven recruitment, the recruiter works with a specific candidate to find a job for him or her. They work from the starting point of the candidate resume. The aforementioned Applicant Tracking Systems – ATS – is ideal for this
Talentis is designed for client–driven recruitment – the retained executive search model, practiced by executive search firms and increasing number of strategic talent acquisition teams within organizations. Recruiters typically start with limited data and are expected to look beyond the people they know to find the best candidate – who is often passive.
The executive search methodology is typically used to fill senior positions – CEO, C-Suite and Board – but also to fill strategically important positions across the organization.
Whatever information they have on their recruitment CRM software systems is unlikely to be a full picture of possible candidates. Ensuring they deliver a comprehensive search for clients means sourcing and mining information from a huge range of external platforms.
However, Talentis was designed from the bottom up to transform how client-driven recruiters research, identify and engage with candidates.

Talentis, through its powerful new tools and intuitive interfaces, provides a competitive edge to recruiters. It provides exponential leverage to those who need access to deep, detailed data beyond their internal CRMs to find and engage the best candidates for their clients.
From market-mapping to career profiling, data is seldom in one place.
Tweets, LinkedIn posts, speaker bios and many other potential data sources add vital clues to research work of thorough recruiters.
Yet, traditional CRMs offer little or nothing to help recruiters solve this problem. There's the same headache that existed twenty years ago. The question of how to roll this disparate data into a single place remains as painful and persistent as ever.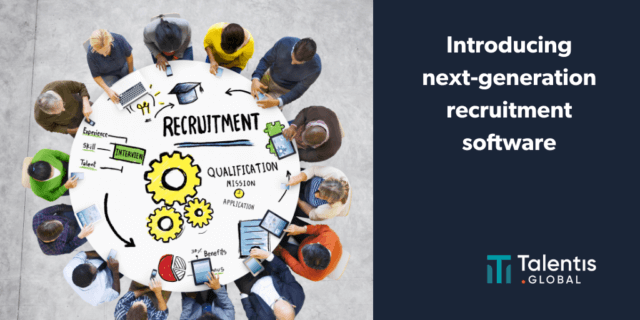 AI driven executive recruitment software
Talentis is transforming the recruitment and executive search process using AI and data science.
Our starting point is "the internet" knows more about most candidates than the best recruitment CRM. Frankly, it probably knows more than the vast majority of executive recruitment databases put together.
With thousands of complex sources, a skilled researcher can piece together information about target candidates and gain access to an overview picture.
But doing it the old way is slow, clunky and incomplete.
There are gaps in processes and hours lost to manual search. This occurs despite the availability of technology to plug these workflow gaps.
However, we created our executive recruitment CRM software to solve this problem. It brings the power of modern data and AI tools to the recruitment process, putting recruiters in the driving seat of a sleek, data-driven research machine, all designed to find the best talent to fill an open position.
We've indexed millions of people and company profiles from across the web. Consequently, integrating them into a search engine like Talentis allows users to search across all these tools.
The result is executive recruiting software that dramatically accelerates researcher and recruiter efficiency. And it achieves this by giving users access not only to their own CRM data but a TalentGraph of more than 1 billion URLs.
By delivering this in an integrated platform, Talentis helps recruiters find the best candidate for client roles. At the same time, it speeds up the process of researching and gathering information on candidate profiles.
Recruiters can, of course, continue to use all of the regular features of traditional CRM and ATS systems to add and manage their own information. But they begin each client assignment with a dizzying head-start over competitor firms who head out to conduct research manually.
Next generation user experience
The team behind Talentis has spent years developing recruitment software solutions. Our FileFinder product has long been recognized as a leader in the retained executive search software space. Talentis builds on this pedigree.
We've spent literally hundreds of hours interviewing and watching users do what they do. We learned how they operate, where they source their information from, and how they navigate the internet.
We've discovered lots of things – but the most important?
A typical recruiter spends some time in their database, some time on LinkedIn, some time on sites such as Crunchbase or Bloomberg, then on to Google for some Boolean searching….. and a lot of time navigating between them all.
Additionally, they keep desktop notes and have hundreds of distracting tabs and windows open. They also lose a soul-destroying amount of time to switching back and forth between platforms.
Each change means a break in concentration and a slowdown of productivity.
It also often means manual copying of data, or (for recruiters with poor admin habits or seriously short on time) data left fragmented across different tools, or never ported into the CRM at all.
We've changed that.
A key part of our design is the Talentis Chrome Extension that allows your internal data to follow you around the internet, annotating the sites you visit and the profiles you view.
Think of it like Augmented Reality for headhunting– a kind of Google Glass for researchers. It gives them the online equivalent of a 'heads-up display' as they navigate the web.
Talentis not only shows you what you already know about a company or a profile (without your having to cross-reference with your CRM), it also enhances your information with data pulled from other internet sources.
It's a far more efficient way of working – one that takes the behavior and working patterns of top-performing recruiters and knits them into a single tool.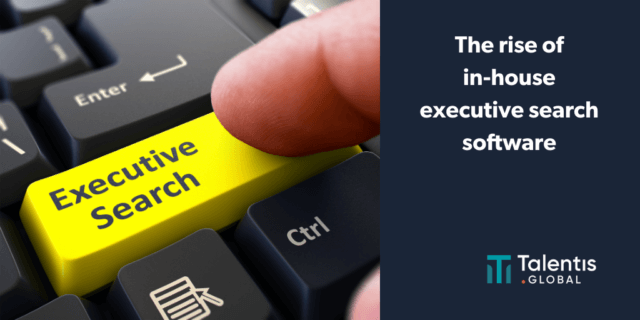 Using Artificial Intelligence to speed up the recruitment process
At the core of what any recruiter does is candidate identification – finding the ideal person for a client vacancy.
It is not a process that will ever be entirely AI driven. But what if a recruiting platform could suggest candidates based on individuals who are already of interest?
If you are looking at the Chief Procurement Office at Megacorp, for example, the Talentis AI system might suggest the Head of Purchasing at SimilarCorp, automatically.
Using rich profile data already stored within the powerful central index, as well as advanced algorithms to study and understand candidate profiles, Talentis can not only add information to a recruiter's work flow, but pro-actively suggest candidates, matches and companies to review.
This game-changing introduction of AI accelerates the research process, helping recruiters uncover candidates that might not otherwise be found.

Try our executive recruitment CRM software for free
The team behind Talentis is Ikiru People – a global recruitment software supplier – and the developers of FileFinder, Voyager, ISV and GatedTalent. We have a reputation for excellent customer service and support and enjoy sky high Trustpilot scores. We are also the subsidiary of a public company – Dillistone Group Plc.
We have decades of experience supporting recruiting firms of all sizes with specialist technology solutions (the FileFinder system was long considered the best executive recruiting software).
At Talentis, we take pride in learning continually from our customers and working their needs into innovative product features. We know recruitment inside-out, from start-up to multinational, and from niche market to generalist.
So sure, we've been around. We know the space.
But Talentis is new.
And, like every innovation, we want customers to get their hands on it to see just what's so different. We want you to compare Talentis with more traditional software products – (feel free to check out rivals such as Invenias (now part of Bullhorn), Encore by Cluen, Clockwork Recruiting, Ezekia and, of course, our stablemate FileFinder).
But we want you to come back to Talentis. That's why we are offering free trials for executive recruiters.
No commitment.
No credit card.
Simply book a demo before signing up for a free trial and get started.