The passive candidate sourcing process is all about finding the best candidate to fill a specific, open position (or soon to be open position) for a specific organization. It's not about finding the best applicant or about finding jobs for potential candidates. Talentis is an easy-to-use candidate sourcing software to facilitate sourcing candidates across the web – not just on LinkedIn!
Finding the best requires that the recruiter undertakes a thorough review of the entire talent pool – identifying passive candidates who are not actively looking for roles and, as such, would not be found applying for opportunities on job boards.
Sourcing Passive Candidates
As a result, at the core of any search process is research. The researcher – or candidate sourcer – is tasked with mapping the market and identifying the best talent in the sector – and beyond. For many, this process begins on Linkedin, but the experienced sourcer will know that there are various additional sources for information on executive candidates.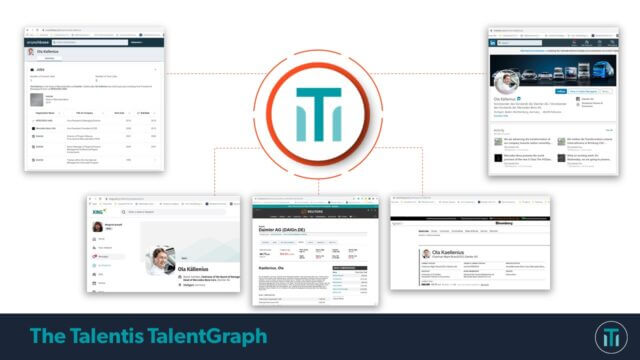 In terms of social media, Linkedin is often the best starting point, although, in Germany and other German-speaking markets, Xing is worthy of consideration. For very senior executives or board members, profiles on sites such as Bloomberg or Reuters can provide detailed information including board roles and even compensation. Then, there are specialist sites that are particularly valuable for sourcing in certain sectors – Crunchbase or Angelist, for example, are great tools for the executive recruiter seeking to identify top talent for tech startup roles, while Github is valuable for recruiters seeking technology and coding specialists.
Sourcing executive candidates from across the web
In addition, of course, are corporate websites. Major organizations will regularly provide detailed biographies for management team members, while articles in the press can often provide interesting insights into a prospective candidate – insights that might not be provided on the executives' own maintained profiles.
Of course, an experienced executive recruiter will also know that not all executives may be found on the web. In some niche markets, senior candidates actively avoid leaving an online footprint, and in these cases, more traditional sourcing techniques may be required. Referrals are a valuable source of potential candidates, and identifying relationships between individuals is another tried and testing approach to name generation and executive candidate sourcing.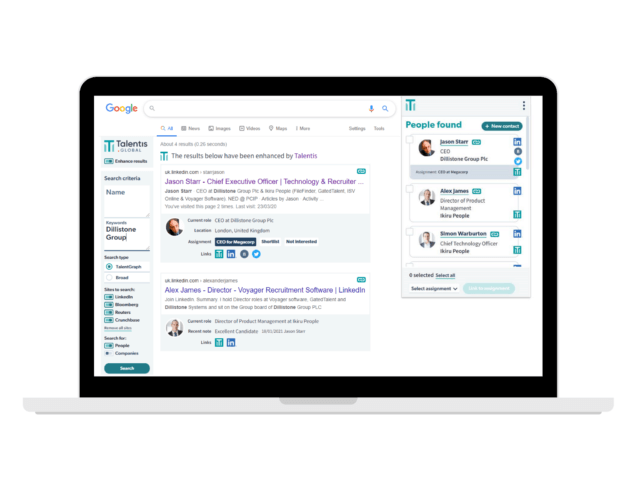 Of course, sourcing across multiple websites and offline takes time and offers diminishing returns. If 90% of qualified candidates may be found on Linkedin (for example), then is it worth spending the additional time to identify the remaining 10%?
Well, the answer is that if the recruiter is tasked with finding the best candidate to fill an open position, she needs to consider the entire market. However, automation and candidate sourcing techniques can be used to dramatically speed up this process.
Executive Candidate Sourcing Software – Streamlining the Process
This is core to the thinking behind the Talentis candidate sourcing software. Our platform is designed to allow recruiters – at an executive search firm or within a corporate strategic hire or in house recruiting team – to research and identify candidates across multiple sites simultaneously, review the most valuable source Linkedin, Xing, Bloomberg, whatever – and then engage directly with the candidate – all from a single screen and with virtually no data entry.
At the core of Talentis is our proprietory Talentis TalentGraph – an index of publicly available bios sourced from across the web. This index – which contains information on millions of individuals is delivered via the Talentis Chrome Extension. The chrome extension allows users visiting the profile of a potential candidate to immediately engage with her or her – adding the prospective candidate to a search list or sourcing contact details to facilitate the candidate outreach.
Candidate Sourcing With Chrome Extensions – a New Approach
While other executive search software products offer Chrome extensions, there is no product that works quite this way. The result is that Talentis users are required to do virtually no data entry – the candidates own Linkedin profile- or Bloomberg biography – or Xing page or newspaper interview – becomes the candidate record, and the user is able to simply "tag" the record with additional information about the search project, contact notes, an assessment or even – at the appropriate time – the candidate resume. The recruiter is safe in the knowledge that the central TalentGraph data is constantly refreshed, the recruiting team's own data is proprietary and is not shared with other firms.
The result? A hugely streamlined executive search and candidate sourcing software. Recruiters are able to create a long list of top candidates in minutes; discover market intelligence from a vast array of resources and cast a wide net across the entire potential candidate pool.
Boolean search for executive candidate sourcing
Researchers can source directly from within Linkedin or use Boolean search techniques directly from sites like Google. Indeed, our Google enhanced search functionality allows any member of the recruiting team to take advantage of advanced "Xray" and other boolean search techniques to identify executive-level candidates from across the web.
Once the initial candidate list is identified, Talentis offers users access to its proprietory AI Search functionality. Artificial Intelligence is used to propose potential candidates based on the candidates identified by the recruiters themselves. Over time, as our artificial intelligence and its algorithm "learns" about potential candidates, the value of this unique sourcing tool will become ever greater.
Managing the candidate talent pool
Once the list of candidates is developed, Talentis offers an array of easy-to-use search management functionality. Candidates may be managed through the search process. Recruiters who enjoy the ease of use of an excel spreadsheet will appreciate the simplicity of the user interface, while those seeking a more sophisticated user experience will recognize the potential that Talentis brings.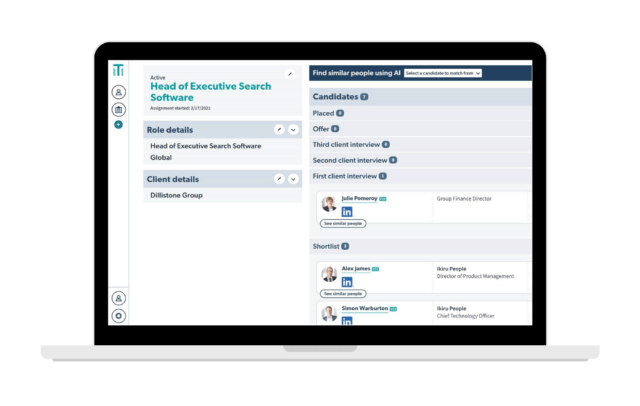 With a client base made up of both executive search firms and in-house sourcing teams within organizations, Talentis recognizes that a one size fits all approach is not always appropriate. As a result, the tool is designed to allow users to manage candidate lists within Talentis or to export data to a separate ATS (applicant tracking system) or recruiting CRM via an excel or CSV export.
A quality candidate and an experienced hire…
Talentis is a next-generation executive and passive candidate sourcing software developed by Ikiru People and Dillistone Group – the recruitment software industry-leading team behind legendary recruiting CRM, FileFinder (repeated winner of the "best executive search software" award from BND and a well-known brand in the talent community).
In addition to the years of experience of best practice in the recruiting process from within our own leadership team, we undertook extensive research among users of an array of executive search software products – including FileFinder, Invenias by Bullhorn, Cluen's Encore, Ezekia, and Clockwork Recruiting along with various generic ATS and CRM platforms, plus an array of sourcing and social recruiting tools.
The result – a combination of artificial intelligence, cutting edge data science, and a fast, easy to use executive search software product with a focus on web research.
From Resume Databases to Internet Research
It represents a move away from the traditional mindset of executive sourcing teams building "resume databases".
Search firms and talent acquisition teams have – over the years – invested a fortune in building huge databases with tens of thousands – sometimes hundreds of thousands, occasionally millions – of executive profiles. These records become frozen in time and are rarely as up-to-date as information found on the web. The unique Talentis approach to executive recruiting software turns this mentality upside down – rather than maintaining proprietory, local databases, the idea is to produce a management tool to track public biographies and manage the search process with an easy-to-use project management tool.
Try the Talentis candidate sourcing platform – Free trial!
Talentis is a very different type of executive candidate sourcing software. That's why we are keen to allow researchers, sourcers, and consultants to evaluate the platform through a free trial. The best way to experience the potential of Talentis, book a demo, watch a webinar, and we'll provide you with free access for a week to help you evaluate how Talentis can help meet your business goals. If you like what you find, you'll be able to sign up instantly for our cost-effective cloud SaaS solution immediately – no upfront costs, training, or complex deployment.