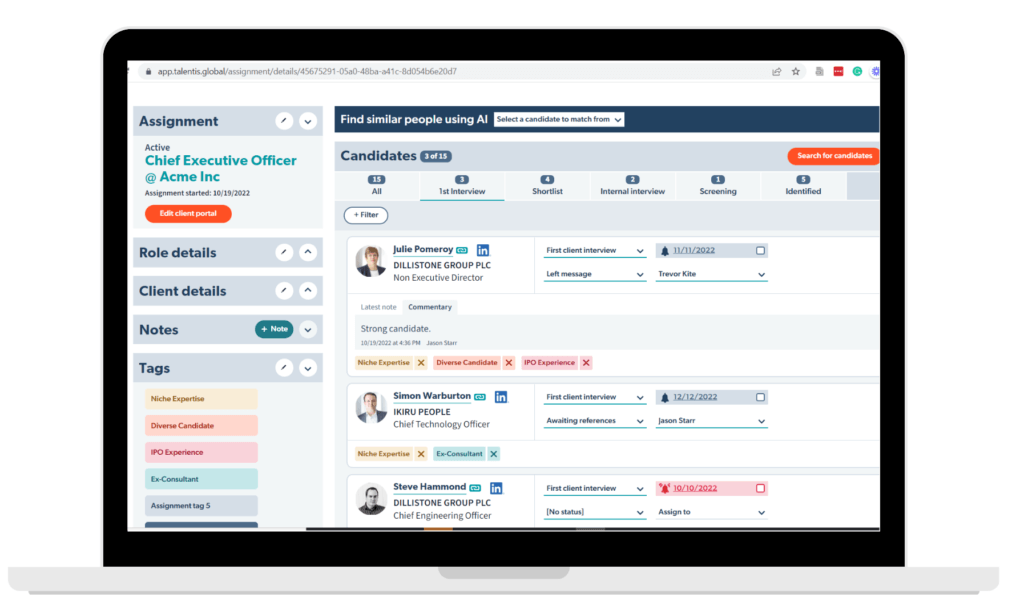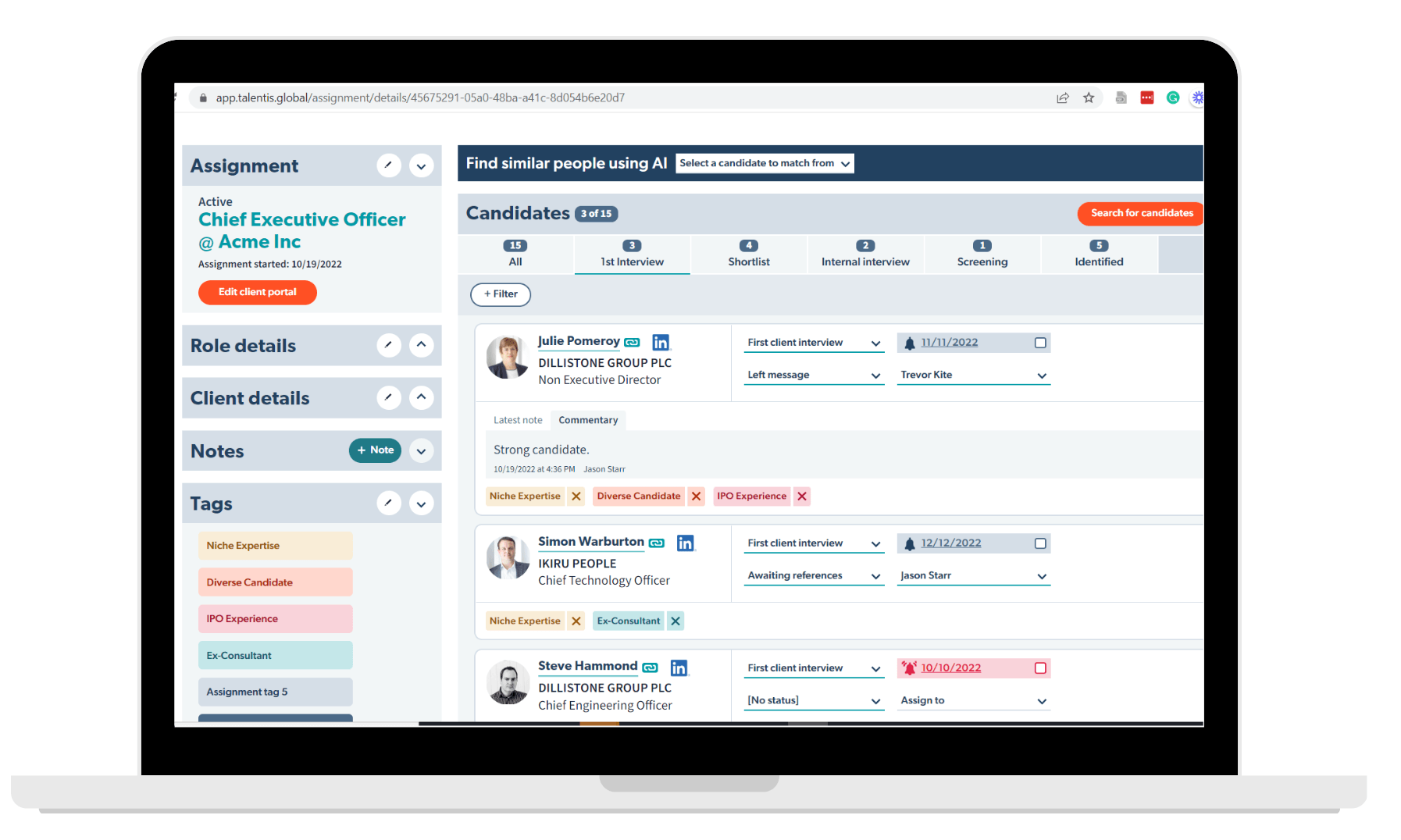 For the recruiter looking to identify a recruitment software solution, there is a dazzling array of choices. However, just as not all recruitment is the same, not all recruiting software types are the same.
An executive search software product will be very different from a recruitment software product designed for a staffing firm, which will be very different from an applicant tracking system (an ATS).
Here's why – and what to look for if you seek a recruitment management system for an executive search firm or in-house search team.

At its most fundamental level, the executive search process involves finding and engaging with the very best candidate to fill a specific position on behalf of a specific client.
Why executive search requires a different type of recruitment software
Finding the ideal candidate involves research – find the best candidate is not the same as "finding the best candidate we know" or even "finding the best candidate that might reply to a job posting."

This is very different from the recruitment process that underpins an ATS. An ATS (Jobvite would be an example of such a product) literally tracks applicants – active candidates who will reply to a job ad.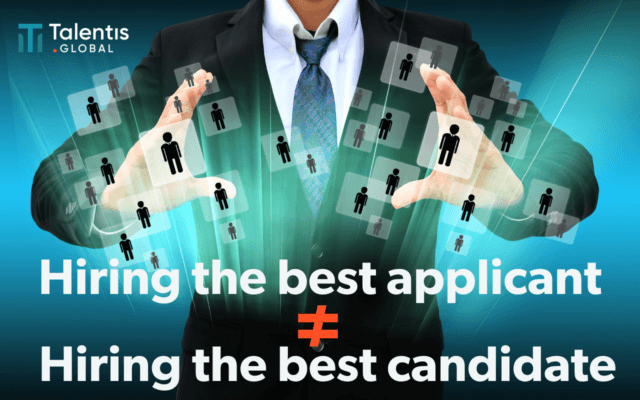 Here, managing the research and sourcing process is far less important than delivering a streamlined experience for the job seeker, and helping the recruiter manage large numbers of potential applicants and resumes.

It's also very different from the use case of the contingent staffing agency. While the search firm will be given time to identify and approach the right candidate, a contingent recruiter may not have this window – the hiring manager may well approach several agencies simultaneously. The race is on to deliver the best CVs or resumes from top talents before the competition.

The final use case for recruitment software is identifying candidates for temporary placements or short-term contracts. Here, the need will be to manage potential candidates, match them against opportunities, and consider resource availability and planning constraints. A great solution for this type of need would be a product like Voyager Infinity.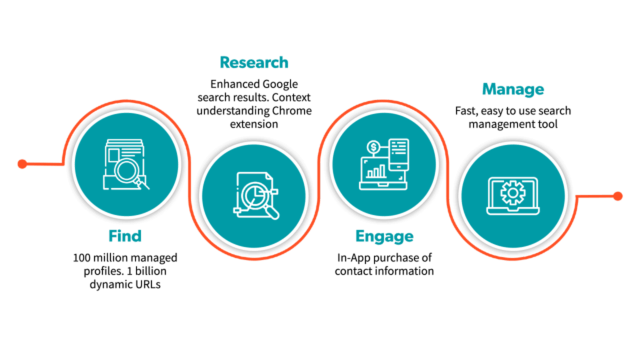 However, the focus of this blog is recruiting technology for the executive search firm. As noted above, the core assumption underpinning the executing search process is that the best candidate is not necessarily "actively looking" for a new job. As a result, she may not see job ads and would not apply to a posting even if they did see it. The top candidate might be entirely "passive," and so the onus is on the recruiter to identify and make the direct approach, rather than the other way around.

For many executive recruiters, the search process begins on LinkedIn. There's a good reason for this – LinkedIn is huge – by far the largest publicly available source of information on potential candidates. But huge does not equate to exhaustive.
Executive search is not just searching LinkedIn!
While LinkedIn has extensive information on people in certain industries or functions, it is actually not particularly valuable for sourcing candidates in the most senior roles. Many high-profile executives do not maintain any social media profiles at all, and significant numbers may choose to communicate on platforms like Twitter while not maintaining a LinkedIn profile.

However, it's not true to say that top talent does not have an online footprint. Quite the opposite, in fact.

Senior executives – particularly those in high profile roles – often have a significant online footprint – just not on social media. Executives are regularly profiled in the press or are visible as speakers at events, while many executives are profiled on corporate websites. There is a huge amount of information on executives and board members of public companies, including network relationships and even compensation. This is why recruiters seek LinkedIn Recruiter alternatives.

Passive candidates are everywhere
The executive search consultant is tasked with finding the best candidate. Therefore, she can't rely on LinkedIn alone. That's why modern executive search software supports a form of federated search, allowing the recruiter to source candidates across multiple sites – all in one go. Searching multiple sites also allows the recruiter to develop deeper insights as a result of acquiring more candidate information than any single site may offer.

Once the candidate is identified, the task of the recruiter is to add them to a longlist. It used to be the case that this involved typing – more recently, recruitment software vendors offered parsing solutions to automate the process of importing information from LinkedIn. However, the modern executive search software platform will recognize that the executive recruiter is as likely to find a candidate on Bloomberg or Google as on social media and will endeavor to offer single-click interaction from all of these candidate sources.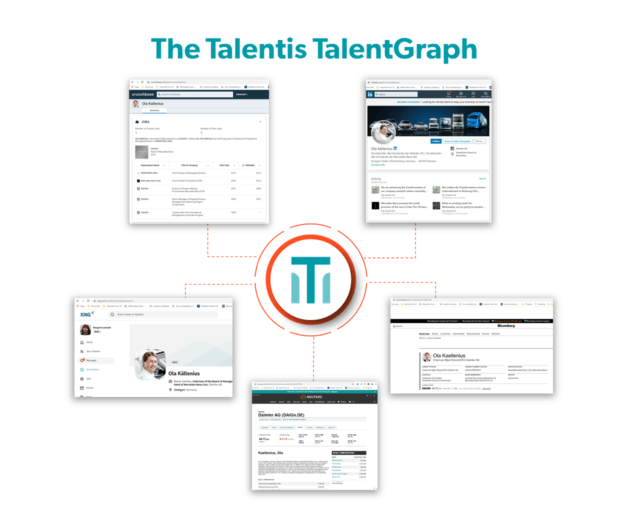 The process described above is essentially an automation of a traditional approach to candidate sourcing. However, more innovative recruitment software will allow the recruiter to identify additional candidates with AI (artificial intelligence).
For example, if a recruiter has identified a strong candidate, artificial intelligence technology might provide potential candidates with similar skills and experiences – a valuable source of additional candidates which will prove increasingly valuable over time as a result of the machine learning inherent in AI.

Once the longlist is built, the next stage is to engage with the candidate. This will typically require the sourcing of email addresses or phone numbers, and, again, most executive search software will help automate this process.
Once the candidate longlist is created, and target candidates approached, the job of the recruiter is to act as a "trusted advisor" to the hiring manager and evaluate the identified candidates against the specific opportunity.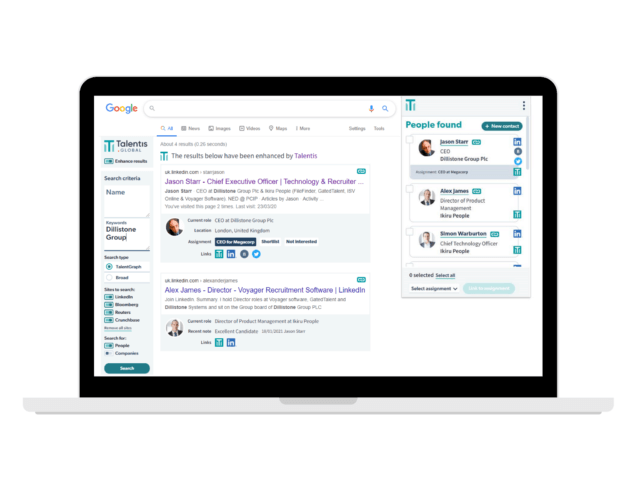 However, the executive recruiter has an additional challenge. As these candidates are not actively looking for a career change, they may have to "sell" the possibility of a job change to the candidate. The candidate screening process for an executive hire is very different from what a more junior candidate might experience – sending a CEO who is not actively looking to change to fill out a form on a career page or to complete extensive online assessments may not be a good move!

Of course, while the research and candidate sourcing process may be entirely different for an executive hire, there are similarities between executive search and more traditional recruitment processes. The recruiter will still seek referrals and – of course – will expect to conduct interviews before presenting a shortlist to the hiring manager or search committee at the client.
Executive search is a project, not a transaction

For an executive hire, the entire recruiting process can often take 90 days to complete. As a result, it's a project rather than a simple transaction, and modern executive search software will be expected to manage that project. The recruiter can also expect to need to provide reports back to the client.

So, this is the core executive search process. The recognition that the ideal candidate will not be found on career sites and instead will need to be sourced and candidate sourcing software is designed to manage that project.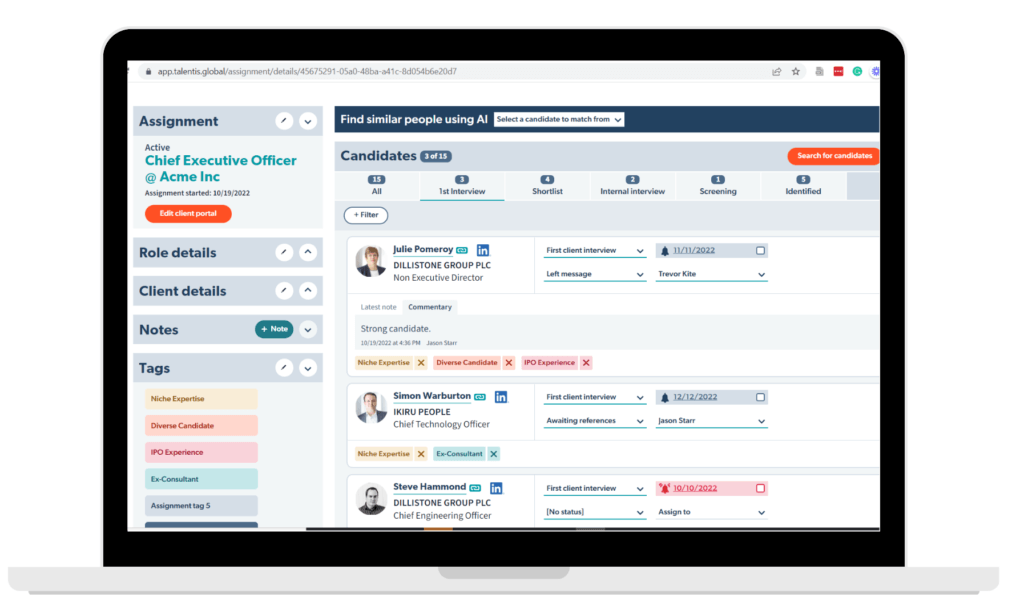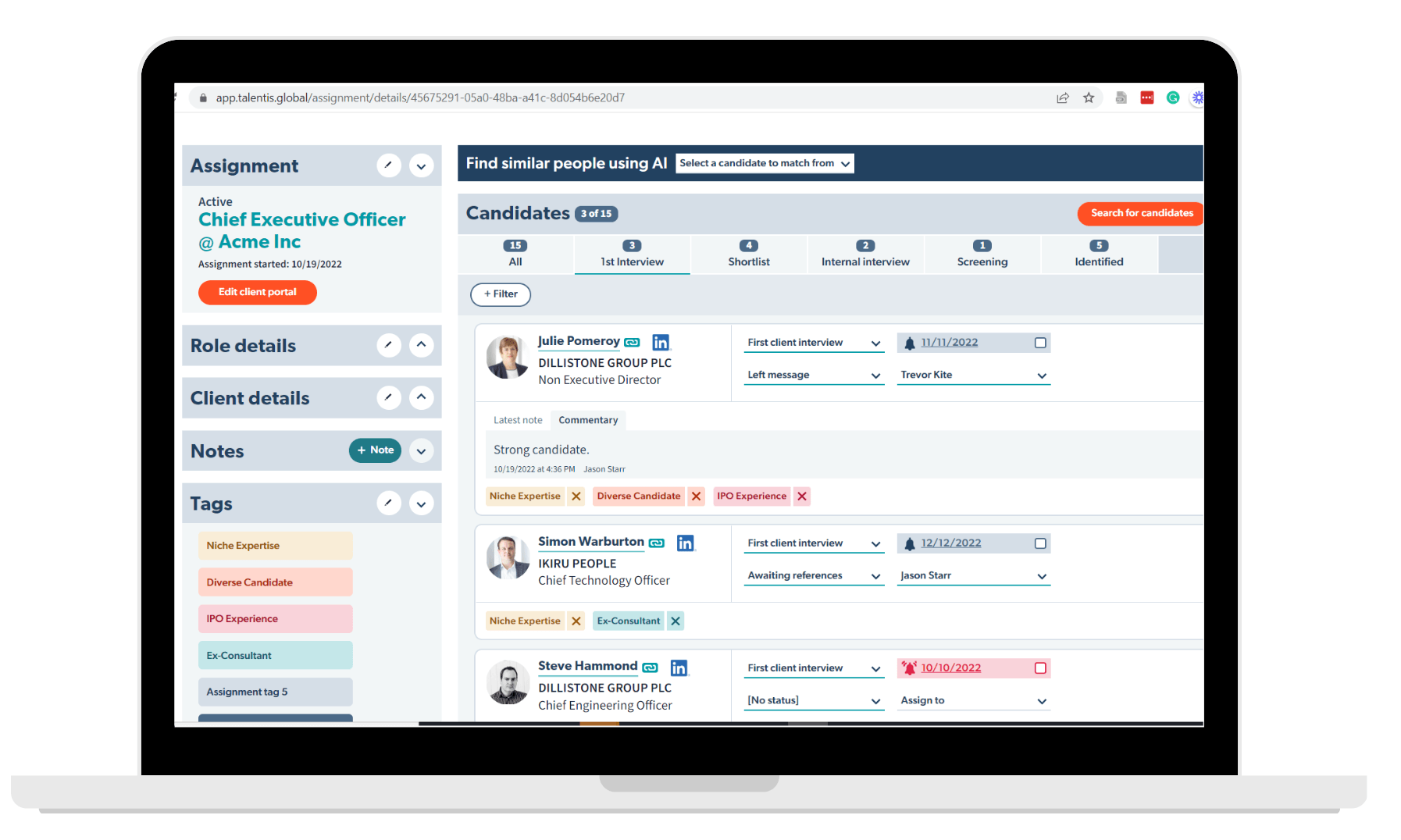 Of course, different search firms (or, indeed, strategic talent acquisition teams undertaking headhunting within an in-house setting) will have different needs, and different recruitment management systems do indeed offer additional functionality.
Larger firms may wish to deliver deeply into analytics and metrics. Firms in Europe will be focussed on GDPR compliance – United States-based firms may be concerned about Californian privacy rules. For some firms, recruitment marketing may be important – for others, candidate relationship management (the recruitment industry equivalent of CRM). The external search firm will look for business development functionality that the in-house recruiter might not need – but the research and sourcing process is core.
Talentis: Executive recruiting software for executive search

Talentis is a SaaS platform designed specifically for executive search. Built around a TalentGraph of millions of executive profiles, it is designed to streamline the recruitment process associated with headhunting.
A variety of search tools all offer "one-click" candidate engagement functionality on a huge variety of websites. Easy-to-use project management and powerful artificial intelligence functionality make it a strong contender for any search firm or in-house team searching for a new recruitment management system.

Talentis is a new product – but the vendor behind it has years of experience delivering service to the recruitment industry. It is a global leader in that market. Dillistone Group is a public company laser-focused on the recruitment technology industry. Existing products include FileFinder – repeatedly named the "best executive recruiting software" product, powerful recruitment software product Voyager Infinity, and online candidate assessment solution ISV Online.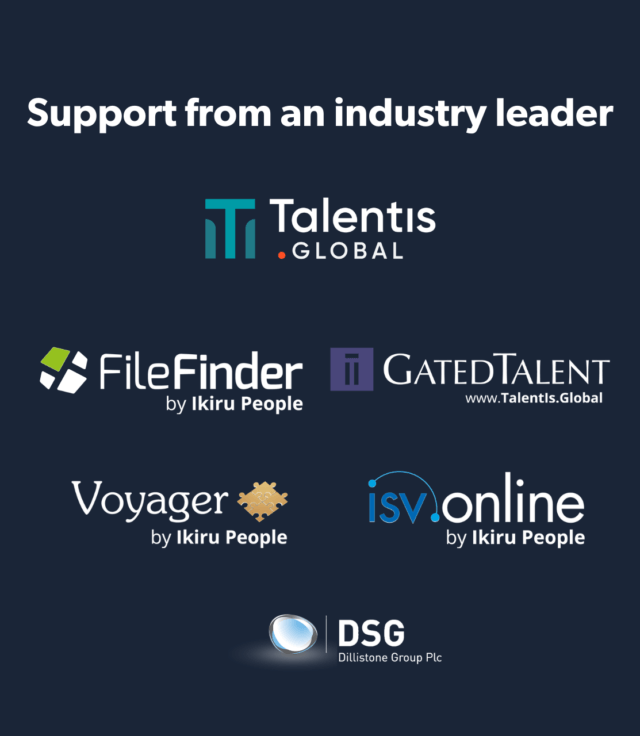 We recognize that any executive search firm looking for a new database or CRM platform has options. We are confident that – for many search firms – Talentis will be a terrific option, and that's why we offer free trials. However, we also acknowledge that our solution may not be for every recruiter – and so we are happy to provide a list of alternative recruitment CRM software and vendors for your perusal:
Talentis
FileFinder
Voyager Infinity
Invenias (now owned by Bullhorn)
Bullhorn
Encore, by Cluen
ICIMS
Zoho Recruit
Clockwork Recruiting
CeiPal
Talenthire
JazzHR
Jobvite
BambooHR
PCRecruiter
(and, believe it or not, some small executive search firms still use spreadsheets!)

Remember – there is no single "best recruitment software". So, while we'd encourage any buyer to ask team members to assess multiple solutions, it is key to focus on what matters to your firm – and for executive search firms, it is likely to be the research process built to streamline sourcing passive candidates that is the point of differentiation.

A SaaS product, Talentis is entirely cloud-based and is compatible with both Mac and Windows computers, with mobile device access readily available. The product is backed by a global support team with years of experience working with executive search firms and the broader recruiting industry. It's available with a free, no-commitment trial and a highly cost-effective SaaS subscription fee, and no upfront costs.
Free demo and trial of Talentis recruitment software

Interested in learning more? Here's an article on "The Best Software For Recruitment Agencies" from our sister brand, recruitment software vendors Voyager Software.