Source From The GatedTalent Executive Talent Pool
Approach our huge, high-quality network of passive talent for your next search project.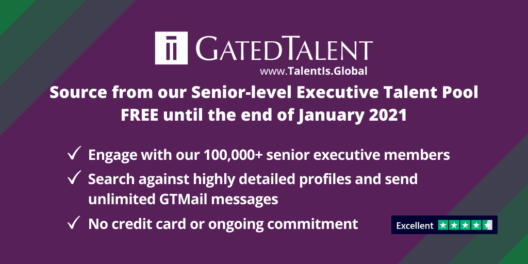 Why not give GatedTalent a try for your next retained executive search?
Trial GatedTalent at NO COST from now until end of January 2021
Over 100,000 senior executives from 100+ countries have created GatedTalent profiles to hear from Retained Executive Search firms about future opportunities.
Executive Recruiters taking advantage of the offer will benefit in the following ways:
Unlimited Search and Connect Access to the GatedTalent membership of more than 100,000 global executives
Unlimited GTMail Campaigns
Free website integration
Upgraded profile on the GatedTalent Executive Search firm directory
No charge until end of January 2021, and no ongoing commitment
Get started with a FREE GTMail Campaign!
A targeted GTMail campaign typically enjoys 40% + acceptance rates from our senior executive members within 48 hours.
Fill in the form below to specify your first GTMail campaign criteria below and start your FREE GatedTalent trial until the end of January 2021 – or register to attend one of the short webinars to learn more about the platform and the offer!
Please note that all requests are subject to final confirmation.
Join a webinar
Join us for this short webinar to learn how the platform works – and how to gain free access until the end of January 2021 (various dates available)
Join a webinar
Gated Talent