LinkedIn Profile Optimization
Our accredited LinkedIn profile writers will optimize your LinkedIn profile and help you get on the radar of executive recruiters.
For an executive looking to be visible to executive recruiters, an optimized LinkedIn profile is critical. Our team of professional LinkedIn profile writers are NCOPE certified by The National Resume Writers Association and can help with this crucial aspect of your executive job search.
Our LinkedIn profile writers work with executives around the World. We've written and optimized profiles for clients in the United States, across Europe, Asia, and Australia. These executives range from VP level up to those currently in or seeking CEO and Board roles.
We'll work with you to understand your career path and objectives and will use our knowledge of the LinkedIn AI system to position your profile for the most relevant searches. We'll then use our proprietary data on how headhunters work – based on our relationships with hundreds of top executive search firms and over 100,000 senior executive clients – to maximize your chance of receiving that all-important recruiter InMail or connection request.  Want to speak to a member of our team?  Contact us via email! or watch our on demand video now!
We offer three options for executives wishing to take advantage of our LinkedIn profile writing service.

1. LinkedIn Profile Fast Track Optimization
To be spotted by recruiters, you need to appear in upper echelons of the search results. On LinkedIn, there may be thousands of profiles that have a similar background to yours. LinkedIn determines which candidate is ranked highest in search results based on AI – it looks at all of its members to find what a candidate for a particular job "should" look like and uses this information to rank results. It's not enough to have the right job title – instead, you need to "look the part" – your profile needs to mirror the content that LinkedIn would expect to see.
To understand the LinkedIn AI system you need to work with someone who does. GatedTalent has a team of certified professional LinkedIn experts who can determine the critical skills and buzzwords required for the position you are targetting. Based on your requirements, they will research and recommend:
A highly optimized tagline (also known as your headline)
Skills: The skills that the LinkedIn AI system "expects" to see in a successful candidate for your job role
Keywords – the buzzwords to use across your profile
3 Optimized job titles
A custom URL
2. LinkedIn Profile Optimization
Our Fast Track service is designed to put you on the pathway to success but leaves you with the task of composing your summary section and your job descriptions. Our full LinkedIn Profile Optimization service is a complete LinkedIn profile makeover designed to give recruiters and hiring managers a great first impression of you (if you don't currently have a GatedTalent profile, we can optionally produce this at the same time).
It incorporates:
A highly optimized tagline: (also known as your headline)
A professionally written summary section (up to 2,000 characters)
Skills: The skills that the LinkedIn AI system "expects" to see in a successful candidate for your job role
Keywords – the buzzwords to use across your profile
3 Optimized job titles
Up to three job descriptions (or employment history dating back over the last decade) – up to 1,000 characters each
A custom URL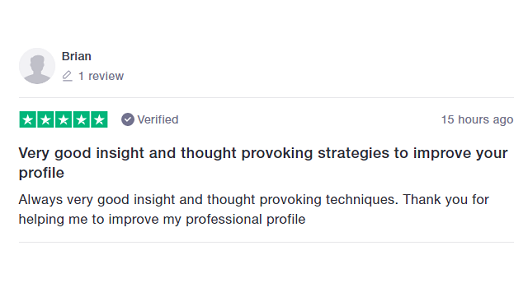 3. Premium Career Packages
For executives looking to develop a suite of career documents, we offer two packages to choose from: GOLD and PLATINUM. Our partnership with one of the world's top resume writers – Tim Windhof – will see us project manage the delivery of a new Resume, Biography, LinkedIn Profile, and GatedTalent profile. This combined service will ensure that your professional branding stands out across all of your career materials.
We offer 2 types of Premium Package;
Gold Package:
Executive professional Resume
LinkedIn Profile Optimization
Gated Talent Premium onboarding
Platinum:
Executive professional Resume
Executive Bio
Customizable Cover Letter and Recruiter Cover Letter template
LinkedIn Profile Optimization
GatedTalent Profile
Please note that this is a Premium service and has limited availability. Please contact us to discuss your needs before purchasing.
Become a GatedTalent Premium member to benefit from discounts on Optimization Services
GatedTalent Premium members benefit from significant discounts on our LinkedIn Optimization services along with a host of other benefits. Not a Premium member? Buy Premium Now, and take advantage of these rates.  Questions?  Interested in our exclusive Executive Career Package?  Email us to learn more, or read our blog on LinkedIn profile optimization for executives.