As a career goes from entry-level to increasing levels of seniority, the recruitment process will change. Junior-level candidates are expected to apply for jobs – managers and executives in senior roles expect to be approached by retained executive search firms. However, for this to happen, the candidate has to be found. And that is why executive LinkedIn profile optimization is crucial.
In the context of LinkedIn, this means that a recruiter – working on a specific search to find the best candidate for a particular role with a particular organization – needs to find the candidate profile in a database of more than 500 million potential candidates.
This is why executives turn to LinkedIn profile optimization. We provide a paid LinkedIn profile optimization service for executives wishing to be on the radar of recruiters – but in this article, I aim to share best practice on exactly how to optimize your own profile.
For some searches, an executive can expect to be found more often than not – if the recruiter is searching based on current employer and job title, for example. However, recruiters don't always search this way – and executives often wish to be found for something "different."
Perhaps the executive is in a CFO role and wants to be hired as a CEO?
What if she is currently in consulting or runs her own business and wants to return to corporate life?
In these scenarios, the executive will not be found based on her current job title. Instead, she will need to be found based on the broader content in her profile.
What is LinkedIn Profile Optimization for executives?
LinkedIn Profile Optimization for executives is the art and science of creating a profile that will be found by executive recruiters on relevant searches. It involves three stages:
Identify the type of role that you wish to be approached for
Identify the critical skills associated with that role
Structure your profile so that it will be found when a recruiter searches for executives with those skills.
How do you optimize your LinkedIn profile?
There is a well-known saying: "Dress for the job you want, not the job you have".  The version of this for the internet age is surely "Optimize for the job you want, not the job you have".
The fact is if someone is searching for the individual currently in your role at your company – aka you – you will be found. Simple as that. As a result, you don't need to worry about that. All your efforts should be directed towards being identified based on the skills relevant and required for your next role.
The problem is that your current profile will – almost certainly – discuss your career history. Your previous and current roles. You want to be found for your next role – without making it too obvious you are on the market to anyone other than recruiters!
The best executive LinkedIn profiles do exactly that.
Simplistically, LinkedIn uses big data to build a "picture" of what a (CEO, CFO, COO, whatever) should look like. It does this by reviewing the profiles of people currently doing the job. As a result, if you want LinkedIn to believe that you might be a good candidate for a specific position, you need your profile to reflect the necessary skills. You need to make LinkedIn "believe".
In order to achieve this, there are certain strategies that executives can apply.
Professional LinkedIn profile writers will have access to tools that allow them to map these skills (we offer a fast-track service that provides this data to our clients without having us write an entire profile) but if you are flying solo it's a bit tougher. However, a good starting point is to look up executives in roles similar to the one you are targeting. See how they describe themselves, and the skills and endorsements they have, and aim to mimic that. You'll need to look at a lot of profiles.
Another recommended approach is to search for relevant job descriptions – if they exist. This allows you to see the exact words and terms used by recruiters to describe a job – it's a safe bet that they will use similar words to search.
Once you have a long list of keywords ready, you need to prioritize. Think strategically. A headhunter looking for a CFO will not search for "Excel" as a skill. Every CFO on the planet knows how to use Excel – it's a given. Recruiters will focus, therefore, on the more strategic skills – M&A or P&L experience, for example. So, that's where you need to focus.
You should also drop the bland, unspecific terms. These vague terms do nothing for you. Recruiters don't look for a "C-Suite Executive" or an "Experienced Executive" – they aim to identify candidates for specific positions. CFO. CMO. Director. Specific jobs mean specific searches.

Using your keywords
Once you've drafted your keywords, the next step is to lay them out. There are certain areas in your LinkedIn profile that are key to the search algorithm. These include the tagline, the summary, and the employment history. Figuring out relevant keywords and positioning them in the appropriate context can be constituted as one of LinkedIn's best practices for executives.
The tagline (the small text box at the top of your profile) is vital. You have a maximum of 120 characters (including spaces) to get across your priority skills and abilities. Don't waste a single space – there is no need to spell out full job titles – LinkedIn is aware that a CEO and a Chief Executive Officer are the same things; you don't need to mention your current employer, and there is no need to use "proper grammar."
Take a look at the screenshot below. The tagline on the right is far more search term rich than the one on the left – that's what you are trying to achieve (fyi, Jason's real LinkedIn profile is an example of one that has been through our executive LinkedIn profile optimization service).

Your Summary
The summary part of your executive LinkedIn profile has two aims.
Firstly, you need to repeat your keywords. This is key to your effort to be found.
However, the primary objective here to "sell" yourself to the recruiter. Get across your helicopter pitch. Make sure that she is given enough reason to click "message" or "connect" or "add to project" rather than "next".
Research suggests that recruiters make an initial judgment in around 7 seconds and we know from speaking with our clients that decisions are often taken based on this area, and so being succinct and to the point is critical. Be conversational, sincere and write in the first person. The structure is vital and, again, you want to use your allotted space (2,000 characters, if you are wondering).
Your Employment History
As the article hopefully shows, it's perfectly possible for an executive to optimize her own profile.  Many turn to a professional service, however, and in some cases go with a professional resume writer rather than a LinkedIn specialist.  This can be a mistake – a resume writer may be able to deliver beautiful prose, but at its core, the executive LinkedIn profile optimization service is a science – it's a form of SEO (Search Engine Optimization).  A good example of where the science kicks in, is in the area of your employment history. Optimizing this is vital. Think about it – if LinkedIn believes you've been delivering your "key skills" over your last three jobs, it will consider you more experienced and qualified over someone who has not.  A specialist will know this and will take advantage of it.
Here's how you do it:  LinkedIn provides 100 characters for each job title in your biography – don't waste them! Repeating your keywords through your employment history is a great way to tell the LinkedIn algorithm that you have "lots" of experience in a particular field.

What not to say!
We've spoken a lot about words that you should use in your LinkedIn profile. There are also certain things you should avoid saying. Understanding this can inform how you effectively use executive LinkedIn profile optimization to your advantage. If you are targeting a senior-level role, you need to optimize your profile around the skills that the hiring authority prioritize. No hiring authority has ever set out to hire someone who has "actively seeking new opportunities" written across a profile. Indeed, in some circumstances, aggressively advertising your availability may count against you.
That said, if you do decide to go down the path of being public about your availability, the way to do it is using the #OpenToWork hashtag from inside your summary profile – here's why.
However, there is a better way. Buried in your LinkedIn profile is a "Dashboard". This allows you to set certain preferences within LinkedIn – one of which is to indicate your availability to recruiters. This is a much better approach to sharing your availability with headhunters – and it is far more private.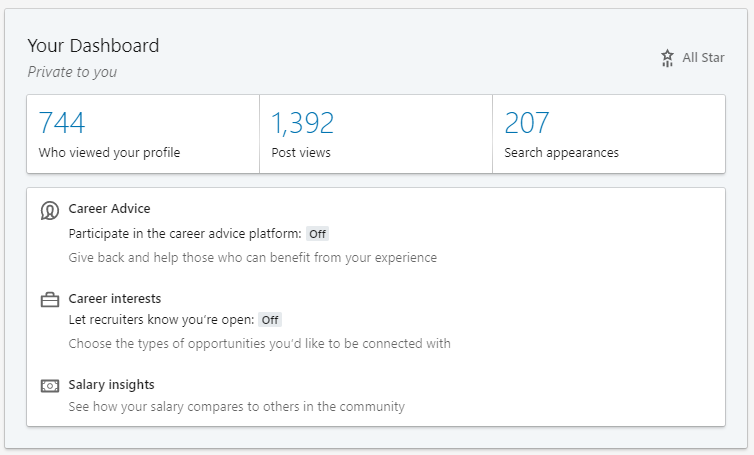 Skilling up
In addition to building out the text areas of your profile, you also need to pay attention to your skills and endorsements. LinkedIn allows you to have up to 50 "skills" on your profile. The skills you include on your profile must reflect the job you want – not the one you have.
The LinkedIn skills directory offers you a choice of 50,000 recognized skills to choose from (you can also create your own – don't!). You need to ensure you have enough density in the areas that you want to be found for – LinkedIn associates certain batches of skills with job roles – while also ensuring that you have sufficient diversity.  This means trying not to have a long list of similar skills. I see a lot of this: Strategy, Business Strategy, Strategic Planning-  these are all very similar.  Better to pick one term that encompasses all three skills instead of wasting space on three similar ones.
In fairness, skill selection is one of the areas that a professional optimizer will have an advantage over an enthusiastic amateur – we have access to tools (in LinkedIn and GatedTalent) that you will not. This is an immediate benefit of getting help from an executive LinkedIn profile optimization service such as ours. But, of course, time and effort will get you a decent list.
Increasing visibility on LinkedIn
What we've discussed so far primarily relates to positioning. In terms of executive LinkedIn profile optimization, that's only half the story! Once you've positioned your executive LinkedIn profile to be found, the next step is to increase your visibility. This involves engaging on the platform – growing your network (the average CEO has 930 connections), joining groups and sharing or commenting on content. Doing this will get you "closer" to recruiters, and will also cause the LinkedIn algorithm to rank you more highly than a member who is not actively engaged on the platform.  Also – make sure your profile is public and you accept InMails!
What else do you need to do to rise up the search results?
We've covered a lot of the key points here.  To quickly fly through some of the other key considerations – it's vital that you have a profile picture.  Without this, the algorithm will penalize you.
You need to grow your LinkedIn network – the more people you are connected to, the more second-degree connections you have – and the closer you will be to recruiters. This will impact on how likely they are to see you. The quickest way to do this is to join LinkedIn Groups – you can be a member of up to 100 groups, and I'd encourage you to join groups that are relevant to the post you want to be considered for.
You should also review your settings. The most important setting from the perspective of an executive aiming to catch the eye of a headhunter is the "Career Interests" option which sits in your dashboard. Set this to "Let recruiters know you're open". This is only visible to recruiters using the premium, LinkedIn Recruiter product, but it will boost your standing in search results and make recruiters more likely to contact you.
We'd recommend that you use a professional banner and that you create a meaningful LinkedIn profile URL.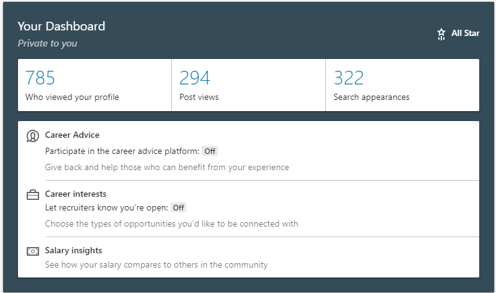 Engage, engage, engage!
Once your profile is fully optimized, you don't stop.  The more you engage on the platform, the more visible you become.  To engage, you simply post news and feedback regularly.
There are a variety of options to do this.  A simple "like" can be done in seconds and is better than nothing. Writing detailed articles will clearly take considerably longer, but will have a more significant impact on your visibility.  The best advice for the time-crunched executive is to mix and match these approaches. The key point is to constantly be updating your feed.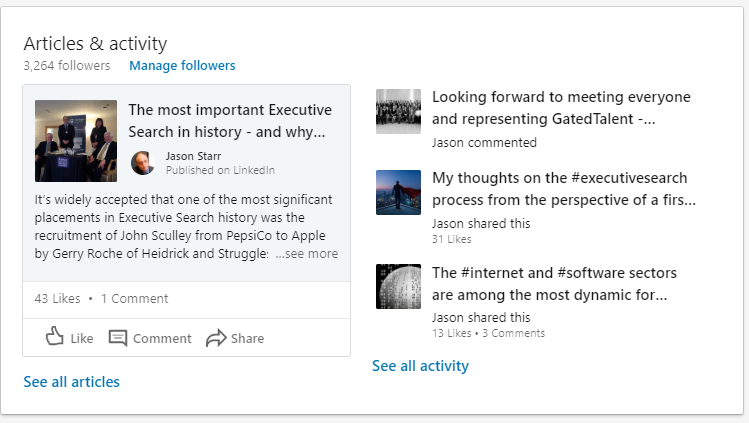 What an optimized LinkedIn profile can't do for an executive
But however well you optimize your LinkedIn profile, there are limits to what you can achieve. Even the best executive LinkedIn profiles will not be found for everything.
The platform is huge. It constrains you in terms of the information that you can share and how you can share it. Whatever you optimize yourself for, you are likely to have thousands of comparable profiles competing for the interest of recruiters. Thus, it is virtually impossible to optimize for multiple roles.
For an executive looking to make a career change, creating a free profile on GatedTalent is a terrific way of sharing far more detailed information with recruiters, and doing so in an entirely confidential manner. Our members received more than 130,000 connection requests from search firms in June 2019 – and the numbers are growing every month. A GatedTalent and a LinkedIn profile combine to increase your visibility to recruiters.

Our executive LinkedIn profile optimization service
Our certified LinkedIn profile writers deliver the GatedTalent LinkedIn profile optimization service for executives.  We work with professionals globally to help them be more visible to executive search firms, both on our own platform and on LinkedIn.
If you are interested in having your profile professionally written and optimized to be relevant and visible, you can find some recommendations from our clients (!).  You can contact us via email if you have questions about our paid profile optimization service – or you can sign up here.
Of course, learning how to optimize your LinkedIn profile for recruiters is only one of the things you should be doing to increase your visibility with headhunters.
If you'd like to learn more about how executives are recruited, join one of our no cost webinars on executive careers. We host weekly sessions across multiple time zones. Register here:  Executive Careers.
If you've found this helpful, please be sure to follow us on LinkedIn, Twitter and Facebook to ensure you don't miss any of our future blogs!
Executives in senior roles expect to be approached by executive search firms.  However, for this to happen, the candidate has to be found
Join GatedTalent Now!
Thank you
We have sent a verification link to your email. Please follow the instructions to activate your account.