If you are an executive job seeker, you may be interested to know that we've just launched a directory of headhunting companies from around the World. We profile more than 1,000 leading executive recruiting firms, ranging from some of the largest global firms, down to specialist headhunters in particular niche markets.
Don't use our directory if you are a potential candidate
However, if you are an executive job seeker, I suggest you don't use it. Like other lists of its type (Forbes / Statista and so on), it's designed primarily to be used by the hiring company seeking to retain an executive search firm to fill an open position.
If you are looking to engage with recruiters with the hope of securing a new position, there is a better way than merely wading through these lists.
To take advantage of this, it's essential that you understand the motivations of these headhunting companies.
Understand how headhunting companies work
Retained executive search firms (companies like Heidrick and Struggles, Egon Zehnder, Korn Ferry and Odgers Berndtson) work for the hiring managers or search committees at client companies.
If you are a job seeker, they have no particular interest in finding a job for you – that's a job for lower-level recruitment agencies.
Indeed, unless you happen to be a suitable candidate for an open position that they have been retained to fill, they don't particularly want to receive your resume, and they don't particularly want to talk to you.
Senior-level recruitment is different. Headhunters hunt.
As you can see, for senior executives, the job market is very different from what a job seeker might have experienced earlier in her career.
Positions that might attract such individuals are typically filled by retained executive search firms (sometimes by internal recruiters) who use a research-based approach to identify the right person. They don't merely consider active candidates – they don't merely consider candidates that they already know. They go out and hunt for the best.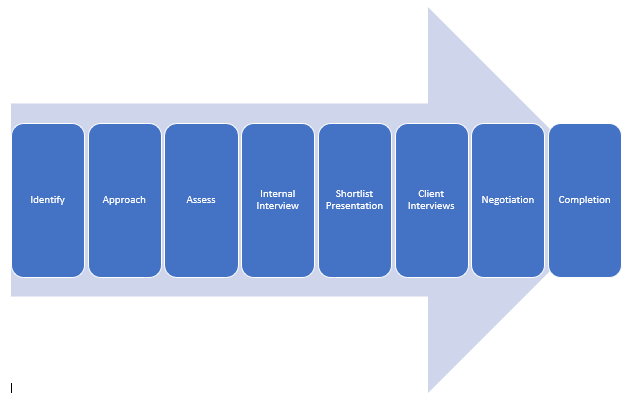 Proactive research
These 'headhunters' are charged with mapping out all of the top talent across a market sector. They will speak to sources. They will look on Linkedin. They'll search on platforms like GatedTalent.
They'll aim to build up a long list of qualified candidates. They'll then approach these potential candidates directly – this is the headhunting process.
Unlike the methodologies followed by lower-level recruitment agencies, these headhunting firms don't particularly care that you are an active job seeker. They won't get paid a placement fee for finding you a job – they'll get paid a fee for filing a specific role for the hiring company (or organization).
Target your job search efforts
With this insight, executives looking for a new position will realize they need to take a slightly different approach. Rather than submitting a resume to individual search consultants, and hoping that they 'get lucky', a much better approach is to implement a strategy to increase visibility in front of all of the executive recruiters who might serve relevant employers.
How Jane becomes CEO
Let's assume we have an imaginary job seeker – Jane. She is currently working in a senior position with a large global corporation and is keen to take the next step – she is targetting a new job as a first time CEO of a mid-sized company. She's nervous about being too public about her job search, however. She wants to be noticed by relevant headhunters but not by anyone else!
Let's take an imaginary scenario. Let's assume that Megacorp (a leading supplier of widgets) has retained a headhunting company as an advisor to help them hire a new CEO. Megacorp is a publicly-traded company, and so the entire search will be undertaken under cover of secrecy.
Let's also assume that Jane meets the requirements of the role, and it is precisely the type of opportunity that her job search is designed to find, but that Jane doesn't know the headhunter, and the headhunter doesn't know Jane. Positions of this type don't get advertised on job boards, and so Jane has no way of hearing about it.
In this scenario, the only possible way that Jane will be the successful candidate is if the headhunter finds her.
So, in this scenario, how will Jane get on the radar of the headhunter?
The answer is to understand the research process followed by the recruiter.
The first step will be a search of the headhunter's internal database. Some firms have millions of records in these huge CRMs – Global headhunting company Korn Ferry, for example, claim to have more than 7,000,000 'candidate profiles' within their proprietary database.
However, much of this data is likely to be out of date, and as a result, the recruiter will not rely on it.
Linkedin is not enough
The next stop is typically Linkedin. A keyword search on Linkedin is not necessarily going to find our candidate – Jane is not currently a CEO and she might not be in the widget industry. A headhunter running a simple search on Linkedin for CEOs with widget experience will not find her profile.
Fortunately for Jane, however, the best recruiting firms will look beyond the obvious. Part of their job is to consult with the hiring manager and broader leadership team to understand the broader strategic needs of the client and how these might be met by the successful candidate. They will consider the wider requirements of the role and aim to understand the key skills and experience required by the successful candidate. They'll look beyond direct competitors and equivalent job titles.
Transferable skills
As a result of this process, it might be that the conclusion is reached that the candidate does not necessarily require previous CEO experience. However, he or she does need P&L leadership experience in a low margin, global manufacturing business.
Jane has this. Will she be found?
Recruiters might now run a keyword search on Linkedin for terms like "P&L", "Manufacturing" and so on. It might be that – out of the 500 million profiles on Linkedin, Jane will come up in the top results. It's statistically unlikely, however.
Optimizing her profile might help Jane improve her odds but even that will only go so far. She's currently employed and can't be too "public" in positioning herself to be found. She may not be able to suddenly make major updates to a public profile that has traditionally only shared the basics of her employment history.
This is a challenge for Jane. It's also a challenge for recruiters.
Linkedin is a huge, public platform. Headhunters find it invaluable.
Beyond Linkedin
However, just like the executive talent that struggles to attract recruiter attention, they are also frustrated by its limitations – the best candidate almost certainly maintains a profile on the platform, but finding them is not always possible.
So what can Jane do? The ideal position is open. She doesn't know about it. It's not on job boards. She isn't known by the headhunter responsible for filling it and is constrained in what she can put on her Linkedin profile.
I mentioned earlier that contacting individual recruiters using the GatedTalent directory was not necessarily a good use of a job seeker's time.
However, creating a single GatedTalent executive profile and biography, and incorporating in that detailed information on skills, achievements and aspirations is a very productive next step and one that will increase candidate visibility with a large number of headhunting companies quickly.
A GatedTalent executive profile is private. Google will not index it. It is not available to colleagues, shareholders, employees or – should an executive have one – a boss. It is, however, used by headhunters to identify potential candidates.
Hundreds of headhunting companies use GatedTalent to identify and engage with executives – more than 100,000 connection requests are sent through the platform every month. Creating an executive profile is free and is a great step for an executive looking to position herself for a new job.
How to  be found by headhunting companies
For an executive searching for a new position, for next steps, I'd encourage you to create your GatedTalent profile, consider optimizing your Linkedin profile and read our guide to interview questions in preparation for your first interview!
it's essential that you understand the motivations of these headhunting companies
Thank you
We have sent a verification link to your email. Please follow the instructions to activate your account.