GatedTalent took great pride in its role as a sponsor for the World Executive Search Congress, providing an excellent opportunity to showcase our platform to leading search firms worldwide. The event took place online from the 17th to the 18th of October 2023, gathering thought leaders from the search industry and its surroundings. Their shared goal was to help participants in enhancing their search firms and search teams.
We were thrilled to be part of this event, as it aligns perfectly with our mission to expand the exposure of GatedTalent and its executive membership to an ever-growing audience of recruiters.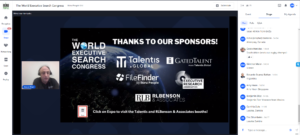 Join GatedTalent Now!
Thank you
We have sent a verification link to your email. Please follow the instructions to activate your account.