So, you have a LinkedIn profile and a résumé – but you are still not hearing from recruiters. Why is that? 72% of recruiters use the platform to find or vet job candidates. That's a lot of recruiters. But there are 700 Million potential candidates.  If you're serious about your job search, simply having a LinkedIn profile is not enough. And if you're asking how to find recruiters on LinkedIn, the answer is that you must help them find you.
When recruiters use LinkedIn to search for their next candidate, they start with the LinkedIn recruiter interface – if they are searching for a CEO, they think about the CEO's skills. Whereas hard skills like languages, and technology and so on are important, employers want soft skills, including oral communication, team building, and leadership skills as well. They'll also look for industry or sectorial experience or experience of specific events – such as an IPO.
The recruiter or head-hunter adds these wants into LinkedIn recruiter and up pops a range of candidates, but you are not there.
You have all these skills, and they are on your résumé, but why can't the head-hunter find you in LinkedIn recruiter?
When you use LinkedIn for branding, reputation management, thought leadership, and business intelligence, a funny side effect happens. You don't have to look for a job because jobs find you.
LinkedIn Optimization 
LinkedIn is all about optimization, which differs from just having the bare bones of a profile. There may be tens, hundreds even thousands of candidates who – while not necessarily better candidates, may be ranked higher than you on a search result list.
LinkedIn does not know who the best candidate is. Instead, it uses a ranking algorithm to decide who comes top of the results list, who is second, and who is at the bottom of page 46.; if you score well against the algorithm, you will rank better than if you do not. Simple as that.
How do you rank well on LinkedIn? 
For a start, your profile needs to be complete; it needs a photo, location, at least three jobs to make it "all-star." First impressions count; the more complete and professional your LinkedIn profile looks, the better an impression you'll make to a recruiter or potential employer.
But more importantly, your LinkedIn profile needs to be directed towards the job you aspire to have, not the one you currently have. This is critical for being noticed for that VP or CFO role you want to move up to, rather than the role you have been working in for several years. If LinkedIn sees you as a CFO, it will put you forward for CFO roles. Great if you want a CFO role–not so good if you are looking for the corner office.
Your profile also needs to mention all of those skills that the recruiter is looking for. If it does not, you do not make the shortlist. There is a subtlety here–LinkedIn has a huge database of candidates in every job role. If the recruiter does not provide a list of skills, LinkedIn will "interpret." It will decide on the skills that it believes are associated with a (board director position) and will rank candidates higher if they have them…
Therefore, it is important to include as many keywords as possible in your LinkedIn profile. There is no point randomly throwing in these words, you must be strategic. Optimise your tagline, include specialities in your About section, LinkedIn allows you to use 100 characters for your job title – use them. Ensure your Profile includes all these elements to improve your chances of being on that list.
At GatedTalent our NCOPE certified LinkedIn Profile Optimization team, use the LinkedIn Recruiter software and knowledge of the LinkedIn AI system, to ensure your profile includes the keywords needed for your target role, maximising your visibility in recruiter searches.  Keyword Optimization of the highest indexing search fields will help your profile to be found when recruiters search for potential candidates for your target role and bring your value to the recruiter's attention, when they view your profile.

Résumé Writing 
A LinkedIn profile is primarily designed to impress an algorithm. A Résumé is primarily designed to impress the recruiter. 
These are different.
Your LinkedIn profile is optimized, a recruiter has added you to the shortlist and is now requesting your résumé.
However, you last updated your résumé five years or more ago; you have not put your most current role; it still says 15 years' experience on it. So, you quickly bump up the numbers, add your current position, and send it to the recruiter. To hear nothing more from them!
The issue is that your optimized LinkedIn profile caught their attention, but your résumé failed to support your profile.
There are two main reasons for this.
If the recruiter looked at your résumé, most take a quick glance at the applicant's past highlights, job titles, and companies. They can decide whether they want to learn more in about 6 seconds. Therefore, it is essential to make sure your top skills and qualifications are easily identifiable.
Or it is because your résumé may have been run through an applicant tracking system (ATS) system. An ATS–optimized résumé is the first step to getting past the bots and face to face with an actual person. 99% of Fortune 500 companies and a growing number of small and mid-sized businesses filter résumés through an applicant tracking system (ATS) before someone takes a look… if they ever do.
Having an optimized profile is very different to having a résumé that stands out from the crowd. Having both means that you will catch the attention of that head-hunter and then keep them interested in you as a candidate.
At GatedTalent, we can optimize your LinkedIn profile and ensure you have an executive résumé that keeps your name at the top of that recruiter's list! We have a team to support you in creating that all-star profile and accompanying résumé.
LinkedIn profiles and résumés need a different approach to the wording and structure. Remember a good LinkedIn writer is not necessarily a good résumé writer, which is why at GatedTalent we work as a team to provide the best service to you as a client.

What can GatedTalent offer executives?
Our combined résumé and LinkedIn Optimization service will serve to back up your profile when a recruiter reaches out to you and provides alignment across your branding.
Why do you need to ensure your personal brand is aligned? Well, a recruiter or manager looks for people who align with their organizations values and ultimately who are pleasant to work with. How can they know this if they do not know you personally? Well, they look online.
Having a prominent personal brand allows you to stand out from the crowd, showcasing who you are, what you can do, and why you do it. You can align your personality, skill set, and knowledge to your career aspirations and target it to the right audience. You'll build trust, authenticity, and influence.
We use proprietary data on what recruiter's search for as well as our in-depth knowledge of the LinkedIn and GatedTalent AI systems to optimize profiles around the appropriate keywords and phrases that will get executives onto recruiters' radars. You can spend hours searching online for those key phrases that appear in the job descriptions of the job you aspire too, or we can do it for you? Our optimization services also recommends groups you can join and engage with in order to extend your reach and get you noticed by your peers and recruiters as well.
Our professional resume writing services are delivered by experienced writers, who aim to follow best practice in resume writing, as defined by the NRWA. Everything from word choice to page layout is factored into our service, with the result being a resume you can be proud of.
More than 100,000 senior executives from more than 100 countries maintain a GatedTalent profile as part of their career strategy. While it's entirely free to create a profile on the platform, time scarce executives often turn to our team members to create a profile on their behalf. This service can be purchased alongside our LinkedIn packages, or on a stand-alone basis.
Furthermore, when you have secured that interview, we can provide Executive Interview Coaching to help you to maximise your chance of success. An executive-level interview can be a life-changing experience. Coaching from an experienced recruiter can maximize your chance of success.
GatedTalent offers online executive interview coaching services to help you prepare for a job interview through our partnership with experienced retained executive search consultants, handpicked from across the world.
Our interview preparation allows you to opt for a 1 to 6 hours of preparation to help you achieve your goal in securing the next step in your career growth.
In addition to some of the best résumé and LinkedIn writers in the world, you can be confident that your service will be delivered professionally. GatedTalent is a subsidiary of a public company and enjoyed an "excellent" Trustpilot rating with hundreds of independent reviews. Thousands of executives trust our career support services, and we host dozens of webinars for our members every month. You can learn more by joining an upcoming webinar or by contacting our member support team.
GatedTalent Premium members benefit from significant discounts on our LinkedIn Optimization services along with a host of other benefits. Not a Premium member? Buy Premium Now and take advantage of these rates. Questions? Interested in our exclusive Executive Career Package?
Résumé Writing | LinkedIn Optimization | GatedTalent Profile Onboarding | Executive Interview Coaching
What do our clients say?  
Don't just trust my word, have a look at what some of our clients are saying about GatedTalent's services.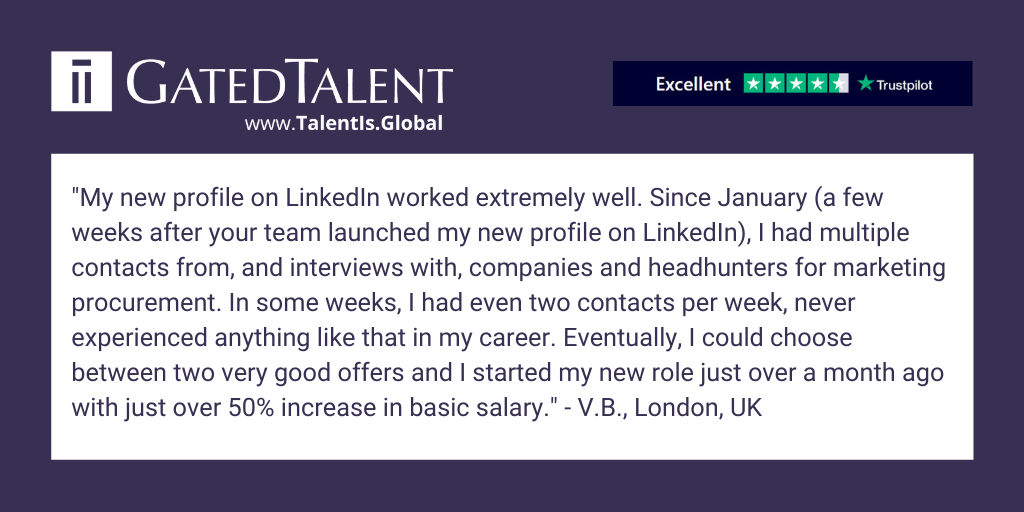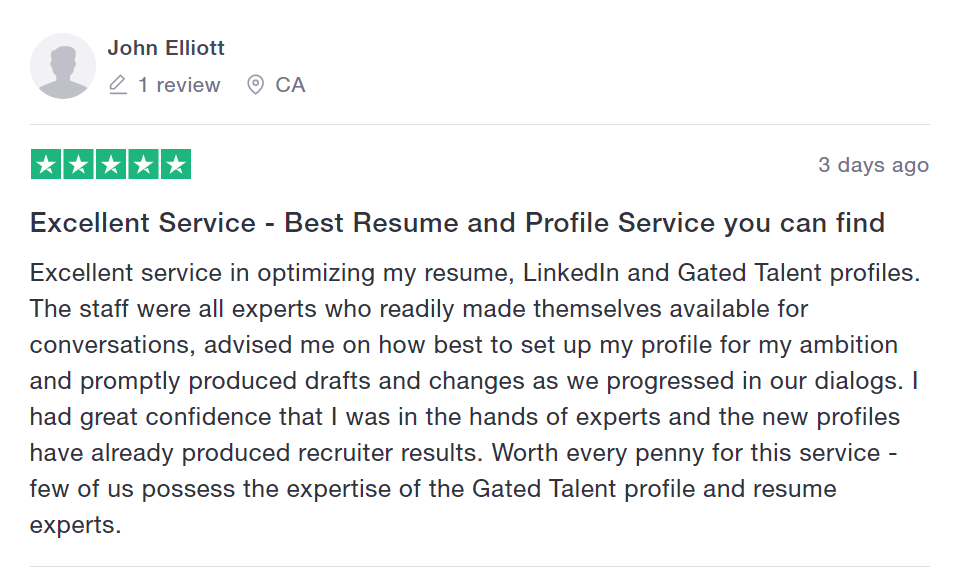 Join GatedTalent Now!
Thank you
We have sent a verification link to your email. Please follow the instructions to activate your account.