There is a considerable misunderstanding about how top-level executive positions are filled. Everyone knows that executive headhunters – or executive search consultants as they prefer to be known – are involved, but many candidates aiming for executive-level jobs have incorrect assumptions about the motivations of these senior-level recruiters.
Executive headhunters and staffing agencies are different
The correct answer to "Will an executive headhunter find me a job?"  is No.
Executive headhunters are called headhunters because they are, literally, head hunters. Executive recruiting firms employ specialised head hunters who search for the best candidate and approach them directly.  They work for the client – the hiring organization – not the candidate. If an executive headhunter contacts you, it's because they are considering you for a role with that client.
They are not trying to find you a job.
A contingency-based staffing agency will be happy to introduce you to potential employers in the hope of earning a fee for the aforementioned introduction, but they are an entirely different type of business working on an entirely different workflow and compensation model.
That said… if you are targeting senior-level positions, then these executive search consultants are likely to play a key role in your transition. Reinforce your executive job search by ensuring you are visible to head hunters who're actively seeking the best candidates for their clients. As a result, it's vital you understand what they do and how they do it!
When are these executive recruiters used?
Executive search is considerably more expensive than more traditional recruitment methodologies (don't worry, the hiring organization pays!).  As a result, they typically only use this type of search in certain circumstances.
An executive headhunter is likely to be retained when:
The opportunity is a fairly senior (including, but not exclusively, c-suite and board positions) executive role
The successful candidate is likely to have a significant impact on the hiring organisation (clearly this is always the case for executive positions, but can also happen in lower-level positions – a country manager for a multinational, or a product manager for a tech business, for example)
There is a shortage of talent available for the role and the best talent may not be actively job seeking
There is a confidential element to the search
Other approaches have simply failed to deliver a suitable candidate

So how will a headhunter help with your job search?
Headhunting firms fill a significant number of senior positions. If you want to be placed into one of these roles, you'll need to know the executive headhunter – or the headhunter will need to find you. There are no other options. Client companies tend to remain low-key and private about their hiring intentions.
The good news is, however, that top head hunters are paid a lot of money (typically 33% of total annual compensation) to find the best executive candidate to meet the needs of the hiring organization. This is in the expectation that they will conduct an extensive search of the market, looking for top tier candidates in the industry and well beyond. Head hunters do not limit their search to candidates looking for new opportunities. The aim is that they will consider both "active candidates" (the term used to describe job seekers) and "passive candidates" (those who are not necessarily proactively looking for a new role but might be open to the right opportunity).  In other words – pretty much everyone else of working age!
According to our internal research, approximately 65% of candidates longlisted on an executive search are not known to the recruiter at the beginning of the search. To put this another way – if you are the best candidate for the role, it is the job of the executive headhunter to find you!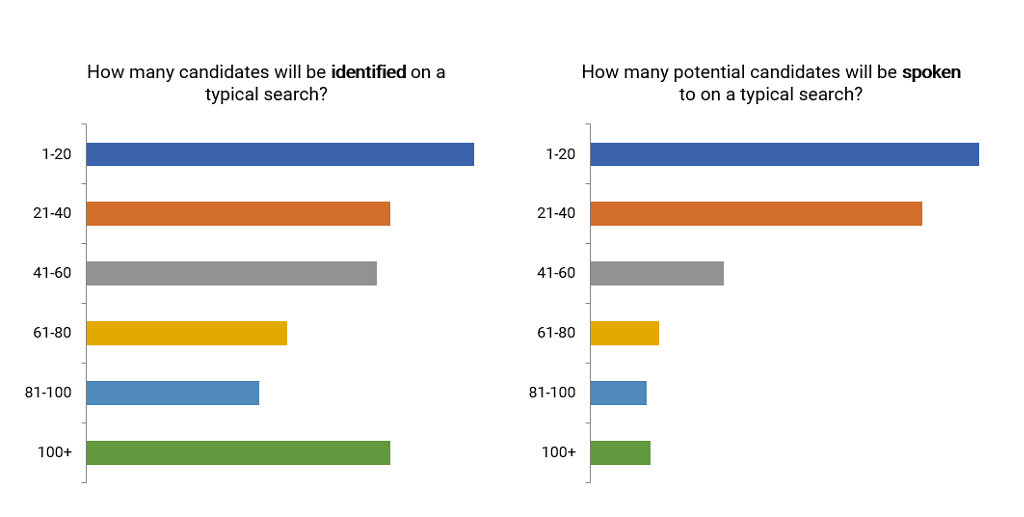 How do executive headhunters build the longlist?
There's an old saying – executive positions are not advertised. That's fundamentally true. There are exceptions, but generally speaking search firms are brought in to the find the best candidate. The best candidate may not be actively job seeking and therefore may not apply and if they are actively job seeking they can't just contact the headhunter, they have to get the headhunter to come to them!
But how does that work?
A successful head hunter is one who goes out and finds the best candidate. As a result, the first stage – the longlist – is all about research. The research team at head hunter companies will aim to source potential candidates in a variety of ways:
Target company based research
If a senior level recruiter is looking to find an executive with specific niche experience, a good starting point is likely to be the competition. If you are hiring an aerospace executive for Boeing, a good starting point might be Airbus. Executive head hunters and their talent acquisition teams will identify a list of "target companies" that are comparable with the client. These are often competitors, but will also include organizations in comparable sectors or with similar strategic challenges.
From here, the researchers will use a number of approaches to identify relevant executives in these firms.  In many cases, the first port of call will be LinkedIn.

Transferable skills-based research
In some cases, however, the target company based approach is not the appropriate one for the search. Let's take, for example, the search for a CFO at a fast-growing, cash burning, pre-IPO Internet company – a unicorn. Here, the primary requirement is likely to be – find a CFO who can successfully deliver a fundraising exercise. The client will need someone who has done it before, someone who has excellent relationships with investors. Someone with a compelling track record. Someone who is a safe pair of hands. It is unlikely that this person will be working for a competitor (indeed, this client might not have a direct competitor). Similarly, with a Board of Directors search. In this case, the successful recruit is clearly not going to be coming from a competitor. Again, the specification is likely to call for specific skills and experiences.
How do you ensure that executive headhunters notice you?
Some times it just happens. To go back to my airline industry example – it will be hard to miss you if you are in the right role at the right company. You don't need to do much more than have a LinkedIn profile! The recruiters will come to you.
Of course, that is only a subset of roles. And, more to the point, generally speaking, an executive wishes to make a "step-up" when they change jobs. If you are currently CFO, it might be that you want to be CEO in your next role. In this case, a head hunter is unlikely to spot you purely based on your company and job title. Even worse, if you are currently between jobs, then you might be hard to identify on these types of searches.
In these scenarios, you'll need to work a little harder if you want to attract the attention of recruiters from executive headhunting firms.
Your executive brand
Under these circumstances, you are going to need to position yourself if you want to attract the right attention. You can do this in a variety of ways. Offline, you can speak at the events, write for industry press and so on. Headhunters for executive positions regularly ask industry sources for advice and recommendations, and if you have a reputation around your sector – hopefully, a good one – you are more likely to receive these recommendations. This obviously takes time and opportunity, however, and a more efficient approach might be to focus on your online visibility.
Being of interest on LinkedIn
Many years ago, my mum used to say to me "Dress for the job you want, not the job you've got." I was in the boy scouts at the time, so I'm not sure it was the best advice, but there you go.
However, more generally, the advice is true and it can certainly extend to your LinkedIn profile. As of right now, I suspect your LinkedIn profile talks about your current job and your history.  This might not help you if you are ready to make a transition – your 20 years in retail is not necessarily going to make you stand out as someone ready to make a move into the tech space, for example.
This is where LinkedIn profile optimization comes in.  Simplistically, LinkedIn profile optimization involves the following steps:
Consider the position you want
Research the skills required for that role
Find out what terms executive head hunters might search for
Build your profile around those terms
Avoid using terms that are likely to "turn off" the recruiter
Engaging on the platform – growing your network, sharing content on your news feed, join groups and so on.
This strategic approach to positioning on LinkedIn can significantly increase your visibility to executive head hunters. We offer a LinkedIn profile optimization service and have seen optimized profiles enjoy a 1,000%+ increase in views over a seven day period – this isn't always the case, but generally speaking, an optimization process will lead to more views (and approaches) from a more relevant audience.
The downside to relying on LinkedIn, however, is that it is a very public and very structured platform. Any changes you make to your profile will be visible to your colleague, your employees and – if you have one – your boss. Furthermore, there is a limit to the amount of information you can share on the platform – and limit to what executive headhunters can search for.
For example, let's say you are a recruiter who is looking for an executive with a background in consulting, working in FMCG and with experience of executing a product launch in China – while there are no doubt thousands of executives who have that experience, identifying them will not be easy.
As a result, many executives turn to services like GatedTalent to share detailed information on achievements and aspirations with our retained executive search clients.
A GatedTalent profile is free to create. It immediately gets an executive onto the radar of executive headhunting companies across the globe. It's a vital step for any executive wishing to get on the radar of top head hunters! And for those who would like expert coaching to prepare for high-profile interviews, we offer executive interview preparation services.
A significant number of senior positions are filled by headhunters.  If you want to be placed into one of these roles, you'll need to know the headhunter - or the headhunter will need to find you.  There are no other options.
Join GatedTalent Now!
Thank you
We have sent a verification link to your email. Please follow the instructions to activate your account.