The phrase "Open to Opportunities" or similar currently appears in more than 100,000 LinkedIn profiles. The term "Actively Seeking New Opportunities" appears in more than 15,000 profiles. I'm going to be somewhat controversial – An executive should always be open to new opportunities but should never reference it – and certainly not use terms like "actively seeking new opportunities" – on a public LinkedIn profile.
Executive recruiters care about your ability, not your status
Headhunters work for the client. They don't work for you. They will approach you if they consider you the best candidate for a position, and they won't if they don't. Simple as that. The fact that you are "Open to Opportunities" is about your motivation but does not impact on your fundamental ability to do the job. It's not relevant to the recruiter.
Flagging your availability can reduce your chances
Most executives believe that it is easier to find a job when they are currently employed. It's true. There are a whole host of reasons for this, but that's not the focus of this blog. Instead, let me explain why you should use these terms on your profile.

Using these terms impacts your visibility
When a recruiter searches LinkedIn for potential candidates, they are radically simplifying a highly detailed job specification into a handful of keywords. 
Very simplistically, there are two types of searches a recruiter might make:
"Target company-based searches": Looking for a (Job title) in a specific organization. Flagging your availability by displaying that you're open to new opportunities will have little impact – positive or negative – on your visibility for these types of searches.

"Skills-based searches": Looking for a senior executive with – for example – experience of M&A, P&L responsibility, and a background in financial services. Here, the recruiter will type in a set of criteria, and LinkedIn will return results. The critical point is that recruiters will not search for "Actively Seeking" or similar – it will not be relevant to the job specification.
As a result, if you've given over space on your profile to flagging up your availability, you've wasted space that could be better used. You've watered down your positioning and squandered precious space that could have been better used for relevant terms. If you want to be considered for a Chief Marketing Officer role, for example, you want your profile to be optimized around skills that LinkedIn associates with CMOs. Saying things like "I'm a job seeker" takes your profile away from that core objective.
Let me give you the most extreme example of this. Some people use these phrases within the tagline (the brief personal statement at the top of your profile). The LinkedIn search algorithm pays a lot of attention to your tagline – you need it to be stuffed with the keywords that you wish to be considered for. The tagline of your profile has a maximum of 120 characters. The phrase "Actively seeking new opportunities" will take up more than 25% of those characters – space that can be used for keywords that a recruiter might actually look for.

Recruiters are less inclined to put forward candidates who are visibly "actively seeking."
I'm not discussing the rights and wrongs of this – It's a simple fact. Research from Faberman, Mueller, Sahin and Topa demonstrates that unemployed job seekers receive proportionately less offers than both employed job seekers and employed people who are not actively looking for a new role.
As a result, it's probably better that you don't proactively push a point on your profile that might work against you.

Getting on recruiter radars without being too public about it
The good news is that LinkedIn is aware of this issue and has done what it can to help. 
There is a perfectly acceptable way of flagging to headhunters that you are actively seeking new opportunities, and that's via a setting on your profile dashboard. Under "Career Settings" select "Let recruiters know you are open" to "on."  
This has the immediate effect of pushing you up search result rankings and will allow a subset of LinkedIn users to see your potential availability. This information is visible only to recruiters with access to the Recruiter platform. It will not be shared with the wider LinkedIn membership.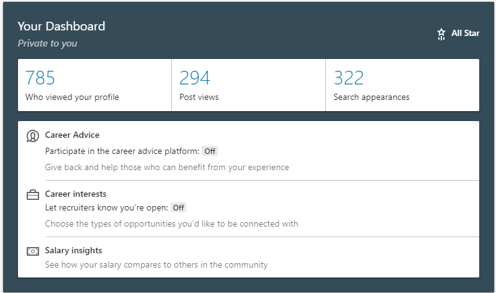 #OpenToWork in the time of a Pandemic
All of the above remains true.  You don't want to be giving up space in your LinkedIn tagline to phrases like "open to work" or anything else.  However, LinkedIn has added a new way of advertising your availability, and it is worth consideration.  If you use the hashtag #OpenToWork on LinkedIn, the platform will update your profile photo in the "opentowork photo frame" to make you stand out to other users. As noted above, this can be a double edged sword – but if you do decide it is in your best interest to flag your availability, using the #OpenToWork hashtag in the summary of your profile – not your headline – is definitely the best approach, giving you additional visibility via the photo frame, without the downside associated with watering down your headline.

"Actively seeking new opportunities?" No.  But privately, always be open to offers.
Of course, the real solution to the fact that recruiters are less inclined to hire you when you are actively seeking, is to maximize your visibility to recruiters throughout your career and avoid being in a situation where you need to actively look for a new role. As a result, my advice to you is to leave this button in the "On" position perpetually. Additionally, always accept connections and answer messages or queries from recruiters to flag your interest. This can be a way to demonstrate that you are open to opportunities to the LinkedIn algorithm, and this might put you higher up in the rankings for the new recruiter. 
However, there is certainly more that you can do. Generally speaking, your LinkedIn profile – like your resume – is going to be "backward-facing". It talks about what you have done in your past. It doesn't necessarily give a recruiter much information about what you intend to do in the future.
You can fix that by optimizing your profile around the type of opportunities that you wish to be considered for. Leverage your LinkedIn account to show your current abilities and talent. Identify the critical skills associated with your "dream job" (the P&L, M&A Financial Services example I gave earlier) and feed your profile with these terms. This will make you more visible on relevant searches and may well lead to more recruiter approaches.
Being open while being hidden
The challenge, of course, is that if you are trying to position yourself to be spotted by headhunters, you also risk being seen by your colleagues. The public nature of LinkedIn means that it can be a challenge for an executive to suddenly make a host of changes to a profile without raising questions. People may realize you are actively seeking. There are, however, other approaches.
Other approaches to being on the radar
If I summarise the advice I've given so far, it can be boiled down to this. Share information with recruiters about what you want to – when they have a match – they can contact you. However, don't be spotted. Easier said than done?
This is where GatedTalent comes in. Our platform is designed to do just that – to allow you, as an executive or senior leader, to share information with executive recruiters from around the World. You can share detailed information on your skills, achievements, and aspirations. You can create a profile and maintain it throughout your career – and you can do so without raising questions around your team, or the wider world.
It's free to create a GatedTalent profile and, along with maintaining your LinkedIn profile, it should be a core part of your executive career strategy! We also offer LinkedIn profile optimization and professional resume writing services for executives interested in boosting their career documents.
Executive recruiters care about your ability, not your status
Join GatedTalent Now!
Thank you
We have sent a verification link to your email. Please follow the instructions to activate your account.