Executives often ask: "How do executive search firms find candidates? What can an executive do to get on recruiter radars?". Having spoken to literally thousands of executive search recruiters over the years (my firm provides technology and support services to headhunters), I felt it might be helpful to outline how C-Level and other senior executive jobs are filled.
An executive search firm is not an executive job search firm. An executive career is not a ladder.
An executive career is often likened to a ladder. While there is a certain logic to this, the reality is that it is a flawed analogy. While slight vertigo means I can't claim to be an expert on ladders, those I've seen are generally as wide at the bottom as the top, and the steps are typically spaced equidistantly.
The executive career ladder, however, is triangular, with steps appearing less frequently as the candidate gets closer to the top. There are other differences too. Not least, the fact that most ladders don't have competitive climbers trying to get to the next rung before you do!
In reality, a successful executive career is not linear and doesn't 'just happen.' For an executive to maximize his or her career potential requires many things, including an understanding of how the best executive search companies find candidates, what the search process actually is and what to expect when the recruiter calls.
The major distinction between executive search companies and executive job search firms is the recruiter's client. For the former, the hiring company's interests and needs is their impetus because that company is their client – not the executives. This is very important to note. Firms acting on behalf of the candidate may be known as executive job search firms and do something entirely different. However, if you take the time to understand how the executive search industry actually works, you may question how much support these businesses can provide.
How does executive search work?
More senior roles (26% of them, according to our research) are filled by retained executive search consultants than by any other formal hiring process. These firms aim to proactively source the right candidate on behalf of the client company.  They don't simply forward resumes from applicants.
These recruiters work for client companies – the organizations doing the hiring – and not for the executive. They are not motivated to find you a new job. While they are sometimes referred to as "executive job search firms" that's really a misnomer. Clearly, they will have a key part to play in the executive's job search, but it's important that the potential candidate understands the primary motivations of the recruiting firm.
Opportunities are generally handled exclusively and with a major focus on confidentiality. This means that your long term relationship with recruiter Jane at Korn Ferry is of no value if recruiter Jill of Heidrick and Struggles is managing the search.  Jill (and her associated recruiting team) needs to be able to find you, or you will not make the longlist.
The headhunter will target candidates and approach them directly. They don't care if you are a job seeker – they don't care if you are looking for a new opportunity.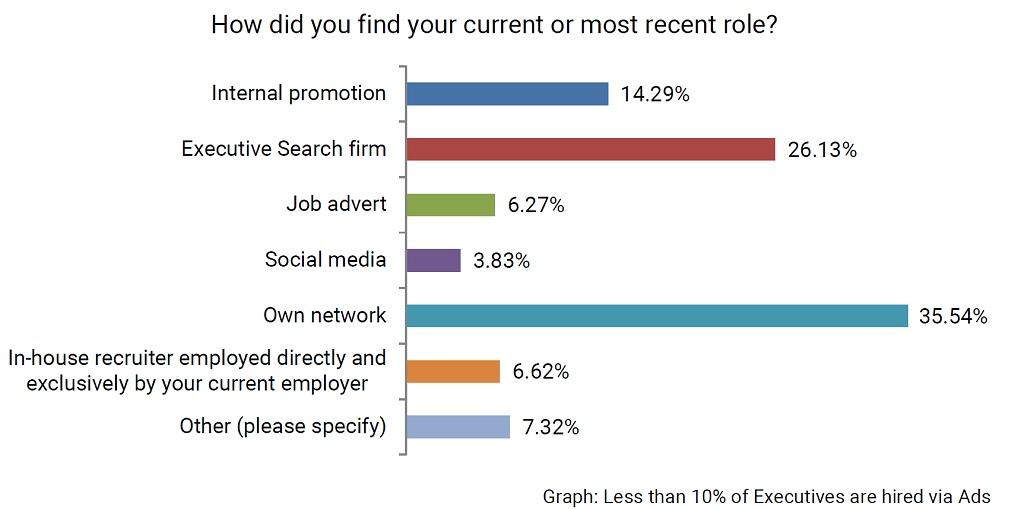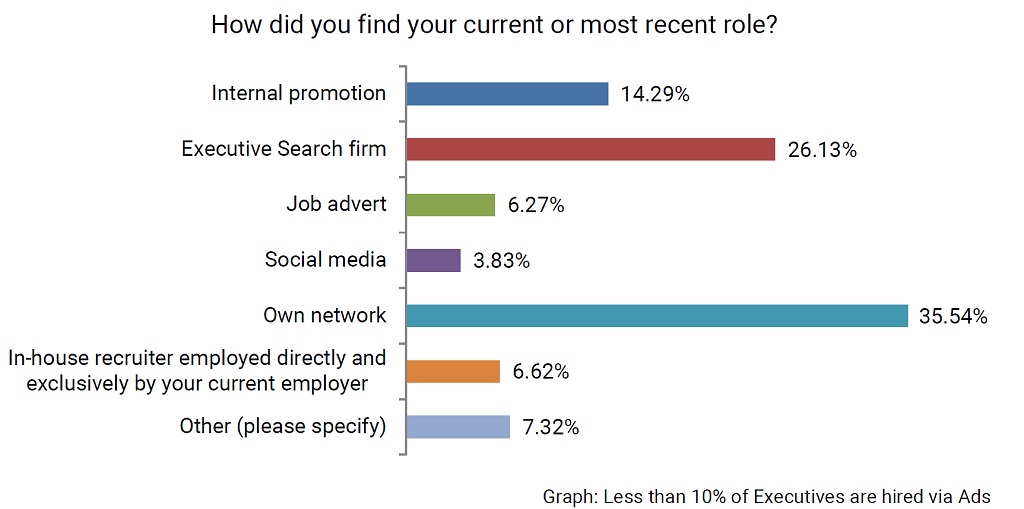 This is a major difference to what an executive might experience earlier in her career.
Executive recruitment is not like staffing!
Junior positions are typically filled by active job applicants. For those roles, candidates searching for opportunities via job boards are the norm. The agency will log into the appropriate site, run a quick keyword search, and pull up a list of 'qualified candidates' in moments.
For the senior-level executive, however, life is different. The employer seeking to fill an executive job generally wants to find the very best candidate – and as a result, wishes to work from the largest candidate pool possible. Limiting the pool to candidates who are "actively seeking" jobs is not going to maximize that pool – and, as a result, they bring in a third party to deliver executive search services.
The job of these advisers is to go out and find the very best candidate for a role – be they an 'active' or a 'passive candidate' and to persuade her to take the job.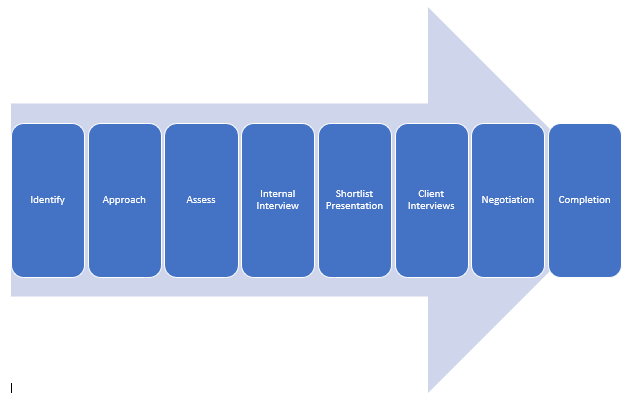 So how do executive search firms find candidates?
At GatedTalent, we offer an access to our exclusive executive job search board. In line with our distinctive approach, we acknowledge that the most valued executive search firms seldom rely on traditional advertisements. The highest-tier executive positions are pursued diligently by these top recruiters who skillfully seek out and identify the finest candidates.
To do this, executive search firms employ specialist researchers who will draw up a long-list of potential candidates for an opportunity. The research process will vary from search to search.To do this, they employ specialist researchers who will draw up a long-list of potential candidates for an opportunity. The research process will vary from search to search.
In some cases, a search might involve targeting potential candidates in similar roles within the specific industry of the client – a "target company" driven search. In many cases, however, a recruiter is tasked with identifying candidates based on more than tapping up the competition.
The client is hiring to solve a problem and, while in some cases the need is best met by hiring from a competitor, in many cases it is not.
Indeed, many of the most successful executive searches in history involved hiring leadership from beyond the industry sector of the client, based on perceived "transferable skills."
How can an executive maximize the chance of a recruiter approach?
For "target company" based searches, an up to date profile on LinkedIn (or Xing, in German-speaking countries) is often enough for an executive recruiter to find you – if you are currently employed in the senior leadership team with a relevant company. A search consultant running a query based on company name and job title will find you.
However, for an executive between jobs, or one looking to make a change of industry, for example, being spotted for these types of opportunities can be more problematic.
Indeed, a simple 'biographical' LinkedIn profile may never be enough for a recruiter to find an executive based on a search for these types of roles.
A good example of this would be a CFO search assignment for a startup Internet company. These types of firms may not have direct competitors as such, but sector knowledge may not be required by the successful executive anyway.
Instead, the job specification for this role is likely to call for experience of equity raising. Previous completion of a successful fundraising. Excellent relationships with investors. The name of the company where the candidate is working today is largely irrelevant, and much of the more detailed information may not appear in a LinkedIn profile.
Executives should position their transferable skills as their key selling point. It is one of the major aspects that executive search companies will be leaning towards when recruiting.
When recruiters know who they're looking for, it is easy for them to obtain that information. You will be clearly visible in their searches when they type in your company name and job title. But if you want to step into a new industry then you might have to work extra hard to be visible to top executive recruiters. Quality transferable skills give executives an edge in the search process. Highlight the best skills which you can apply in any company regardless of the nature of the industry.
Another major hiring trend for top executive search firms 2022 will include diversity and inclusion. Diversity is a high priority area for the hiring companies as awareness and changing attitudes drive the global environment.
For an executive to be found for these types of positions, she needs to do two things:
Identify the transferable skills that she has that might be relevant to the role that she is targeting
Ensure that recruiters can find her when retained to fill roles requiring those skills

How executives use LinkedIn to find jobs
It is difficult to ignore the influence of social media today. With its ease of access and extensive reach powers, it continues to be a vital aspect in recruitment. Top executive recruiters incorporate it in their searches to locate passive candidates who could potentially be a skills match. Without social media platforms, recruiters would be limited to searching for talent within their network, thus missing out on excellent candidates.
An executive wishing to be found for the aforementioned CFO role might reasonably begin by adding the term "IPO" to his or her LinkedIn profile. Unfortunately, however, that alone will not be enough – a search on LinkedIn Recruiter for "IPO" turns up 285,000 potential candidates. Narrowing the search to CEOs with IPO experience still brings up more than 50,000 profiles.
When you factor in that LinkedIn will only ever list the "top" 1,000 results – with the definition of "top" based on the LinkedIn algorithm – it is a statistical fact that the "average" executive may not be visible on these searches.
This is where LinkedIn profile optimization comes in. A strategically optimized LinkedIn profile can position an executive profile to be found for the types of searches that an executive wishes to be considered for. It can increase the 'relevant visibility' associated with an executive significantly.
Strategically seeding a profile with keywords based around how LinkedIn "perceives" key skills for a job can cause an executive to appear far higher on a candidate list than might occur with a more generic profile.
However, even an optimized profile can only provide so much information to a recruiter. It can be limiting no matter how many keywords are placed strategically throughout the candidate profile. A LinkedIn tagline is limited to 120 characters. The summary is capped at 2,000. Attached documents are not searchable (even if an executive felt able to attach supporting documentation in such a public platform).
LinkedIn has a further drawback for many senior executives.  It's public.  Any changes made to attract the attention of a recruiter may also be spotted by colleagues, employees, shareholders, competitors and – if they have one – the boss.  It's a public platform and many executives cannot be seen to be looking.

Offline networking still matters!
While a lot of research effort is now focused on web research, executives still try to source the perfect candidate via referrals. As part of the executive search process, researchers will talk to people in the specific industry that they are recruiting for (known as 'sources') – and will often look at organizations in similar or associated sectors.
Having a large professional network of associates who, when asked about top talent in the sector, will recommend you is hugely valuable. It's also worth taking any opportunity to raise your profile – speak at events, write for the industry press (or even social media!)
Giving executive recruiters the full story
Profile optimization will improve your chances of being found significantly – but it may not be enough.  The sheer scale of the platform and the limitations as to what an executive can share means that to maximize her chance of being found and receiving that elusive InMail, an executive must go further.
That's where platforms like GatedTalent come in. GatedTalent is a private network of executives, used by search professionals worldwide to find and engage with top talent.  Members include senior executives and board members from more than 100 countries, and our recruiter clients send more than 100,000 connection requests through the platform every month.
A profile on GatedTalent – which is entirely free to create and maintain – allows an executive to share detailed information on achievements and aspirations with top executive search companies – safe in the knowledge that it will not be visible to the wider world. It's a key part of an executive job search strategy.
Once created, updating such a profile regularly ensures that recruiters are always aware of the capabilities and aspirations of the executive and may dramatically increase the number of recruiter engagements she enjoys.
It's all about the timing – and it's always the right time!
As an executive gets more senior, opportunities that might be considered attractive come along less and less frequently. On average, only 11% of CEO positions open up every year.  That's a small percentage of a relatively small number of positions.
The chances of an appropriate opportunity opening just as you decide you are ready for a new challenge – and of you being the successful candidate – are not high.  That's why most recruiters encourage executives to remain visible to top executive recruiters constantly. You don't want to miss out on the next opportunity because of a timing mismatch.
Kickstarting your executive job search – next steps
If you are an executive preparing for your next role, I will offer the following advice.
Understand that executive search firms are not executive job search firms. They don't work for you.  You need to give recruiters a reason to contact you.  You need to be the person they are looking for.
To learn more about doing that, join us for an upcoming "Executive Careers" webinar. These webinars are free, and go into much more detail on some of the topics of how the best executive search companies find candidates – they are always "live" and so feature a Q+A session.  We host them every week and across multiple time zones.  You'll also find a host of advice from top headhunters in our blog on the executive job search.
Create your executive profile on GatedTalent. Again, it's entirely free for you to do this and it will help you better share your achievements, aspirations and potential availability with the global executive search firms using the platform.
You might also want to consider having your LinkedIn profile optimized. This will help ensure that you maximize your chance of being found by recruiters on LinkedIn – our team includes a Nationally Certified Resume Writer (NCRW) and Nationally Certified Online
Profile Experts (NCOPE) who would be happy to hear from you!
From the perspective of the hiring organization, a CEO search can take around three months – from the initial longlisting, shortlisting, interviews, meeting the senior leadership team and key board members. The process is lengthy and it can stretch out.
From the executive perspective, the process can be considerably longer – often a year. So my final piece of advice is this:  When you do receive a connection request, an email or a call from a search professional, always accept and always listen to what they say – it may be an opportunity for a great job that you would not normally have considered.
Once you find a role you like, always invest some time to prepare for the interview. You want to go in fully prepared to get the best chance of landing the role. Executive interviews do not come with a fixed set of questions. But you can use our executive coaching services to learn how to highlight your skills and experiences more effectively.
Good luck in your search!
Don't forget to follow us on Twitter, LinkedIn and Facebook and create your profile today to get on the radar of the top executive search firms who use our platform!
As an executive gets more senior, opportunities that might be considered attractive come along less and less frequently
Join GatedTalent Now!
Thank you
We have sent a verification link to your email. Please follow the instructions to activate your account.